Bill Fine isn't a big fan of Monopoly, the board game where players develop real estate and try to drive opponents into bankruptcy. The game can last for hours and leave some players feeling crushed.
But when Fine started his job last year as Indiana utility consumer counselor, one of the first things he did was hang a framed, cross-stitch version of a Monopoly board on his office wall. His wife had stitched it years ago when he was a real estate lawyer in northwestern Indiana, and at the time it was a natural office decoration for someone who spent all day helping clients buy and sell properties.
"Then when I got this job, it took on a whole new significance," Fine said.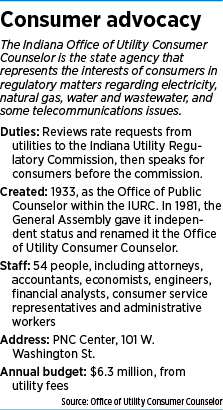 These days, his job is to stand up to Indiana's powerful utilities—many of them regulated monopolies—and advocate for consumers in cases before state and federal utility regulatory commissions. The goal: Make sure millions of Hoosier households and business aren't overcharged for electricity, natural gas, water or wastewater.
In recent months, Fine—a soft-spoken 67-year-old with no background in utility law—has been turning heads with his forceful statements against big rate hikes sought by Indianapolis Power & Light Co., Indiana Michigan Power Co. and other utilities.
In Indiana, as well as many other states, utilities are filing a flurry of rate cases to raise money for new technology and to replace aging infrastructure.
In recent years, the state's political leaders often have sided with utilities, intent on keeping a strong energy system that will attract businesses, especially large manufacturers that need massive amounts of electricity to power their plants.
The result, Fine said, is a system heavily weighted in favor of utilities.
"It's a system that tends to ultimately end up in rate creep," he said, "where, even though the demand is relatively stable, rates are going to continue to go up as you replace infrastructure and move to new technologies."
That makes Fine's job even more critical: to identify rate requests he thinks are excessive and to push hard to cut them down to size.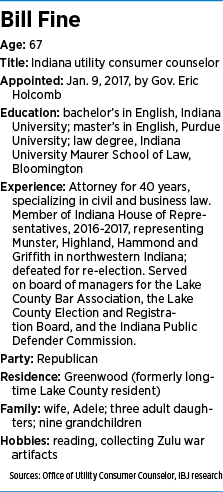 In May, he urged state regulators to turn down IPL's request for a large rate increase, its second in three years, saying there was no justification for such a leap. IPL had sought an increase of $124.5 million, but trimmed that amount twice, down to $88.3 million. That was still too much for Fine, who countered with a proposed rate increase of just $4.9 million.
"Between the rate increase IPL received only two years ago [of $29.6 million] and the evidence filed in this case, there is no justification for the size of the requested increase or for IPL's proposed changes to its customer charges," Fine told regulators, in what amounted to an usually sharp rebuke.
In response, IPL agreed on July 19 to cut its rate request roughly in half, to $43.9 million—and to drop its controversial request to increase the fixed, monthly charges for residential consumers from $17 to $27.
Under the agreement, which must still be approved by state regulators, a typical residential customer using 1,000 kilowatt hours monthly would pay about $5 more per month, or a total of about $118. Earlier proposals would have increased that bill to almost $125.
'Sharp pencils'
Fine said IPL just never proved it needed the extra money, even though the utility had claimed it needed it to help pay for more than $2 billion in recent capital projects. Fine argued that the utility had lower personnel expenses than it did a year ago, due to a large restructuring under parent AES Corp. of Arlington, Virginia. Earlier this year, IPL announced it would cut 100 jobs in Indiana, reducing payroll by several million dollars a year.
"We got out the sharp pencils and we said we thought they could live with a lesser sum," Fine said.
In the process of pushing back, Fine is drawing unusual praise from a cross-section of consumer groups, environmentalists and even some utilities for his willingness to listen to all points of view but eventually stand up for consumers.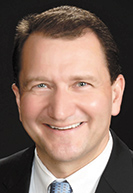 Rushenberg
"We're not going to agree with everything he does. Nor do we expect to," said Tim Rushenberg, vice president of the Indiana Energy Association, which represents electricity and natural-gas companies. "We just expect someone to be fair and reasonable and willing to listen, and by and large, Bill has done a good job with that."
The Sierra Club heaped praised on Fine, commending him for taking his office's mission seriously. "Under his direction, the OUCC is behaving as it should—as an agency that is charged with representing utility customers. … You saw the results for the IPL customer in the rate case settlement," said Wendy Bredhold, senior representative for the group's Beyond Coal campaign in Indiana.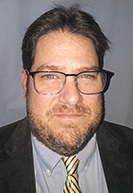 Olson
Citizens Action Coalition of Indiana, an energy consumer group, went a step further and said it has noticed a big change in attitude at the OUCC since Fine took over in January 2017.
"Since Bill's arrival, the OUCC has been far more engaged in ensuring that the public has the opportunity to speak out," said Kerwin Olson, the group's executive director. "Furthermore, his office is taking the concerns of the public more serious and working to make sure those voices are, indeed, heard."
Even IPL, for its part, declined to criticize Fine, even after he pushed the utility to sharply cut its rate request.
"That's the way the system is intended to work," said Fred Mills, IPL's director of external affairs.
Unlikely fit
But Fine's approach hasn't pleased everyone. Some say his office should have pushed harder to keep IPL from raising rates at all, rather than compromising with the utility.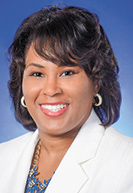 Pryor
"It would be nice to have just 'no,'" said state Rep. Cherrish Pryor, a Democrat who represents a district on the city's northwest side, and who opposed IPL's rate increase. "But that tends not to happen."
Fine oversees a staff of 54 attorneys, financial analysts, engineers and consumer-service representatives who toil away on the 15th floor of the PNC Center downtown.
With an annual budget of $6.3 million, the agency is one of the smallest in the state. But it keeps an eye on regulated utilities across Indiana that collect more than $14 billion a year from ratepayers.
At first glance, the job seems an unlikely fit for Fine. Before he was appointed to the position by Gov. Eric Holcomb, Fine had no experience in utility law and had never argued a case before the Indiana Utility Regulatory Commission.
On top of that, he had just lost a bruising re-election campaign for state representative. Fine, a Republican from Munster, had defeated Democratic incumbent Mara Candelaria Reardon in 2014 and was hoping to win a second term. But in 2016, Reardon reclaimed her seat, winning 55 percent of the vote to Fine's 45 percent.
Fine, who said he enjoyed public service, was out of a job and uncertain where to turn. Utilities did not seem an obvious choice. During his single term, his committee assignments were commerce, education and judiciary—but not utilities.
And during his 40-year legal career, Fine handled estate planning, real estate transactions and commercial litigation.
Fresh perspective
Wanting to move from northwestern Indiana to central Indiana, where two of his three adult daughters live, Fine asked the Holcomb administration for a job. In the course of several interviews, the Governor's Office decided Fine might make a good fit for utility consumer counselor—an unglamorous position that requires a lot of technical study, attention to detail, and willingness to speak up on behalf of consumers.
Fine is the first to say he had no experience in the field but was willing to try to give the office a fresh perspective. And that attitude has won points with people who have spent years in utility law.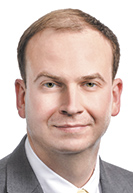 Rompala
"In the course of interactions with him on a variety of matters, he has shown true interest in learning the subject and demonstrated a receptiveness to new ideas and approaches," said Joseph Rompala, a utility lawyer at Lewis Kappes who represents large industrial customers such as drugmaker Eli Lilly and Co. and manufacturer Allison Transmission.
Fine said negotiations with utilities are a fact of life, and the process of challenging rate increases often turns up information that causes each side to move from their initial positions.
"Both sides refine their position as they attempt to find common ground," he said.
The one thing that shouldn't change, he said, is his office's goal of trying to represent consumers as effectively as possible. That includes pushing for public hearings, inviting public comments, working hard to analyze rate requests, and issuing strong public statements when needed.
"I think we've made real gains for the ratepayers," Fine said. "If we were not doing what we were doing, the march of rate increases would be even faster."•
Please enable JavaScript to view this content.