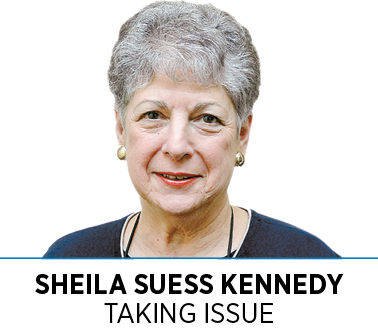 In last week's IBJ Forefront, Paul Knapp summed up the focus of "Rethink I-65/70"—the group consisting of hundreds of downtown residents, business owners, urban design professionals and the Indy Chamber, among others—when he wrote that the badly needed repairs to the in-city portions of those interstates provide us with a "once-in-a-lifetime opportunity to correct the mistakes of the past and rethink how to rebuild the interstate so that it accomplishes INDOT's goals of traffic management as well as the community's desire to create connectivity, mobility and economic development for future generations of our great city."
Other cities have responded creatively to the aging of their interstates by tearing down the concrete bridges that divided (and sometimes eliminated) neighborhoods when they were built some 50 years ago and replacing them with alternatives that respect their urban context.
For reasons that continue to baffle me and many others, INDOT has been dismissive of "Rethink" (one comment reportedly characterized the hundreds of diverse members of the Rethink coalition as "a bunch of downtown liberals") and anything but forthcoming in response to perfectly reasonable questions about its process and the opportunities for citizen input.
You can almost hear INDOT personnel muttering, "Those damn city agitators aren't going to tell us how to move traffic."
Agency officials have thus far refused to share their plans for rebuilding the north split. Despite the repeated assertion that they have evaluated "alternatives," they have not been forthcoming about what those "evaluated" alternatives were. For example, we don't know whether INDOT prepared and evaluated design alternatives for the north split interchange that included depressed through lanes, grid-connected city streets for local destination or departing traffic, capped or partially capped segments, or an appropriately sized gateway traffic circle.
Some of those proposals would be considerably less costly to build and maintain than the looming concrete bridges and enormous concrete retaining walls INDOT clearly prefers.
Indianapolis wasn't the only city through which misguided bureaucrats rammed downtown highways—disrupting street grids, depressing commercial activity and destroying once-vibrant neighborhoods. There has now been a half-century of research documenting the resulting damage to health, air quality and public safety in cities throughout the country. In addition to their very high maintenance costs, these structures play havoc with nearby property values and remove acres of prime real estate from the tax base.
INDOT has made one thing clear: The agency doesn't believe its planning process need include consideration of such urban concerns as the impact on Indianapolis' economic development, property values or neighborhood connectivity. Moving traffic through—not into—the center city is INDOT's clear priority.
Mayor Joe Hogsett and the City-County Council, the Indy Chamber, neighborhood organizations representing the five historic districts disrupted by the current highway configuration, and literally hundreds of others have asked INDOT to consider the alternatives that have worked well and made such a difference elsewhere. The agency's clear reluctance to do so is puzzling—as is Gov. Holcomb's disinclination to get involved.
Perhaps we should invite INDOT representatives to bicycle or walk through the grim downtown "tunnels" created by the already-massive interstate bridges, or sit in the back yards of homes within a block or two of them and try to have a conversation. Perhaps they should ask residents within that two-block area about the added dust and other particulates those elevated interstates generate.
If past performance is any indication of future receptivity, however, those experiences probably wouldn't make any difference. I just don't understand why.•
__________
Kennedy is a professor of law and public policy at the School of Public and Environmental Affairs at IUPUI.
Please enable JavaScript to view this content.