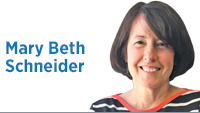 July was the month that made Eric Holcomb governor.
Yes, he was elected in November 2016.
But in July, he showed an assertiveness he hadn't in his first 18 months as Indiana's chief executive.
First, he stated unequivocally that Attorney General Curtis Hill should resign.
"4 women had courage to report sexual harassment by the AG," Holcomb tweeted. And as Hill refused to step aside, Holcomb reiterated he believed the women.
On July 29, Holcomb, as did other politicians, condemned the anti-Semitic vandalism to a Carmel synagogue.
But he went further.
Holcomb called for Indiana to enact hate crime legislation.
"No law can stop evil," Holcomb said, "but we should be clear that our state stands with the victims and their voices will not be silenced. For that reason it is my intent that we get something done this next legislative session, so Indiana can be one of 46 states with hate crime legislation and not one of five states without it."
Such legislation has been proposed for decades, always failing as lawmakers questioned the need or whether certain groups, particularly gays and transsexuals, should be covered by it.
The most recent failure came just this year. Holcomb was active behind the scenes, but silent publicly. He urged legislative leaders to include gender identity in the bill or pass nothing. They chose nothing.
Holcomb shrugged it off, saying in January: "I said at the very outset that I was open to the idea of a hate crime bill. I still am. But for any progress to be made, there's going to have to be a consensus among lawmakers."
That consensus isn't yet apparent. But Holcomb's resolve now is.
So what's changed? It isn't just the sickening sight of Nazi symbols targeting a religion Nazis sought to destroy. After all, in 2017, a hate crime bill died on the same day a threat prompted the evacuation of the Jewish Community Center.
What's changed, it seems, is Holcomb.
Holcomb told me he doesn't see the Carmel vandalism as "the straw that broke the camel's back."
And, he added, "I don't do things to grab headlines. I don't see myself standing in anyone's shadow. I don't think I've changed whoI am."
No, I don't think he has. But for his first 18 months, he seemed to be more comfortable trying to build accord behind the scenes than leading the charge. Robert Dion, a professor of American politics at the University of Evansville, summed up Holcomb's first year as a question mark, telling The Indianapolis Star, "I'm not sure he's had a moment to show what he's made of."
July, Dion agreed, "seems like the turning point."
Holcomb, he said, is trying to nudge his party in a new direction, including by supporting a GOP platform change that would have no longer defined marriage as solely between a man and a woman.
That, though, Holcomb did behind the scenes. There was no public statement telling his party what direction he wanted them to take.
"When folks asked where I stood, I answered," Holcomb said. But "the delegates' voice needed to be heard."
But with Hill, he went public. With hate crime, he has now gone public.
And hate crime, he said, has long been debated.
"I think it's time. I think it's overdue. The time is right to get something done. I am ready to use the time between now and leading up to the session to help this across the line."
That sounds like a governor.•
Click here for more Forefront columns.

__________
Schneider covered Indiana government and politics for The Indianapolis Star for more than 20 years. Send comments to ibjedit@ibj.com.