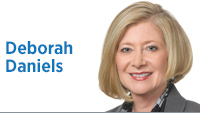 Once in a while, we are treated to a public example of Hoosier heroism. While there are indeed many Hoosier heroes, the public doesn't normally become aware of them, perhaps because of our inherent humility.
The case of Dan Coats departs from the norm. This man, who has dedicated his life to public service, is supremely humble, but his thoughtful and principled approach to governance has thrust him into several prominent roles in which he has made a significant, positive difference in the trajectory of American life.
The first of these was his appointment in 1989, while serving in the U.S. House of Representatives, to fill the Senate seat of former U.S. Sen. Dan Quayle when the latter was electedvice president.
Coats, while taking principled conservative positions, was known for working across the political aisle, including co-sponsorship of legislation with the late Sen. Edward Kennedy, D-Massachusetts, and then-Sen. Christopher Dodd, D-Connecticut. Declining to run again in 1998, Coats returned to private life—but only for a short time. After having been strongly considered for secretary of defense, he was tapped by President George W. Bush in 2001 to serve as U.S. ambassador to Germany. There, he became acquainted with rising star and then-opposition leader Angela Merkel. He is recognized as having been largely responsible for building a strong U.S. relationship with Merkel before her electionas chancellor.
Coats returned to private life in 2005. But, ever the statesman, he became sufficiently concerned in early 2010 about the direction of the country that he determined to run for his former Senate seat. After winning by an overwhelming 15-point margin, he served as a strong voice for national security, openly opposing Russia's annexation of Crimea and arguing for harsh sanctions to punish Russia's adventurism. He also publicly opposed the 2015 Iran nuclear deal.
Coats "retired" at the end of 2016, but President Trump immediately named him director of national intelligence—head of the entire U.S. intelligence community. And despite his multiple contributions to our nation throughout his adult life, it is in this role that Coats has demonstrated true heroism.
If you haven't been living under a rock, you are aware of the public statements made by Coats both before and after the Trump-Putin Helsinki Summit, making it crystal clear that the Russian government sought to meddle in the 2016 U.S. elections and continues on that path today.
It is widely believed that his statement before the summit was intended to affect the president's approach to the talks with Putin. When that clearly didn't work and the president cast doubt on the suggestion that the Russians had meddled in the election, Coats made yet another public statement: "We[the U.S. intelligencecommunity] have been clear in our assessments of Russian meddling in the 2016 election and their ongoing, pervasive efforts to undermine our democracy."
As the president continues to vacillate on the subject, some are now calling on Coats to resign—either because they believe a public servant should follow the president's lead even when he knows the president is wrong or because they feel he should step away on principle.
I sincerely hope he will not step down. It is critical that a person in his role continue to identify threats against our country for both the president and the public and seek to influence U.S. policy in the interest of our national security.
And I hope we will see more heroes like Dan Coats in these dangerous times.•
Click here for more Forefront columns.

__________
Daniels, a partner at Krieg DeVault LLP, is a former U.S. attorney, assistant U.S. attorney general, and president of the Sagamore Institute. Send comments to ibjedit@ibj.com.