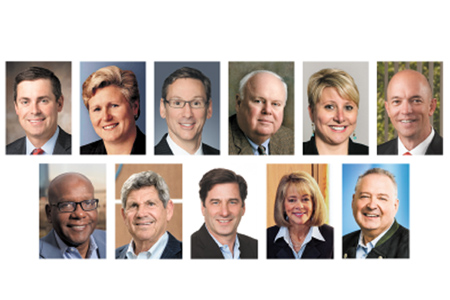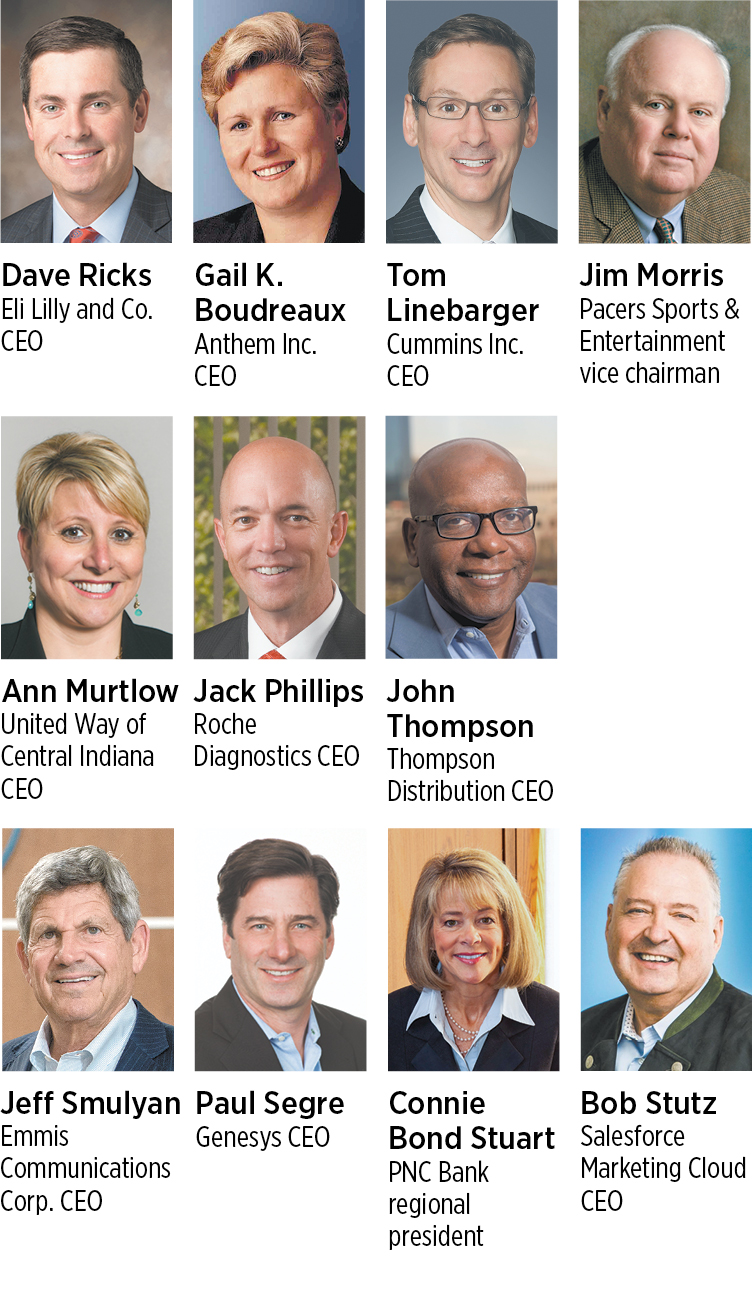 Business leaders are rallying behind a social issue they say could affect economic development—and they're optimistic their efforts can persuade the GOP-controlled Indiana General Assembly to pass a bill that has failed the past five legislative sessions.
Indiana is one of five states without a hate-crime law, and the national issue gained more local attention after a Carmel synagogue was vandalized in July with anti-Semitic symbols.
In the days that followed, CEOs from several of Indianapolis' largest corporations and organizations announced their support for a law that singles out a judge's power to assign tougher penalties for crimes motivated by bias or hate.
They argue the move is necessary to prove the state welcomes diversity, which will help them recruit quality workers.
"The attack at the synagogue sort of crystalized it, but it wasn't the only thing," said Jeff Smulyan, chairman and CEO of Emmis Communications Corp. "I think it's very important."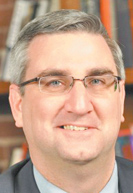 Holcomb
Politicians from both parties were quick to condemn the vandalism and—to the surprise of some business leaders—Republican Gov. Eric Holcomb immediately called for the Legislature to pass a hate-crime bill during the next session, which begins in January.
"I'll be meeting with lawmakers, legal minds, corporate leaders and citizens of all stripes who are seeking to find consensus on this issue so that, once and for all, we can move forward as a state," Holcomb said in his statement.
But support from the governor and top corporate execs might not be enough. Since 2014, a bias-crime bill has been filed in at least one chamber every session—and each year, the bill has died.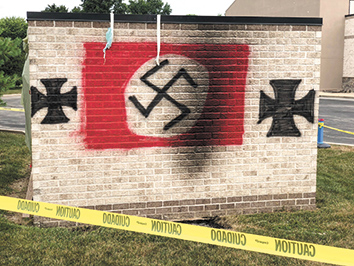 Some have predicted that this summer's vandalism of a Carmel synagogue might become the Legislature's motivation to pass a hate-crime bill. (AP photo)
It runs into trouble with conservatives who are concerned that hate-crime laws create special classes of victims who would be treated differently, although it's actually perpetrators who are treated differently through tougher sentences.
The legislation that failed this year would have specifically named crimes motivated by religion, race, sex, disability, sexual orientation or gender identity as allowable triggers for tougher sentences, although Indiana judges already have the discretion to enhance sentences at will.
The bill was opposed by powerful conservative groups, including the Indiana Family Institute and the American Family Association of Indiana.
Legislative leaders in both chambers have expressed a willingness to explore the issue again next year, but they've made no promises a hate-crime bill will make its way to Holcomb's desk.
House Speaker Brian Bosma, R-Indianapolis, assigned the Interim Committee on Corrections and Criminal Code to research the issue, but he has not yet offered his support for a hate-crime bill.
"Indiana judges already have the ability to enhance sentences based on a criminal's motivation when presented with evidence of bias," Bosma said in a statement. "But perhaps more needs to be done to clarify and highlight this existing provision."
His office did not make Bosma available to comment for this story.
House Minority Leader Terry Goodin, D-Austin, is hopeful a bill will pass, but he's not convinced the Republican-majority chambers will take action.
"This is Indiana, where we find it easier to talk about stopping hate crimes instead of actually doing something about it," Goodin said in a statement. "The governor announcing his support is one thing. Getting the Republican majorities in both the House and Senate to act is another."

Making the business case
In March 2015, after the state passed the controversial Religious Freedom Restoration Act—meant to protect religious liberty—Indianapolis business executives came together to take a stand.
Nine company leaders—including those from Eli Lilly and Co., Anthem Inc., Cummins Inc., Emmis Communications Corp. and Salesforce—published a letter calling for then-Gov. Mike Pence and the Legislature to amend the law so it couldn't be used to discriminate against lesbian, gay, bisexual and transgender residents and visitors.
Executives argued that the law as originally passed would make it difficult to attract and retain talented employees. Millennials in particular, who are already a large part of the workforce, are known for valuing diversity and inclusion and expecting their employers to do the same, business leaders said.
The public campaign seemed to work: Pence signed an amendment to the law within days.
Now, five of those same organizations, plus four others, have signed a letter pushing for hate-crime legislation that makes some of the same arguments.
"In the 21st Century economy, business success hinges on recruiting the most talented people—no matter their looks, their hometowns, their life partners or their religious beliefs," the letter reads. "To the extent Indiana struggles to attract or retain talented people, it will struggle to grow opportunities and incomes for all Hoosiers."
United Way of Central Indiana is one of the organizations that was not included on the RFRA letter, but has joined leaders this time.
President and CEO Ann Murtlow said the group wasn't able to react quickly enough to be part of the RFRA push, but hate-crime legislation has been a public-policy initiative for the organization for the past year.
"It's just time," Murtlow said. "It is an economic development imperative. It really is. In order to retain and recruit talent, we need to be a state that stands for our good qualities."
Roche Diagnostics CEO and President Jack Phillips was traveling and did not see the request in time to be included in the most recent letter, but said he fully supports the message and wants the state to establish a hate-crime law.
"We see it that diversity and inclusion is a business imperative that we need to work on every single day," Phillips said. "It really is paramount to long-term sustainable growth."
Phillips said he spoke to Holcomb months ago about making this a priority.
"My message to him was, these are things that we need to move quicker on," Phillips said. "We had the chance to move this forward in the last General Assembly and we chose not to do this."
The Indy Chamber has also publicly supported the hate-crime legislation.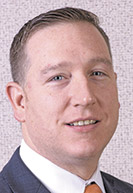 Fisher
"People are fed up with hate in their community and our lack of movement on important issues when this is happening in their back yard," said Mark Fisher, the chief policy officer at Indy Chamber. "It's the right thing to do. … We need to send a strong message that hate is not welcome."
What will make a difference?
Some corporate executives and political observers say the time is ripe for the state to pass a hate-crime bill, given the years of debate and increased momentum behind the issue.
"It is fairly common for ideas and thoughts and proposals to be brought before any Legislature several times before something actually happens," Murtlow said.
One difference for 2019 could be the governor's public support. Last year, Holcomb worked only behind the scenes on hate-crime legislation.
"I was delighted to see the governor weigh in," Murtlow said. "I'm optimistic."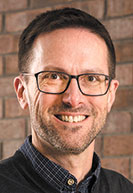 Downs
In addition, Andy Downs, director of the Mike Downs Center for Indiana Politics at Purdue University Fort Wayne, said the vandalism in Carmel is what's known as a "focusing event," which increases the likelihood public officials will act.
"This one has gotten a lot of publicity," Downs said. "And it is visually very easy to see. Anybody who sees the sign understands it."
That incident, along with the vocal business community and support from Holcomb, could be enough to tip the scales this year, he said.
But lawmakers have had motivation in previous years, too, as dozens of hate crimes have been reported across Indiana. In 2017, the Jewish Community Center in Indianapolis received bomb threats on the same day a hate-crime bill died in the General Assembly.
During the last session, the bill was killed in a committee after a push to remove gender identity from the language, according to that bill's co-author, Sen. John Ruckelshaus, R-Indianapolis.
"We took that back to the caucus and said, 'Hey, this needs to be about everybody,'" Ruckelshaus said.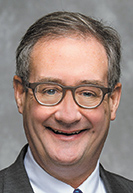 Ruckelshaus
That could be an issue again next year.
Micah Clark, executive director of the American Family Association of Indiana, told WFYI's Brandon Smith this month that "what the governor is wading into is really symbolism over substance." He warned Holcomb that he's "not as popular as some of his media clips tell him."
And Curt Smith, president of the Indiana Family Institute, wrote earlier this year that hate-crime legislation is really about "protecting the LGBTQ community."
Fisher said the Indy Chamber would not accept a bill that did not include language addressing crimes based on sexual orientation and gender identity.
"Certainly, it's not just enough to have a blanket sentencing enhancement," Fisher said.
Murtlow said a hate-crime law does need to be "all-inclusive."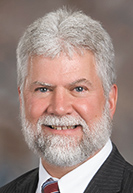 Washburne
But Rep. Thomas Washburne, R-Evansville, said he thinks that makes some lawmakers uneasy. Once you list one protected class, you need to make sure you have them all, he said. If one group is left out, those individuals could be upset.
"How do you draw a list of classifications that people think covers it all?" said Washburne, who chairs the interim committee that will study the issue this year. "I think that's been their stumbling block in the Senate."
But if a bill that highlights sentencing aggravators for hate crimes is sent to the House, he predicted it will have a fair chance of passing, mostly because state law already allows judges to enforce harsher penalties when they deem appropriate.
"I don't think an aggravator law would really change Indiana law," Washburne said.
Ruckelshaus isn't planning to introduce a hate-crime bill in the Senate again. Instead, he suggested the bill could have a better chance if introduced in the House.
Even then, it might not be successful.
"Everybody is going to have to manage their expectations on this," Ruckelshaus said. "You never want to walk into a legislative session where you have to have something."
If a bill does pass, Downs downplayed its potential impact, because leaders aren't likely to advertise becoming the 46th state to accomplish something.
"There's an argument to be made that this should be done quietly," he said.•
Please enable JavaScript to view this content.