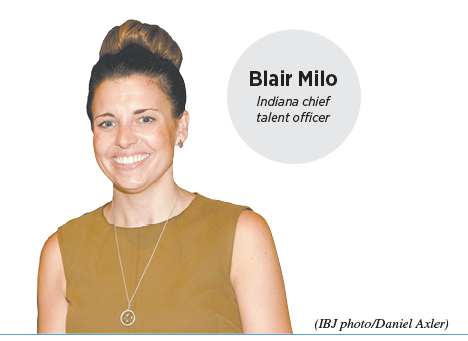 Gov. Eric Holcomb established the Office for Career Connection and Talent one year ago and appointed former LaPorte Mayor Blair Milo to head it. Known as the state's chief talent officer, Milo has been working to find ways to fill the estimated 1 million jobs that will be available in Indiana over the next 10 years.
Tell me a little bit about your job and the office.
We spend a large amount of our time interacting with communities and all the different partners within a community or region. So, we're meeting with employers, with educators … nonprofits, philanthropy organizations.
Does that mean you're traveling a lot?
We spend a ton of time on the road. That's probably why you don't see or hear from us too often. We're all over the place.
How is this different from what the Department of Workforce Development does?
We work very closely with the Department of Workforce Development, but they have specific programs that they are able to roll out that they manage. They have grant programs. They work very closely with the regional workforce development boards.
What are some of the things you've accomplished in the past year?
An example I would give is, we were in southern Indiana, having a conversation with all these different partners around about some of the gaps that have existed. They were talking about how they have a really great adult basic education program, and the teacher shared that she'd love to be able to have more people participate in the program, but they don't have transportation to get there.
Somebody else in the audience said, "Well, why can't these students just use Catch A Ride?" Which is a local transportation system that they have there. And the teacher says, "Well, they don't have funding to be able to use that." And then another person in the audience who's from a philanthropic organization says, "Well, hey, if that's a priority, then we could be able to provide some assistance for transportation needs for these people."
So, we're able to help facilitate some of those local solutions that just haven't taken place beforehand.
How many employees are in your office?
I think we're at four now. We have a very small but nimble team. And we work very closely with the governor's workforce cabinet.
How do you decide which communities to go to?
The approach that we have taken has been based upon the Lumina [Foundation] data of post-secondary attainment levels per county.
We have been trying to target working with some of the lower levels of post-secondary attainment to then facilitate further conversations to grow those education attainment levels.
Your office is also connected to the state personnel department. Can you explain that relationship?
We have the great fortune of being able to engage with employers across the state to talk about some of the trends that they're seeing be effective and then how we can grow the engagement between employers and education. And to the extent that, then, we as an employer ourselves from a state government perspective can be a part of developing these kinds of solutions that are creating opportunities for individuals to thrive.
So it sounds like Personnel Department Director Britni Saunders oversees the day-to-day aspects of that agency then?
She does the day-to-day aspects of it, then we have the regular conversations around the priorities and the policy initiatives to ensure that we're meeting one of the top five pillars for Gov. Holcomb's agenda of providing great government service at a great taxpayer value.•
 
Please enable JavaScript to view this content.