In a recent TV campaign ad, Joe Donnelly drives his RV and talks about his support for President Donald Trump's plan to secure the country's border by building a wall.
The ad even brags that Donnelly voted to fund "Trump's border wall" three times and portrays the senator as being tough on immigration—typically a big selling point for Republicans.
But Donnelly is a Democrat.
As a Democratic U.S. senator in a state Trump won by about 20 points in 2016, Donnelly has to court all voters if he wants to win re-election against Republican Mike Braun.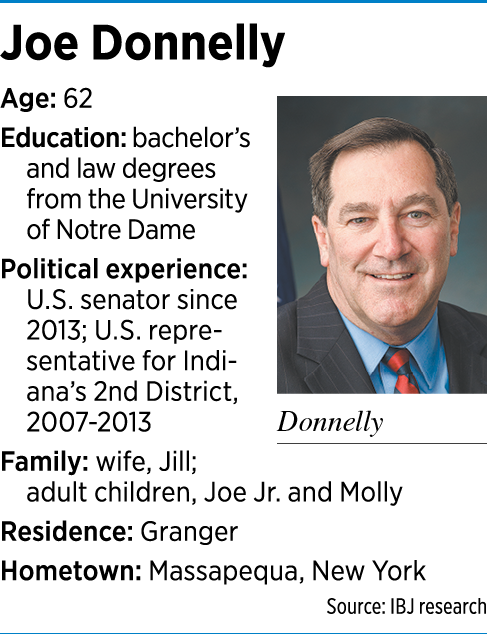 "Donald Trump is the 800-pound gorilla in the room," University of Evansville political science professor Robert Dion said. "And you can't ignore him."
That has forced Donnelly to walk a fine line between trying to appeal to independent and right-leaning voters by showing he can support Republican initiatives, while at the same time not upsetting the Democratic Party base too much.
Another campaign ad Donnelly released this summer includes a clip of Donnelly and Trump shaking hands after Trump signed the right-to-try bill, which Donnelly helped push through Congress. The measure gives terminally ill patients the OK to seek drug treatments that have not been fully approved by regulators.
And his campaign regularly promotes that Donnelly often votes in line with Trump. According to statistical-analysis website FiveThirtyEight, Donnelly's votes are in sync with the president's stance 55 percent of the time.
"I'm sure Democrats kind of wince when they hear him talk about funding the wall," said political analyst Brian Howey, who runs Howey Politics Indiana. "But they realize if he doesn't, then he'll be an ex-senator living in Granger. … He's straddling a straight razor."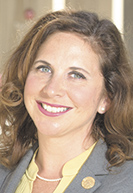 Hale
The same ad that emphasizes Donnelly's concern for protecting the border also says he is known for "breaking with his own party."
And all of that straying from the left might be upsetting some Democrats.
"Of course, there's a concern," said Christina Hale, a former Democratic state lawmaker and a candidate for lieutenant governor in 2016. "We're in a very polarized environment. People are going to sit up and take notice, especially when the senator is talking about a position that's really counter to many of the people in his base."
Kip Tew, a former Indiana Democratic Party chairman who ran Obama's 2008 state campaign, said he's heard from "a lot of ticked-off Democrats all over the state."
"Most base Democrats don't like it because most base Democrats don't like Donald Trump," Tew said.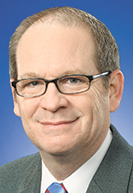 Tew
Dion said Donnelly is trying to appeal to voters who would like to see more cooperation in Washington, D.C., which is a big risk because it could result in both sides being dissatisfied.
"That's the appeal he's selling, and we'll see if voters are buying," Dion said. "We are living in unusually polarized times … where hard partisans in both parties can be very unforgiving.'
The other problem with the strategy is that it could curb voter enthusiasm, which could mean lower turnout on Election Day.
"It's not a rallying cry to say, 'I want sensible dialogue,'" Dion said. "So that's a challenge."
But Hale said Democrats are much more energized this year than in the last midterm election in 2014.
She's optimistic that voters will show up to the polls, even if they're not particularly excited about the U.S. Senate race.
And as long as Democrats head to the polls, she predicted, Donnelly will have their vote.
"I don't see people abandoning Joe Donnelly for Mike Braun," Hale said.
Donnelly said he's not worried about leaning too far in one direction, because he bases his decisions on what is best for the state, not the party.
"I think that my job is to represent everybody who lives in the state," Donnelly said. "It doesn't matter to me if you're a Democrat or a Republican or an independent."
Donnelly said Hoosiers simply want someone to do the job right.
"They don't expect 100 percent purity on one side or the other," he said.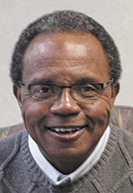 Winston
Robin Winston, former chairman of the Indiana Democratic Party and president of government affairs and public relations firm Winston/Terrell Group, said Democrats need to look at Donnelly's overall record rather than being hung up on one or two votes they didn't like.
"You've got to look at the entire album, not just one document in it," Winston said.
Howey said he thinks the party base will understand that Donnelly would hurt his re-election chances if he swung too far left.
"I think they're going to cut him some slack," Howey said.
Tew said Donnelly's campaign is relying on Democrats to believe it's better to have someone who will be a check on the president some of the time than not at all.
"Unfortunately, though, I think he's with Trump more than a little bit of the time," Tew said. "The ads sure seem to indicate that."
A deciding factor for some voters could be how Donnelly votes on Trump's nominee for the U.S. Supreme Court, Brett Kavanaugh.
In 2017, Donnelly voted to confirm Trump's first U.S. Supreme Court nominee, Neil Gorsuch, but Donnelly has yet to say whether he will support Kavanaugh.
Donnelly met with Kavanaugh in August. The nominee's confirmation hearings began Sept. 4.
Some political observers predict Donnelly will vote to confirm Kavanaugh, but only because he won't be the deciding vote, and it will be another action to tout to right-leaning voters.
"Kavanaugh is obviously very, very conservative, but he's not an idiot. He can do the job," Dion said. "So, if I had to bet, I'd bet [Donnelly] votes for him."
Tew argued that it would be easy for Donnelly to oppose Kavanaugh, since independent voters are likely to base their decisions on issues like jobs and health care, not on whether a candidate supported a Supreme Court nominee.
"I don't think he loses anything by voting no," Tew said. "If he votes for Kavanaugh, he will see abandonment in the base, which he cannot afford. He needs every Democratic vote to win this election."
Either way, Hale said, Donnelly will leave some voters upset.
"It's definitely an 'Oh, boy' moment and, either way, he's going to have a lot of explaining to do," she said.•
Please enable JavaScript to view this content.