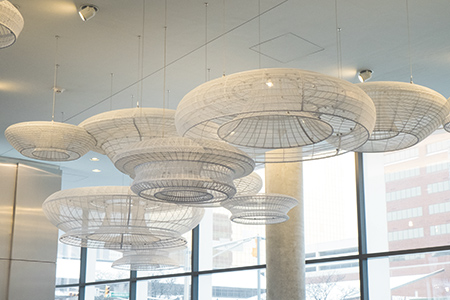 Across the United States, public art has never been hotter.
Hundreds of municipalities are using city agencies to advance what many have come to see as an important component of urban development—right up there with infrastructure and mass transit.
In Indianapolis, it's private companies, not-for-profits and foundations that have largely taken the lead in developing public art—along the Indianapolis Cultural Trail, inside and outside of company headquarters, and through gifts to public spaces.
"Indianapolis is not lacking in public art," said Jack Becker, director of consulting and creative services at art consultant Forecast Public Art and founding publisher of the magazine Public Art Review.
"What's interesting is that most of it is through private initiatives," he said, "not a public-sector initiative."
But some say city government should embrace more hands-on involvement.

"We're the 12th-largest city in the United States, yet we do not have a cultural affairs department as part of our city government," said Mindy Taylor Ross, private art curator and former director of public art for the Arts Council of Indianapolis. "We've missed the boat, and we've missed it for decades."
That boat is actually quite large and lavishly appointed, according to a national study conducted in 2017 by the arts advocacy group Americans for the Arts. It states, among a great many other points, that the not-for-profit arts industry generated $166.3 billion in economic activity in 2015; supported 4.6 million jobs; and generated $27.5 billion in revenue for local, state and federal governments (a handsome return on their cumulative $5 billion in arts allocations).
In Indianapolis, the task of monitoring and advocating for public art falls largely to the Arts Council of Indianapolis. It's a private not-for-profit, though its funding includes a $1 million annual allocation from the city.
"To the extent that there's anybody who on a regular basis thinks about public art in general and not just specific projects, we're probably the ones who do that," said Julia Muney Moore, the organization's current director of public art.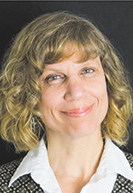 Moore
The city also promotes creation of public art through the Public Art for Neighborhoods Ordinance, which went into effect in May 2016. It requires private developers working in tax-increment financing districts to put 1 percent of the value of the city tax breaks or other monetary incentives they receive into the Public Art for Neighborhoods Fund, which is overseen by the Arts Council. As an alternative, developers are allowed to spend that same amount on public art at their projects.
The ordinance has yet to actually produce a piece of public art, Moore said. "But there's a lot in process."
In the works
One of those "in process" projects is artwork for the planned Keystone at the Crossing Duke Realty Corp. headquarters. Instead of kicking the 1 percent of its tax increment financing into the neighborhoods fund, the company elected to add art in or near its own, 78,000-square-foot building.
"We felt incorporating public art into the design adds to space-making and lends itself to creating a more unique setting," said Joseph P. Hawkins, vice president, legal and assistant secretary for Duke Realty. "We were excited to work with Julia Moore and her crew to get a public art piece incorporated into our development."
The project is still in its early stages, with a request for proposals just being sent out to artists. It will be a while before there's actual art either inside the as-yet-to-be-built structure or near it, but Hawkins said it's worth the wait.
"We're trying to build a best-in-class building, and we think incorporating art is a best-in-class practice," he said. "It just adds to the aesthetic of the whole area."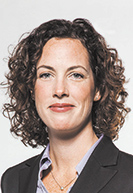 Ross
The Arts Council is working on numerous other projects, such as developing cultural assets for the Red Line bus rapid-transit corridor; using art to help address crime and violence on the near-east side; and helping to place murals at Jiffy Lube quick-change oil stores.
"Steve Sanner is the franchisee who owns the stores," Moore said. "And he happens to love art. He happens to have a lot of goals for his stores that go beyond just oil changes. No one ever thinks of commercial corridors as someplace where you could put public art. But it's actually a really good place, and these murals are going to be amazing."
Sanner, who owns 48 Indiana Jiffy Lube stores (28 in Indianapolis and surrounding counties), does, indeed, have lots of goals. After his Broad Ripple store was "tagged" several times, Susie Marshall, CEO and co-founder of Torchlite Digital Marketing, suggested approaching the Department of Public Works about putting up a mural graffiti taggers would respect enough not to deface.
His first project went up at the Broad Ripple store. Then the Arts Council got involved and now Sanner is off to the races. The company plans to complete six to eight murals every year.
"We have even talked about doing our own Jiffy Lube Cultural Trail, where completing the trail by posting a picture of you in front of each mural earns you a year's worth of oil changes," Sanner said. "How fun would that be?"
Giving back
Other companies and institutions have also opened their wallets for public art. Kroger routinely includes pieces in its stores, and the new Cummins Indianapolis Distribution Headquarters downtown boasts world-class installations—including a large, fabric-and-steel sculpture called "Torque Moment, Torque Momentum" created by renowned artist Kendall Buster and hung from the main lobby's ceiling.
"There are a lot of corporate citizens that really feel that this is a way for them to give back to the community," Moore said. "I think that's awesome."
Ross, who was Moore's predecessor at the Arts Council, said involvement from private entities and donors has become more common nationwide since the Great Recession.
"I think a lot more not-for-profits and private people got in the game," she said. "For example, the public art pieces in Millennium Park [in Chicago] were funded by private donors."
Ross knows all about such efforts, because she's now a private art curator and the owner of Art Strategies LLC. If you're a company or individual who needs assistance selecting art pieces, she can help.
Her client list includes Cummins' new building. And during her tenure at the Arts Council, she brought several well-received sculptural displays to Indy, including the Tom Otterness artworks that festooned downtown in 2005. She also curated the art gracing the Cultural Trail.
But her job included plenty of hassles, such as not being able to turn to a city or state office for help with even the most basic tasks. Even inventorying the city's stock of public art was a pain.
"I had to chase that down by going to the Parks Department to see what was under their purview," Ross said. "Then I had to go to DPW, then to DMD, then to the state to talk to them. There is no centralized agency within the city government or state government, for that matter, that is overseeing arts and culture."
Best way forward
Though actual figures are hard to come by, she maintains that the city's paucity of public art puts it at a disadvantage in attracting talented young people or businesses.
"If you're a Salesforce or an Amazon or any of the other companies that we're competing to have here, you're going to look at a place like Denver, which has mountains but also transit and art, and then Indianapolis, which doesn't have those things," Ross said. "That's why, when politicians would tell me that we can't talk about art when the roads need paving, I'd say that I get that, but you need to solve both if you're going to compete."
But Becker and others say more private involvement is the best way forward.
Becker visited Indianapolis recently to participate in an Indiana Arts Commission workshop. He said the city's lack of government oversight needn't be a handicap. It could even become an asset.
"In many ways, some of the more progressive public-art programs are the result of public/private partnerships," Becker said.
Some 350 governmental bodies across the country have programs like the one in Indianapolis, in which developers pay into a public art fund. But Becker said they have drawbacks. For one thing, the amount of money at hand depends on the health of the construction industry. If that goes south, so does public-art funding. Also, some cities' definitions of "public art" can be quite restrictive.
"Many of these percent-for-art programs are hamstrung because their funds are literally tied to capital spending, and can't be spent on temporary festivals and performance activities and other things that aren't brick and mortar," he said. "Public art is much more than just commissioning fixed art by artists who do sculptures and murals and that sort of thing."
Becker, who received an extensive tour of Indianapolis' public-art assets on his visit, said he was particularly impressed by the offerings along the Cultural Trail, as well as at Sidney & Lois Eskenazi Hospital—both of which were largely private or semi-private efforts.
"Indianapolis needs to learn from its own examples of ways public art has contributed to a variety of goals that the city is trying to achieve," he said. "They just haven't made those connections yet."
'Uninspiring history'
Richard McCoy, director of Landmark Columbus, a not-for-profit charged with caring for Columbus' extensive design heritage, said Indianapolis has never had progressive, deep-pocketed private donors or a far-seeing plan.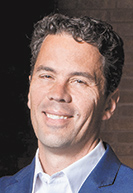 McCoy
"It's always been a kind of uninspiring history in Indianapolis, in terms of investment in artworks that are in the public domain," McCoy said.
McCoy, who has made a study of Indy's tepid attempts at public art, offers a telling example. Back in 1975, the city purchased a work called "Snowplow" by renowned sculptor Mark di Suvero, which was installed outside the then-new Indianapolis Convention Center. Public reaction was so negative that the piece, which cost $42,600, was moved to the far-less-traveled pump house at White River State Park.
Only three years later, it landed at the entrance of the city's Central Equipment Management Division on West 30th Street at Riverside Drive. Finally, in 1993, it was purchased by the Indianapolis Museum of Art, where it remains today.
At almost the same time, Columbus installed two world-class public works that helped define the town.
In 1971, Columbus unveiled "Large Arch," a massive bronze piece by internationally renowned sculptor Henry Moore. And 1974 saw the introduction of Swiss artist Jean Tinguely's kinetic sculpture "Chaos," located inside an enclosed public space called The Commons, itself designed by famous architect Cesar Pelli. Both have since become landmarks.
McCoy draws a painful contrast between the two municipalities' approach to large-scale public art. Right now, he said, large-scale work in Indianapolis seems largely confined to mural painting—perhaps no surprise, since murals are impressive and fairly cheap to create.
As for sculpture, the biggest recent splash was made by a downtown statue of former mayor Bill Hudnut unveiled in December 2014. But creating truly world-class art requires more resources, and perhaps most important, more nerve.
"I would say that we need to be more courageous than just having murals," McCoy said. "And it needs to be more than just recognizing politicians. Bill Hudnut's great, but it needs to be a little more aspirational and artistic than that."•
Please enable JavaScript to view this content.