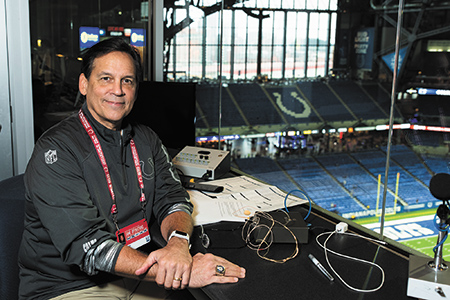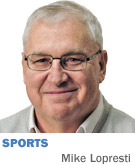 Here's the Colts trivia question for the day. Who's Mike Jansen?
A. Rookie tackle on the practice squad.
B. All-time Lucas Oil Stadium winner in the Plinko game.
C. The only man ever to propose in the end zone during a timeout and be told no.
D. None of the above.
Right, it's D. So, who is he? Here's a hint. "That's another Indianapolis Colts … (as the crowd joins in) first down!"
That's Mike Jansen, the voice you may well recognize and the face you probably don't. The unknown soldier celebrating his 20th anniversary as the Colts' public-address announcer, who won the job in a voice-off against hundreds of competitors, which we'll get to in a minute. He came in with Peyton Manning, is still here with Andrew Luck, and hopes to be around well into the next decade.
"I love it," he said on Sept. 9 before the Colts' regular-season opener with Cincinnati. "Who would quit a job they love?"
Part-time job, that is. When he's not giving you the name of the tackler—in concert with his longtime spotter Steve McClure—he has his video production company, not to mention his wife of 25 years and three kids. But Sundays are when his vocal chords connect him with the blue-clad masses.
We found Jansen in his booth high above the field, about even with the 10-yard line. On his right hand—a Super Bowl ring from 2007. He's 55 but doesn't look it, and invariably when people find out who he is, their first comment is that they expected him to be older, from his voice. Next door to his perch is a command center with monitors and other technological doodads that looked ready to either help produce the sounds and sights of a Colts home game or launch a probe to Mars.
Soon, a full stadium would be listening to this voice from the sky.
"I push this little button, my voice goes out to 65,000 people and at the end of the game, I walk out of the elevator with the fans and nobody knows who I am," he said. "It's surreal."
About his mission.
"I'm the voice that takes you through the entire game. I think it's to kind of give that extra lift to the fans to help keep them in the game, hopefully through my energy and excitement.
"Sometimes they need that cue. On those moments, I'm the cue-er."
But it can get complicated up here.
One, Heaven forbid he come down with a cold and scratchy throat. Jansen has never missed a game in 20-plus seasons but has needed some extra-strength throat lozenges.
Two, he's also a fan but he has to make sure that, if he says something not meant for public consumption—questioning the recent work of the zebras, for example—horror of horrors, the microphone can't accidentally be on.
"I'm pretty conscious of that," he said, adding that there have been times so hectic, he actually meant to announce something but didn't have the button pushed down.
Three, he can't get too caught up in the action. "I'm not sitting there taking the game in like a fan. So the last few years, I've been recording the game, so I'll go home and watch it if it was a fun game."
And four, he's like the quarterback. Foul up, and the whole world knows it. "Maybe just a mispronunciation. No major mess-up," he said of his past. Well, except for the time the Bengals had kicker Mike Nugent and Jansen called him Ted Nugent. Oops.
Beware pronunciation land mines. He had to be overjoyed that T.J. Houshmandzadeh no longer catches passes for the Bengals. Or that that Raiders were not in town with Obiajulu Melifonwu. He remembers those days of yore when Chukie Nwokorie played defense for the Colts.
"Sometimes if I can't say it, I won't say it. I'll just go, 'Tackle by No. 73 for the Bengals.'"
It has been a two-decade dream, with McClure spotting numbers and yardage for him the past 10 years. Jansen calls him his wing man. "I compare it to a good dance," McClure said. "You have to have the right partner."
And the Colts couldn't be happier.
"He takes his job seriously. He's always asking for feedback and wanting to make himself better," said Pete Ward, the team's chief operating officer. "Also, as a person, he's very likable, so it's easy to understand why he's been with us for two decades."
Go back to July 1998. Jansen—Indianapolis native, Ball State graduate, former salesman in long-distance service—noticed a newspaper story about tryouts for the Colts public-address position. He had already done some professional voiceover work, and announced for Indianapolis Ice hockey, so decided to show up. According to a WISH-TV Channel 8 report from that night, so did 300 others.
It was a cattle call of voice boxes. Each candidate barked out a few lines in a steamy RCA Dome, with the air-conditioning turned off. Jansen was there at 5 p.m. His turn didn't come until after 9 o'clock. Many left before trying out, and he nearly did, too, but he stuck it out and was called back for another audition, with 15 others.
They were put in a bracket, as if they were Kentucky and Duke in the Sweet 16. Voice against voice, with the winner advancing to the next round, until two remained. Jansen remembers his wife being there with two of his kids in a stroller. Now they're 23 and 21.
The finalists were Jansen and Artie Widgery, friends who had already worked together, and even attended the same birthing classes for their children. They alternated quarters at a preseason game, then waited for the Colts to call with the decision.
The nod went to Jansen. They got the idea that Widgery was to fill in whenever Jansen had to miss. Two decades later, Widgery is still asking him when that day might come.
The games and years have gone by. For the first 18 years, Jansen got the same $100 a game, but the Colts finally gave him a raise.
He's known for his inflection skills. Oh, what the man can do with T.Y. Hilton. And he's hoping the Colts keep asking him back—"until I start slurring." Besides livening up a lot of Sunday afternoons, he has a natural conversation starter for any occasion. It hasn't hurt his day-job business, either.
"When I'm on video shoots," he said, "my clients will go, 'Mike, tell them what your part-time job is.'
"Some of the intangibles of that, I can't even calculate."
Good thing he wasn't a Sweet 16 casualty back in '98. Like Purdue in basketball.
"I think that's fascinating in anyone's life, when there's a pivotal moment that changes your life, and you can't imagine what it would be like without it," he said.
All Mike Jansen asks is a continued vibrant voice. And lots of players with names like Al Woods.•
__________
Lopresti is a lifelong resident of Richmond and a graduate of Ball State University. He was a columnist for USA Today and Gannett newspapers for 31 years; he covered 34 Final Fours, 30 Super Bowls, 32 World Series and 16 Olympics. His column appears weekly. He can be reached at [email protected]
Please enable JavaScript to view this content.