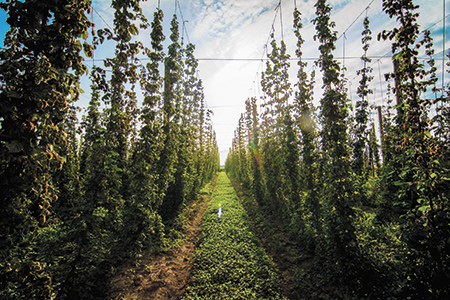 While most Indiana farmers are just now starting to think about taking in their crops, the folks at Crazy Horse Hops, a smallish operation about 25 miles east of Indianapolis, have already finished.
They recently harvested 12 acres of hops—a vine whose green, cone-shaped flowers provide the bitterness and flavor that gives beer its distinctive bouquet.
"We've probably got 10,000 pounds in our cooler right now," Crazy Horse CEO Ryan Hammer said.
Those hops will chill for a few weeks before most are dried and processed into pellets—the standard form used by brewers. Crazy Horse has about 68 acres ready for hops production but eventually plans to plant as many as 200 acres.
Still, Crazy Horse is already Indiana's largest hops producer—albeit in a state where growing the plant is a very, very new thing.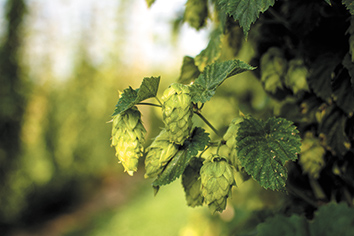 "Crazy Horse is by far the biggest, with definitely the most acreage in place," said Amy Thompson, Purdue Cooperative Extension Service educator and part of the Purdue Hop Team, a cadre of extension educators facilitating hops production. "There are other, smaller growers expanding the varieties they produce, expanding acres and increasing their yields, but Crazy Horse is on a scale like no one else in the state."
The adventure began in 2012, when Hammer started growing hops as a hobby on his own property. But hops are extremely labor- and capital-intensive, and he lacked the resources to expand. Then he ran into an old high school friend (and Crazy Horse's chief operating officer), third-generation farmer Josh Martin. Martin was a newly minted Purdue graduate with a double major in ag business and entrepreneurship, and the two started discussing how to turn Hammer's hobby into a bona fide business.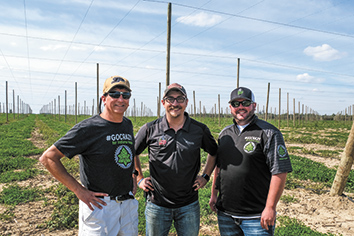 Crazy Horse Hops' founders, from left, Todd Kaminski, Ryan Hammer and Josh Martin. (Hops photo courtesy of Crazy Horse Hops; photo of founders by IBJ's Eric Learned)
Soon they hooked up with Todd Kaminski, a local dentist and Martin family friend who'd dabbled in agricultural projects for years. He helped arrange the financing to launch Crazy Horse Hops, which debuted on the Martin family's property in July 2015.
"I jokingly call myself the old man with the resources," said Kaminski, 58, who serves as chief financial officer.
The farm started with five acres of hops and has expanded steadily since. Crazy Horse also is putting the finishing touches on a warehouse and processing facility that not only allows Crazy Horse to harvest, dry and pelletize its own crop
but to offer the same services to growers around the state.
It's taken a chunk of cash to make it this far.
"To get to this level, we're at about $3.2 million, I would say," Kaminski estimated.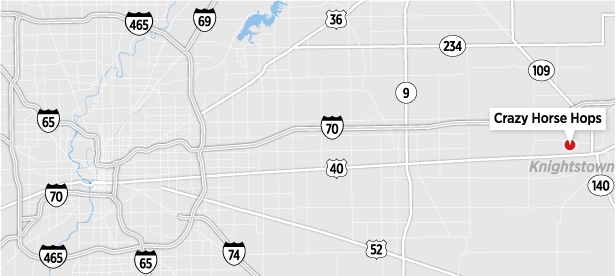 From vine to pellet
It cost so much because hops production requires a tremendous amount of infrastructure. Hops are aggressive vines and can grow as much as a foot a day, making them the second-fastest-growing plant in the world, after bamboo.
They require a massive trellis structure, which in the case of Crazy Horse consists of several hundred 18-foot-tall telephone poles per acre, all of them strung with a latticework of heavy gauge wire to support the plants.
Once hops are planted, it takes three or four years for the plants to reach their full growth potential. When they do, they can produce about 1,200 pounds of flowers per acre (this year's crop brought in around 600 to 700 pounds per acre). At Crazy Horse, the flowers are harvested and processed using a $1.2 million, German-built custom picker and bailing system, plus a $135,000 pelletizing machine built by Buskirk Engineering of Ossian, Indiana.
It goes without saying that this capital outlay creates a formidable barrier to entry for other hops farmers—which explains why, of the approximately 80 acres of hops in the entire state, Crazy Horse controls the lion's share.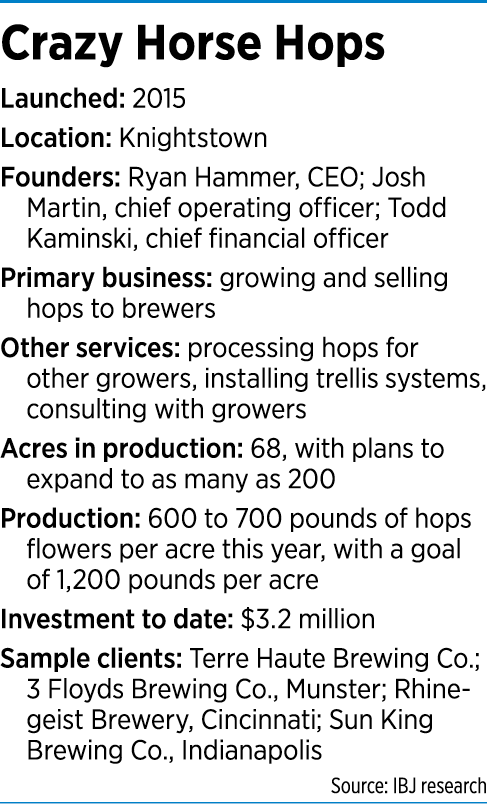 "With all the smaller growers, we're probably getting up to 80 acres," Hammer said. "But 68 of those are ours."
Fledgling industry
Hammer knows of which he speaks, because he's also president of the Indiana Hops Growers Association. He's big on expanding Indiana production (other smaller operations include Indy High Bines and Liberty Hop Farm), in part because it's a potential source of revenue. Hops-processing equipment is expensive, so Crazy Horse offers processing services to smaller outfits, saving them the considerable expense of purchasing hyper-specialized gear.
"We can bring in hops from some of these smaller operations and process it down to whatever extent they want," Kaminski said. "We can pick it for them and give it to them as a wet hop, or we can dry it, or we can even buy it and market it for them."
That's just part of a multi-pronged business plan that seeks to wring every possible dime out the investment already made in Crazy Horse. The farm wants to process hops for other growers; broker sales of other people's products; offer consulting services; install trellis systems; sell online to home hobbyists; turn the farm into an agricultural tourism destination with space for meetings and weddings and perhaps a tap room serving beers that use their hops; and, of course, sell their own hops to brewers.
The business could be quite lucrative, because while hops are tougher to grow than, say, corn, they're also more profitable.
"If everything is perfectly right, you can expect to gross 800 bucks, maybe 900 bucks on an acre of corn," Martin said. "But if things go marginally right and we hit 1,000 to 1,200 pounds per acre (in hops), which is pretty conservative, we're looking at $15,000 gross per acre."
Crazy Horse wants to become an important regional supplier, furnishing hops to breweries within about a 200-mile radius of its fields. The farm's client list includes Terre Haute Brewing Co., 3 Floyds Brewing Co. (in Munster), Rhinegeist Brewery (Cincinnati), and Sun King Brewing (Indianapolis).
Sun King started buying hops from Hammer when he was still a hobbyist. Today Crazy Horse is its go-to organization for "wet hops"—hop flowers that are picked fresh and shipped, undried, to the brewer within 12 to 24 hours of harvest.
These highly perishable flowers are used by Sun King for, among other things, a pale ale called Wet Hopped & Sticky.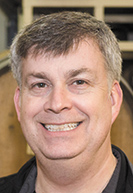 Colt
"It kind of gives that local edge on a wet hop beer that you just don't get from anyplace else," said Sun King co-founder and Head Brewer Dave Colt.
"It takes about six times the amount of wet hops than it does the dry hops because there's still so much moisture in it. But you get that fresh sort of chlorophyll-like character in there. It bubbles, it's soft and wonderful and it sort of feels of the harvest."
Soil challenges
Though Amy Thompson at Purdue said the Indiana hops industry is slowly expanding, she said there are plenty of hassles to growing the vine in Hoosier soil.
The management at Crazy Horse heartily agrees.
"What makes Indiana so good for growing corn and soybeans can be negative for growing hops," Martin said. "Our soil is heavy clay and loam, and it holds onto nutrients really well, but it also holds onto water. A corn crop and a soybean crop can handle that, but hops can't sit in water."
According to the national group USA Hops, 70.8 percent of the nation's 45,488 acres of hops are grown in Oregon—specifically, a stretch of high desert called Yakima Valley, famous for its loose, dry soil and lack of humidity. Needless to say, Indiana is famous for neither of those things.
To help keep his farm's hops dry, Martin said Crazy Horse has installed an extensive (and expensive) drainage system in the fields. Diseases encouraged by Indiana's humid weather are also a persistent headache.
Still, there are hassles with pretty much every crop. And this year the rain and diseases didn't stop Crazy Horse from gleaning about $200,000 in hops from just 12 acres.
"It's just like any other kind of farming," Martin said. "You're going to have obstacles and Mother Nature's going to throw curveballs. You just have to figure out what your ground needs in order to produce a good crop."•
Please enable JavaScript to view this content.