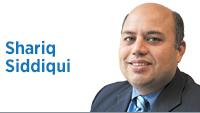 There are many theories or arguments about why the third sector was established. In fact, what we call this sector (philanthropic, voluntary, nonprofit, non-government and so on) changes depending upon the perspective. Unfortunately, an essential element of the sector has been lost in our quest for greater legitimacy through legal and administrative codification.
The sector is seen as having many important roles that include administering services the public and private sectors fail to provide, representing and advocating for the interests of particular populations, expressing and preserving values and traditions, and building community and fostering civic engagement.
However, the third sector's role as a vanguard or a leader in innovation and experimentation is essential. Not-for-profits can take risks in ways government cannot. While businesses have a similar ability, they lack the incentive to innovate without promise of profit and are less motivated to produce social value.
However, when we think of the success of a not-for-profit or philanthropic institution, we look for a strategy, audited financial statements, an operations plan, dashboards for evaluation and other metrics that we perceive as assurance the institution is efficient and not misappropriating funds. Less attention is paid to whether the organization is innovating, experimenting and taking risks in the quest to make the world a better place.
President Ronald Reagan's push to use the not-for-profit sector to serve public functions created two major problems. First, the sector's dependence upon government fees and contracts increased greatly. Second, in his quest to reduce the size of government and create greater efficiency, Reagan actually pushed many not-for-profits to become quasi-government entities. In order to retain government funding, these not-for-profits were forced to act like semi-government entities. In that situation, innovation and experimentation are replaced by programming.
Similarly, successful individuals from the private sector come to the third sector with a lack of understanding of why it is uniquely different. The challenge the third sector faces is not that it lacks professionalism or best practices. The challenge is that social value is hard to achieve when making a profit or worrying about the bottom line. The push to make the third sector behave like the business sector is focused on the bureaucratization of business practices rather than entrepreneurial innovation.
When we examine the fiduciary responsibilities of third-sector board members, we find a failure yet again to capture the essential feature of experimentation and innovation.
The codification of laws and the "best practices" being promulgated related to the third sector all seem to think that, if we follow a specific management theory, efficient institutions will simply alleviate social problems.
Science is seen as the answer while hope and a leap of faith have been relegated to the realm of superstition. Experimentation and innovation are only successful if they can enrich the bottom line. Failure is seen as the end of the journey rather than a moment of learning and the beginning of a new one.
The most important role of philanthropy and not-for-profits is to take risks, experiment and embrace failure, which is essential to meaningful innovation.
I became part of this sector not because I was seeking employment, but because I sought to make the world a better place. The third sector provided the rare opportunity to take a leap of faith and dare to dream of a world that would be so much better.•
Click here for more Forefront columns.
__________
Siddiqui is an attorney, has a doctorate from the Lilly Family School of Philanthropy at IU and leads the Association for Research on Nonprofit Organizations and Voluntary Action. Send comments to ibjedit@ibj.com.
Please enable JavaScript to view this content.