One of the region's largest employers, Memphis-based Federal Express, is still scrambling like one of its package
haulers at the height of an early-morning sort to defeat a proposed reclassification of its work force.
In recent days, FedEx sent to Indianapolis its head of communications, Maury Lane, to try to
win the hearts and minds of businesses. Lane and FedEx brass have been trying to counter legislation
pending in Congress being pushed by arch rival United Parcel Service and the Teamsters union.
Legislation passed by the House and due for Senate consideration would remove FedEx's air cargo
employees from coverage under the Railway Labor Act, which was extended to airlines in 1936. The RLA essentially
prevents a local labor dispute in one part of a broader transportation system from bringing that system to a halt.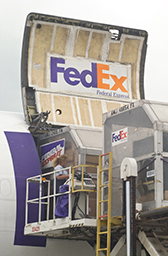 FedEx
says its Indianapolis air operation could feel disruptions if workers are reclassified by Congress, as rival UPS seeks. (IBJ
file photo)
UPS started its air cargo business in the 1980s, but its workers are still under the provisions of the
National Labor Relations Act—making it more vulnerable to system-wide disruption when local labor disputes arise. UPS'
vulnerability was illustrated by a 15-day strike in 1997 that brought significant disruption.
Lane argues that
putting FedEx air workers under the NLRA is absurd, saying 85 percent of FedEx cargo moves by air while 85 percent of UPS'
cargo is still moved by truck.
"What they're trying to do is treat us like a trucking company,"
Lane said. "There are no stop signs at 30,000 feet."
FedEx's campaign includes distributing
to media and business leaders a story that ran last month in The Washington Post about some UPS operations pulling
workers aside to write letters to Congress in support of reclassifying rival FedEx's work force.
FedEx
said if UPS succeeds in Congress, it will cancel orders for Boeing 777 cargo freighters in anticipation of what it says will
be costly harm to its business. FedEx, which employs about 5,000 at its second-largest U.S. hub at Indianapolis International
Airport, says businesses will also pay the price in the form of less reliability due to labor disputes.
Please enable JavaScript to view this content.