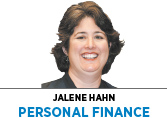 Thanksgiving is now one of my favorite holidays. Besides the food, friends and family gatherings, it gives me time to reflect on how blessed I am.
We so often look at the world and our personal situation and see what's wrong or what's missing. Gratitude is an ongoing action, a state of being or a way of life. It is an ongoing habit. I am not a gratitude expert but do believe it is an essential part of cultivating a truly fulfilling life.
Robert A. Emmons, a professor of psychology at the University of California Davis, is the world's leading scientific expert on gratitude. He asserts that gratitude is composed of two parts. "First, it's an affirmation of goodness. … The second part of gratitude is figuring out where that goodness comes from. We recognize the sources of this goodness as being outside of ourselves. … I think true gratitude involves a humble dependence on others: We acknowledge that other people—or even higher powers, if you're of a spiritual mindset—gave us many gifts, big and small, to help us achieve the goodness in our lives."
Emmons and his colleagues have researched the benefits of cultivating "an attitude of gratitude" and suggestioned how to incorporate gratitude into our daily lives. They suggest keeping a gratitude journal, counting blessings, and using concrete reminders to take time out to be grateful.
Their scientific studies have found physical, psychological and social benefits. "Gratitude has one of the strongest links to mental health and satisfaction with life of any personality trait—more so than even optimism, hope or compassion. Grateful people experience higher levels of positive emotions such as joy, enthusiasm, love, happiness, and optimism, and gratitude as a discipline protects us from the destructive impulses of envy, resentment, greed and bitterness."
Neuroscientist Alex Korb has done brain studies that demonstrate practicing gratitude actually rewires your brain, creating a gratitude upward spiral. The more you exercise gratitude, the more efficient the neurons become and "it simply takes less effort to be grateful."
Practicing gratitude is also beneficial to your financial well-being. The late Rabbi Hyman Schachtel proposed that "happiness is not having what you want, but wanting what you have." We live in a consumption culture of always wanting the latest and greatest and tend to equate success with outward materialistic signs of success—bigger house, expensive car, designer clothes.
The Catholic Benedictine monk David Steindl-Rast wrote, "Gratefulness is the key to a happy life that we hold in our hands, because if we are not grateful, then no matter how much we have, we will not be happy—because we will always want to have something else or something more."
In a blog post headlined "Improve your Finances with Gratitude" on 20somethingfinance.com, G.E. Miller writes, "We are surrounded by an abundance of 'good enough.' And good enough can save you hundreds of thousands of dollars over your lifetime."
Other benefits include being more generous; placing more emphasis on what is truly important in life; increasing charitable giving of time, talent and treasure; and increased resilience when you do have financial setbacks.
As we head into Thanksgiving, the start of the holiday season, take time to reflect on what you truly have and start to cultivate a lifestyle of gratitude, not just for now, but year-round.
As for me, I will be recovering from knee surgery and grateful for health insurance and modern medicine. I will be grateful for modern technology so my son studying abroad will be able to be with us virtually for Thanksgiving. I will also be grateful for my supportive husband and oldest son who will nurse me back to health.•
__________
Hahn is a certified financial planner with WWA Planning and Investments. She can be reached at 812-379-1120 or jalene@wwafp.com.
Please enable JavaScript to view this content.