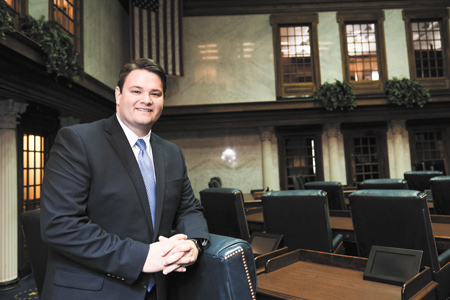 When J.D. Ford was growing up in northwestern Ohio, he would be with his grandpa or grandma at a restaurant or grocery store and notice that strangers regularly thanked them for their work.
His grandpa was a city councilor and his grandma was a city auditor.
"I thought to myself, 'Wow, that's a pretty cool gig that my grandparents get to do that,'" Ford said.
Those interactions cemented in Ford's head the idea to run for office someday.
And so he did. This month, in his second try, Ford toppled state Sen. Mike Delph, the controversial, conservative Republican who had represented northwestern Marion County, southeastern Boone County and southwestern Hamilton County since 2005.
Delph had once seemed nearly unbeatable. In 2014, Delph defeated Ford by 8 percentage points, a huge margin, especially given that President Barack Obama won the district two years earlier and Hillary Clinton won it two years later.
Then this year, Delph crushed a moderate Republican challenger who was endorsed by GOP mayors and other leaders in the district.
But Ford was undaunted. And when the votes were counted on Nov. 6, he won easily—unseating Delph with 57 percent of the vote and a larger margin than Delph won with four years ago.
Ford takes over the seat facing great expectations, even though he's one of just 10 Democrats in the 50-seat Senate, which has been controlled by Republicans for decades.
He is believed to be the state's first openly gay lawmaker and, at 36 years old, is among the youngest elected officials at the Statehouse.
And while LGBT Hoosiers have had lawmakers advocating for them, especially in recent years, Ford is expected to be the community's new voice—even as he works on issues from the minority caucus.
"I think that's why this win is so important to me," Ford said.
His friends and supporters say Ford is up to the challenge. They call him a naturally likable person, who genuinely cares about others and is honest and hard-working.
"He is what I fondly call 'the boy next door,'" Carmel activist and district resident Annette Gross said.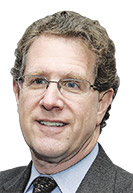 Feigenbaum
Ford grew up in Youngstown, Ohio—a community once heavily controlled by the steel industry. His mom worked with the elderly at an assisted-living facility, and his dad was a truck driver for the county.
"We didn't have it easy growing up," Ford said. "We were in a blue-collar household … . It taught me some grit. It taught me perseverance. It taught me to keep going when doors are closed in your face."
Ford served as president of his high school class during his junior and senior years, then went to the University of Akron, where he studied political science and criminal justice.
His first job out of college brought him to Indianapolis to work on the field staff for Theta Chi Fraternity Inc. After several years with the college fraternity organization, Ford went to Hammond to pursue his master's degree and work as a graduate assistant for residential education at Purdue University Northwest.
After earning his master's degree in education in 2010, he returned to Theta Chi to work as director of recruitment expansion. This time, he decided to stay and bought a home in Wayne Township.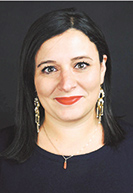 Schrock
"Indianapolis is a very interesting city in the sense that it's got the big-city feel but it's not your big city like Chicago or New York City," Ford said. "It's easy to navigate. It's easy to get around."
A battle over gay rights
Ford decided to run for office after he heard Delph speaking at a town hall meeting in 2013 in which he talked about his opposition to same-sex marriage.
Ford decided someone needed to run against Delph. But he was 31 years old and had no political experience. He thought no one would take him seriously.
But the more Ford talked to residents and elected officials about the idea, the more he talked himself into it.
"Yes, you might be young; yes, you might lose; but you won't know until you try," Ford said.
In the midst of that campaign in 2014, lawmakers debated the highly contentious constitutional ban on same-sex marriage, known then as HJR 3.
Delph supported the ban and passionately pushed legislators to include a phrase in the amendment that would have also prohibited civil unions.
Ford, meanwhile, advocated against the amendment and helped organize rallies to encourage lawmakers to vote no.
Ford said some voters that year told him they wouldn't support him because of his sexual orientation, and he received some anti-gay emails and Facebook messages.
But Ford was confident in his identity. He had come out to his family and friends during his 20s, after college, and said he had a great experience because of the support he immediately received.
"I honestly felt like it was a house being lifted from my shoulders," Ford said.
So he was largely unfazed by the criticism when he ran for office the first time.
"To be honest with you, people are going to do that no matter what. I call that my fan mail," Ford said. "Little did they know that actually pushed me to keep going, because I realized that's one opinion. But for every person that did that, there were five more people that were totally behind me."
Rematch with Delph
Ford said he wasn't immediately certain he would run against Delph in 2018, but he kept himself in the public eye just in case.
"I wanted the community to know I wasn't a sore loser," Ford said. "This was never about me. It was just about me wanting to serve the community."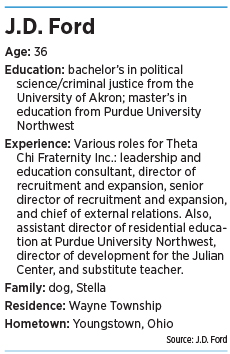 In May 2017, he finalized plans to run again with campaign manager Kristin Jones and launched the campaign at the Indy Pride parade that June.
For six months, Ford campaigned full time, walking more than 400 miles in the district to talk with voters.
"The J.D. that you see 'on' is the same J.D. that you see behind the scenes," Jones said. "He's the real deal."
And Ford said the four years he spent staying involved in the district and local issues—and the name recognition that provided—proved to be the biggest factor in his win.
A changing district also played to Ford's benefit. District 29 was the only Republican-held Senate seat on the ballot that Clinton won in 2016, and the Hamilton County portion of the district did not end up being as deeply red as in the past.
In 2014, Delph took 65 percent of the vote in Hamilton County, but this year he took only 52 percent. The number of ballots cast in the race in Hamilton County also more than doubled between elections.
"I think it's certainly been trending Democratic," said Ed Feigenbaum, publisher of the political newsletter Indiana Legislative Insight.
To boost his chance of winning, Ford raised and spent nearly double the amount he spent in 2014, according to pre-election campaign finance reports.
Delph significantly increased fundraising and spending this year, as well, spending more than triple the amount from 2014.
But Ford was winner on Election Day.
"It was really difficult to stand before your friends and family and say you didn't make it," Ford said of election night in 2014. "So this time, being able to stand before them and say, 'I made it,' was just like winning the lottery."
He said his emotions this time ranged from happiness and excitement to wanting to throw up as results trickled in. In fact, he could barely focus on his birthday. He turned 36 on Election Day.
Hit the ground running
Ford said his advocacy for LGBT issues will, of course, continue. But he hopes his arguments will carry more weight, especially as lawmakers in 2019 debate a hate crimes bill that would highlight judges' existing power to assign tougher penalties for crimes motivated by bias or hate.
During the 2018 session, a hate crimes bill died as legislators clashed about whether a victim's gender identity should be listed as a qualifying hate motive.
Ford said he hopes having a gay elected official will help move the issue forward, because he will be able to appeal directly to his colleagues.
"Before, it was lawmakers listening to people come to the podium and tell their stories" in committee meetings, Ford said.
"But now I will be on the other side, sitting in a chair … and I'll be able to have some conversations with my colleagues and say, 'Look, I am no different than those folks coming to the podium, and I'm no different from you, right?'"
Gross, the Carmel activist who lives in the district and worked with Ford during the gay marriage and religious freedom fights, said Ford's presence at the Statehouse is a step in the right direction for the LGBT community.
"To see someone in office, it gives them hope," Gross said. "There's a place for them. His win is significant on a lot of levels."
In addition to equal protection, Ford said, he wants to focus on education. Ford has been substitute-teaching to earn money while campaigning and said that experience opened his eyes to problems in the education system.
"My legacy—if I could go that route—I would love it to be, 'That's the guy that stood up for kids in our state,'" Ford said. "Or, 'That's the guy that helped make sure that children in our state have high-quality education.'"
Feigenbaum said it's not difficult for incoming freshmen in the majority and for those with a background in state government to play a meaningful role immediately. But neither is the case for Ford.
"If you're a member of the minority and you're a freshman, you're still going to be figuring out where the bathroom is," he said. "It's not going to be an overnight success."
But Elise Shrock, former deputy chief of staff and communications director for the Indiana Senate Democratic Caucus, said Ford will be a much-needed Statehouse ally for women and minorities.
"Just like any other freshman legislator, you do have to earn your stripes," Shrock said. "But I have no doubt, given J.D.'s work ethic and personality, he will hit the ground running."•
Please enable JavaScript to view this content.