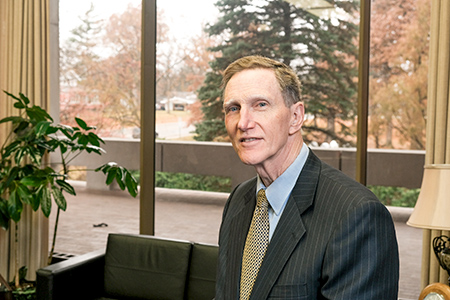 Running a university is by no means easy, but it sounds like a cakewalk compared with John Pistole's previous gig.
Before becoming president of Anderson University in 2015, Pistole worked for the FBI for 23 years, earning the distinction of being its longest-serving deputy director. He then spent four years as the longest-serving post-9/11 head of the U.S. Transportation Security Administration, which protects the safety of the traveling public.
Today, the 62-year-old is about as far from the halls of power as it's possible to get, but his new situation does boast a certain allure.
"I really enjoy engaging with the students," said Pistole, 62. "And I haven't had to testify before Congress once in the last 3-1/2 years."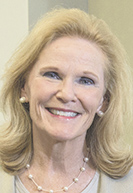 Lubbers
Not that he doesn't face challenges. Pistole must guide the small, Christian, liberal arts university—which celebrated its centennial last year—into its second century. And in an era when schools the size of Anderson (about 1,350 undergraduates and 400 graduate students) are struggling to attract students and make ends meet, it's a tall order.
"The challenges are significant, especially in terms of enrollment and the fiscal model," said Teresa Lubbers, Indiana's commissioner for higher education. "It's critical that schools such as Anderson distinguish themselves for their academic quality, unique program offerings tied to workforce needs, and unwavering commitment to student success."
These days, Pistole works from a smallish office in Anderson University's administration building. Though it seems odd to find a high-level Washington, D.C., operative in such a spot, the deeply religious Pistole is at peace with his current assignment, and the circumstances that brought him there.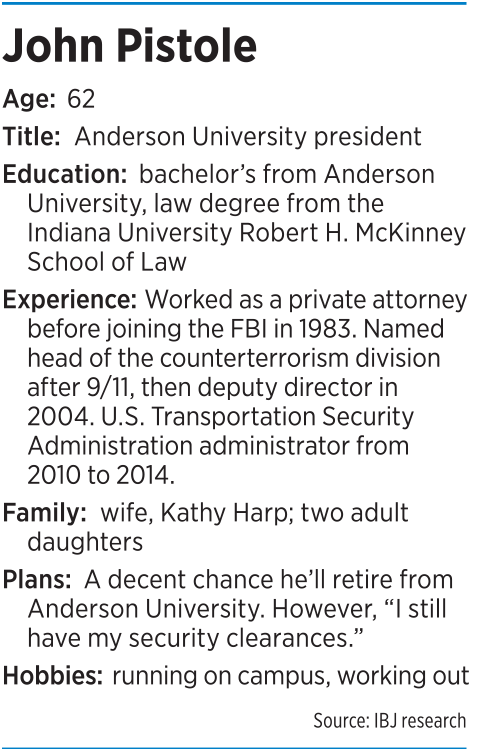 "Anderson University wasn't on my radar at all," he said. "It's just unbelievable the way things fell into place."
Pistole is an Anderson native, growing up there as the youngest of four kids. His father taught at Anderson University and his mother was a schoolteacher. He attended Anderson High School, where he did well academically, and starred on both the tennis and basketball teams. But at the beginning of his senior year, a car he was riding in was T-boned near his school.
The impact broke his neck, and he spent 11 weeks in a full-body cast. Needless to say, this gave him a chance to re-evaluate his life. He was doing well in school and athletics and church, but he also was partying heartily and drinking to excess.
"It really gave me a wake-up call," Pistole said. "Since that time, I've had a daily appreciation for being alive, not being paralyzed, and having a sense of how God might be at work. Sometimes, it's actually pretty clear, but usually it's pretty mysterious."
His plan, after he got back on his feet, was no longer to land an athletic scholarship and blow town, as he'd been thinking before his accident. Instead, Pistole put aside his partying ways and took life seriously. He enrolled at Anderson University, where he earned a bachelor's in 1978, then earned a law degree at Indiana University and spent two years working as a local attorney.
Next, he signed on with the FBI—where he rose through the ranks, becoming head of its counterterrorism division after 9/11 and then deputy director in 2004. He transitioned to the TSA in July 2010.
Coming home
Through it all, he gave nary a thought to returning to Anderson. Until a call came from out of the blue.
In 2014, a friend associated with the school told him the current president, Jim Edwards, was retiring, and coyly asked Pistole if he knew anyone who might want the job. When Pistole said he'd think of some names, his friend asked him straight out if he wanted to do it.
Which, initially, he didn't. He pleaded that his wife, Kathy Harp, was from the D.C. area and wouldn't want to move. But to his surprise, Harp—a fellow Anderson University graduate whom he'd met as a freshman and married in 1979—acquiesced to trading the East Coast for eastern Indiana.
"Though she did ask, 'Do you think if it worked out, we could still live here in northern Virginia and you just go into the school every once in a while?'" Pistole recalled.
Indeed not. Pistole started in his new position in March 2015, moving into the president's traditional residence, Boyes House.
"It's home for me, but it was not on my radar at all," he said. "But I felt a strong sense of the possibility of it being a God thing that I should be open to."
Anderson had changed a great deal since his boyhood. Perhaps most tellingly, the thousands of General Motors factory jobs that once underpinned the economy had vanished—along with hundreds of other manufacturing jobs.
And Anderson University—founded in 1917 by the Anderson-based Church of God—was facing its own challenges. Like other tiny, out-of-the-way learning institutions, it was trying to stand out to potential students.
"When I got here 3-1/2 years ago, my assessment was that we were not as distinctive or compelling or relevant as we could or should be," Pistole said.
Under his guidance, the school discontinued four majors, including one for glass-blowing and another for church music, which was folded into a new degree called Worship Arts. Then Anderson added four fields of study: computer engineering (Anderson's third engineering degree), sports marketing, national security and cybersecurity.
"Those last two are my wheelhouse," Pistole said.
He's used his connections to rope in a stellar list of political guest speakers, including former U.S. Attorney General Eric Holder, former CIA Director John Brennan and former FBI Director Robert Mueller, who's currently the special counsel investigating Russian government interference in the 2016 election.
Pistole said the national security and cybersecurity offerings will help the school remain relevant.
"There are about 170 schools in the Council of Christian Colleges and Universities, and we're the only one that offers those two majors," he said. "We're one of only a handful in the state that offer cybersecurity, and I think we're still the only one that offers national security."
Government experience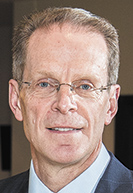 Mearns
Pistole's government connections aren't really an oddity for college and university presidents these days. Former Indiana Gov. Mitch Daniels heads Purdue University, and Ball State University President Geoffrey Mearns spent nine years at the U.S. Department of Justice.
Mearns said government can be a good training ground for leaders interested in taking the plunge into academia.
"It can be beneficial to gain experience in terms of making decisions, following a process, managing people, and making decisions that have a significant practical impact on other people," he said.
"You not only know the formal structure and processes, but also come to appreciate the importance of understanding an institution's unwritten culture."
Standing out from the crowd is a big deal to Pistole, because his school, as well as thousands of other smallish liberal arts colleges nationwide, face a potentially existential threat. The pool of new students is declining, and the cost of tuition keeps rising.
So the question becomes, what does Anderson University offer that sets it apart?
To find out what happens if an institution fails to answer that question, one need only look up the road to Saint Joseph's College in Rensselaer. The Catholic liberal arts school, founded in 1889, was forced to close its doors in 2017, leaving some 1,100 students in the lurch.
It's a sign of things to come. Many smaller schools have only modest endowments—Anderson University's is just $36 million—forcing them to be "tuition dependent" to keep the lights on, according to a 2015 study by Moody's Investor Service. The study projected that about 15 small schools will bite the dust each year.
When he accepted the job of president, Pistole thought he was looking at a two- to four-year turnaround. Step one was stabilization, then revitalization. Then Pistole wanted to put the university on a course to thrive.
"I thought that we'd stabilize in two years, revitalize in a year or two, and then thrive," he said. "Well, we're still stabilizing."
Enrollment at the school, which has an annual budget of about $60 million, has been declining since 2005. But in 2018, AU notched a 10 percent increase in the size of its freshman class (which is typically in the 400 to 450 range).
"If it weren't for that increase in freshmen, I would be much more concerned than I am," Pistole said. "But I think we've got the right people in place, and we've got a great board, and we're in the silent phase of a focused fundraising initiative. We've got some major gift discussions and some initial pledges that we hope to be announcing in the next several months.
"From that perspective, we're in good shape. But the key is, can we increase enrollment while also increasing net tuition revenue?"
Tuition discounts
That's tougher than it sounds, because these days universities routinely offer breathtaking tuition discounts.
According to the 2017 National Association of College and University Business Officers Tuition Discounting Study, institutional dollars awarded to undergraduates as a percentage of gross tuition and fee revenue last year reached 49.9 percent for first-time, full-time freshmen. This was the highest rate in the survey's history. It means that nearly half the tuition and fees taken in by private, not-for-profit colleges went right back out the door as financial aid.
Offering sweet discounts is a great way to get butts in classrooms. It's also a great way to go out of business.
"I could double enrollment and lose money on every student, because we're giving it away," Pistole said.
Adding to the pressure: The number of high school graduates in Indiana and the Midwest has decreased for several years, and probably won't rise again until 2023.
"So we've got five more years, which is why it's even more important to be distinctive, compelling and relevant," Pistole said. "We have to show why somebody would choose us over another school."
To consider himself successful, he'd like to see strong increases in undergraduate and graduate enrollment (along with strong retention), and a budget surplus.
"We're getting by, but other than some realignment and things, we're not looking at building new buildings or undertaking major programs unless there's a specific gift," he said.
Pistole is charting the right course for Anderson University, said Patricia Seasor Bailey, an Indianapolis attorney and chairwoman of its board of trustees.
"John is doing a great job in a difficult time for higher education," she said.•
Please enable JavaScript to view this content.