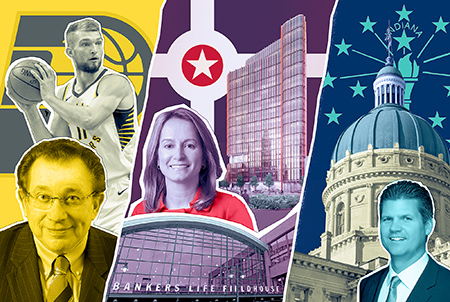 City convention officials are gearing up for a big financial ask of the Indiana General Assembly next year as they set out on a $120 million expansion of the Indiana Convention Center at Pan Am Plaza—and think about future sports and tourism needs.
The Capital Improvement Board of Managers, with Indianapolis Mayor Joe Hogsett's blessing, plans to ask key state budget writers for at least $8 million in annual funding—and perhaps much more. The money would help fund CIB operations and allow the quasi-governmental agency to finance major renovations at Bankers Life Fieldhouse and other venues.
CIB's request comes as the entity stands to lose $8 million a year in operating revenue that will be redirected to pay off bonds issued to fund a convention ballroom and meeting space at Pan Am Plaza. That project also includes two Hilton-branded, convention-style hotels to be developed by Kite Realty Group Trust.
But the CIB ask is much broader than just the Pan Am deal.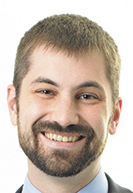 Cook
Hogsett's chief of staff, Thomas Cook, told IBJ that convention officials want to "capture the moment on Pan Am" and ask the Legislature to fund CIB's 25-year vision, which includes substantial renovations to Bankers Life Fieldhouse and other CIB properties.
CIB Board President Melina Kennedy said the board believes "it's important to be thinking today about the future and not sitting still and enjoying the success we have now and assuming it will just continue."
"We own and operate several really critical facilities, such as Lucas Oil Stadium, such as Bankers Life arena, and we know over the course of the next several decades there will be needs for refreshing and modernizing and making sure we're providing facilities that are really attractive to visitors and leave a world-class impression."
Meanwhile, the elephant in the room is securing a long-term deal to keep the Indiana Pacers in town.

The Pacers, unlike the Indianapolis Colts, don't have a long-term deal to stay in Indianapolis. The Pacers' lease at the fieldhouse runs through 2024, while the Colts' contract runs through 2037. The Colts could terminate the deal in 2030, though, if the team is not among the top five NFL teams in gross operating revenue.
But 84-year-old Herb Simon, who owns Pacers Sports & Entertainment, has talked openly about his desire to make a long-term commitment, saying last year that the team will stay put for the rest of his lifetime and beyond as his son, Steve Simon, would take over.
In return for staying, Simon has said, the Pacers want improvements to the fieldhouse. PSE, which owns the team and manages the fieldhouse for CIB, declined to comment for this story.
"We're in constant conversations with our teams making sure they're here for the long haul," Kennedy said. "Mr. Simon has talked about wanting to make a longer-term commitment to Indiana and we stand ready to hopefully make that happen."
It's not clear how much money CIB will seek from the state for fieldhouse upgrades or what improvements it has in mind for other facilities.
Over the last five years, the Pacers have made improvements to the fieldhouse including a new ribbon board and enhanced scoreboard. Additionally, the team overhauled part of the suite level including the buildout of the $2.8 million Sells Group Loft entertainment area in 2016.
But sources told IBJ that Pacers executives are eyeing much bigger projects, including converting some of the seating and suite areas into a wide array of seating options that would include space for larger and mixed groups to gather and network.
In Atlanta, the newly renamed State Farm Arena has undergone a $200 million renovation with a number of new amenities and entertaining spaces. That arena, home to the Atlanta Hawks, opened in 1999—the same year Bankers Life Fieldhouse opened.
Kennedy said CIB's current and future operating and capital needs remain under discussion.
Handful of options
Already, CIB receives $169 million annually—80 percent of its revenue—in state and local tax dollars that it uses for operations and to pay off bonds for buildings.
Some of those tax dollars come from a designated zone that includes sports facilities and convention hotels. Other money comes from tourism-related taxes.
The debate about how to raise revenue for CIB and sports facilities, according to those familiar with the discussions, is likely to center around a few key options.
◗ The state could extend the life of several tourism- and entertainment-related taxes that currently fund CIB and bond payments for the buildings. Those include an innkeeper's tax (which generated $55.3 million for CIB in 2017), a Marion County food and beverage tax (which generated $48.8 million in 2017), an admissions tax (which generated $15.1 million), and an auto-rental tax (which generated $7.2 million). Those taxes have been added or increased in phases and some are set to expire in nine years, putting a huge chunk of CIB revenue at risk.
◗ Lawmakers could expand the footprint of the Professional Sports Development Area, a zone mostly downtown that captures state income and sales-tax revenue generated at Lucas Oil Stadium, Bankers Life Fieldhouse, Victory Field, the Indianapolis Colts' northwest-side practice venue and four downtown hotels. For instance, there's talk about adding the two proposed Kite hotels to the zone.
◗ Lawmakers could increase state-imposed caps on what CIB earns annually from the PSDA. Last year, CIB received $28.4 million from the PSDA, with revenue over the cap flowing to the state's general fund.
CIB considers those options viable, Kennedy said, as part of a long-term solution to the organization's growth, but believes "new taxes or new fees" shouldn't be pursued. "That's not something anyone has an appetite for," she said. "We're trying to look at, how do we maximize appropriate revenue streams that exist today that are typically associated with CIB-type activities and making sure they're extended into the future?"
And Cook told IBJ that "financial certainty is as much or more important as new revenue."
Proponents are also gearing up to make the case to lawmakers that CIB represents a good return on investment. The group recently released a report touting its "economic significance," showing that CIB-initiated spending on tickets, food and beverage, transportation, shopping, hotel and other entertainment in 2017 totaled $1.1 billion in Indiana, generating $122 million in state and local tax revenue.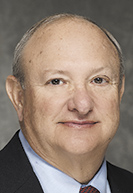 Kenley
And Pacers Sports & Entertainment, which will be supporting the deal, has retained powerful former Senate Appropriations Chairman Luke Kenley as a lobbyist.
Kenley, who retired last year from the Legislature, said the Pacers want to make the case to lawmakers that Indiana's investment in tourism has "been very successful," but that it needs another shot in the arm to keep up the momentum.
"Not only has it been good for economic development, but the state has benefited directly because we collect more taxes as a result of all of this," Kenley said. "If this investment in the capital city produces a stronger capital city, which produces more vitality, more economic activity and more growth and more taxes for the state, that's going to sell the case."
Tough sell
So far, the prospect of increasing CIB's financial backing appears to have tepid support among current budget writers.
Senate Appropriations Chairman Ryan Mishler, R-Bremen, emphasized that discussions with city leaders about a long-term plan for CIB are in early stages. He said he hasn't heard specific dollar amounts yet and thinks the issue is more about finding long-term, future revenue.
"It's more of a package of, where do we want to be in 15 to 20 years, or where do we need to be to compete?" Mishler said. "Indianapolis is very competitive right now … and we want to continue that."
He said the option of expanding the current PSDA to include future development, such as the hotels proposed at Pan Am Plaza or the Hyatt Place/Hyatt House under construction across from Bankers Life Fieldhouse, could be the best path to approval.
"That's kind of the direction I would like to go," Mishler said. "As in any project, when you talk future revenue it's easier to sell than giving up current revenue."
But Rep. Todd Huston—vice chairman of the budget-writing Ways and Means Committee—said future revenue is built into projections, so allocating that money elsewhere would still have an impact.
Huston's opinion could be especially important in the 2019 session as House Ways and Means Chairman Tim Brown continues to recover from a September motorcycle accident.
Mishler dismissed the idea of removing the PSDA cap because it would divert dollars that now go into the state's coffers.
Huston said he expects the options to focus on tweaking the PSDA and excise taxes. All those revenue streams have restrictions that could be amended. "If anything were to happen, those would be the most obvious spots to take a look at," he said.
Still, the issue could be a tough sell to the rest of the Legislature.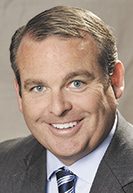 Tamm
Patrick Tamm, CEO of the Indiana Restaurant and Lodging Association, said he hopes lawmakers are willing to provide extra funding, but acknowledged the Indianapolis focus could be a turnoff to some.
"It's a tough issue because it's an Indianapolis-centric issue," Tamm said.
A revenue forecast scheduled for December will give lawmakers more information. But leaders predict a tight budget.
House Speaker Brian Bosma has said the state will see, at most, $350 million in new revenue, and $275 million of that will need to go to the Department of Child Services to keep it adequately funded. Another chunk of new revenue is expected to be used to increase teacher pay.
"I think it's early, a lot to be determined," Huston said. "There are a lot of issues on the table this year. It's a tight budget year."
But Tamm said CIB has a strong case for how tourism and convention activities in Indianapolis benefit the rest of the state.
"There's a reason it's called the Indiana Convention Center," he said. "We really blow the socks off people when they come to Indianapolis, and it bodes well for the entire state."•
Please enable JavaScript to view this content.