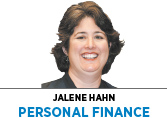 It's the start of a new year, which means it's time to make—and hopefully begin to implement—New Year's resolutions. Eating healthier, getting more exercise and saving more money are among the most popular.
They remind me of a program developed in 2003 by Barbara O'Neill and Karen Ensle of the Rutgers Cooperative Extension Service called "Small Steps to Health and Wealth."
While the book is out of print, there is still a fabulous website, njaes.rutgers.edu/sshw/, you can use to implement your own program. The premise is that behaviors gained to help live a healthier life can also be used to improve financial health.
There are two parts to the program.
The authors first describe 20 similarities between health and financial issues and note that "these common characteristics support the premise that the same behavior-change strategies can be used to improve one's health or personal finances or both."
For example, one of the issues they identified was that both weight and financial problems develop gradually over time—a few extra calories here or a few small purchases there. Pretty soon, the little indulgences have snowballed into obesity or a credit crisis.
Another similarity is that both areas use a lot of technical jargon. It is hard to understand the language, making it difficult to make healthy choices. In both cases, there is a need for realistic advice, and what works for one family or person might not be appropriate for another. The authors also explained that "drastic solutions have major drawbacks and there is no easy way to lose weight, accumulate wealth, or dig yourself out of debt. Rather, it generally takes discipline, perseverance, and time."
While understanding the similarities and connections is good for background, the heart of the program is the 25 common behavior-change strategies. We are more aware of these strategies from a health perspective. One example is the use of benchmarks. Most of us know our weight, blood pressure or cholesterol level, but few of us know our net worth, our debt-to-income ratio or our savings rate.
Another suggestion is keeping a journal or log. Most eating plans will have you track how much and what you eat. Some will even have you journal about the settings, time and your feelings around eating. It is also important to track your spending. Was it a planned purchase or an impulse? What were the circumstances and how were your feelings? Sad, lonely, angry?
By tracking your spending and eating, you become aware of your habits. Once you have this awareness, you can identify areas where you could make small improvements. Each of the 25 behavior changes includes action items.
Another chapter tackles obstacles and the actions recommended to overcome those obstacles. Some common obstacles are fear, denial, lack of specific goals, and just not knowing where to start. Retirement readiness also has a big perception problem; people often don't know how much they will need in retirement, or they underestimate spending needs and therefore don't save adequately.
Sometimes the hardest part is just getting started. Don't try to tackle everything at once. Small steps will add up to big improvements over time. According to Mark Twain, "The secret of getting ahead is getting started. The secret of getting started is breaking your complex overwhelming tasks into small manageable tasks, and then starting on the first one."
Take stock of where you are and pick one thing you can do to move closer to your health and wealth goals. Here's some timeless advice from the program: "Set realistic goals, take small steps to reach them, learn from your setbacks, and—above all—believe in yourself and your capacity to become healthy and wealthy."•
__________
Hahn is a certified financial planner with WWA Planning and Investments. She can be reached at 812-379-1120 or [email protected]
Please enable JavaScript to view this content.