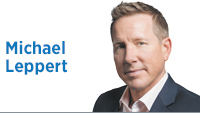 I am a frequent attendee of the Economic Club of Indiana's luncheons. I recall thinking the club's events would have to be stuffy, snooty, academic slogs that could hypnotize and put to sleep any insomniac.
Evidence to the contrary is abundant since I started attending regularly six or seven years ago. Now I rarely miss the events, and even though networking is part of the reason to go, I would happily go by myself. The January gathering is a classic example of how that is true.
Bob Stutz, CEO of Marketing Cloud at Salesforce, was the speaker. I have gotten the question dozens of times: What does Salesforce do? The easiest answer is that Salesforce is the world's number one customer relationship management platform. Companies use the platform to improve sales, service, marketing and more for what must seem like infinite applications in the world of e-commerce.
So, it is tech-nerd stuff that makes interacting in today's world simpler for all of us who only know enough about tech to spell the shortened word correctly. But that's not what Stutz's talk to the club was about.
Appearing in front of about 500 business folks dressed in business suits, Stutz took the stage in jeans, sneakers and a hoodie with the words "Trailblazer" sewn in across the front. He gave a talk about his vision for pushing innovation. But a portion of his comments were meant to help those in the room think about how to push Indiana and Indianapolis to make progress of their own.
Several statements struck a chord with me:
"You can be rebellious and still play by the rules."
"How you get innovation is by growing people who are rebellious."
"Innovation is about creativity."
"People are the most important thing in this business."
"You have to encourage people to be themselves."
"I have never been successful in my life. My teams have."
"Nowadays, people want to know why."
Stutz could be talking about any business. And of course, the audience was made up of people who have been managers or leaders of some type in their lives, but not many who are in the Salesforce market space.
I work in and around government. All these Stutz-isms are wonderfully guiding there. Everyone in the Statehouse, for example, should read them slowly and take a moment to apply each lesson to any number of challenges at hand.
Another comment was this advice for our educators: "Teach people to be different." The thought of it! That challenge is fascinating to me as I review my younger son's educational journey, which should—I repeat, should—lead to his college graduation this May. I don't know which of his teachers taught him to "be different," but the list of them that encouraged him to think for himself is an impressive one.
It was one of the more thought-provoking sessions of the club I have attended. But honestly, I was most curious to hear if he would say anything about a policy position I already knew we shared.
He got all the way to the end before he mentioned it.
"Not having a hate-crimes bill is one of the reasons why people don't want to move to Indiana. A bill that protects every single person."
The Indiana General Assembly is stuck in a debate with itself about what to do about hate or bias crimes. Passing a law is a no-risk economic proposition for the state, and leaders like Stutz and others can give countless examples of the value.
Not one opponent has made an economic argument to oppose it. And that's the best evidence available that shows they are wrong.•
Click here for more Forefront columns.
__________
Leppert is an author and governmental affairs consultant in Indianapolis. He writes at MichaelLeppert.com. Send comments to ibjedit@ibj.com.
Please enable JavaScript to view this content.