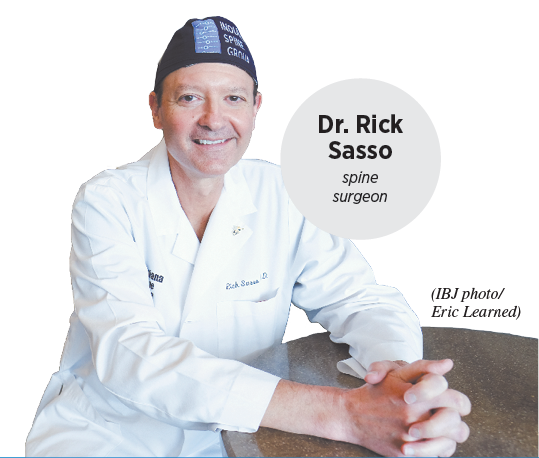 It was a breathtaking verdict. In November, a Marshall County jury awarded Dr. Rick Sasso, an Indianapolis spine surgeon and inventor, $112 million in damages—possibly a state record—after determining that Minnesota-based medical-device giant Medtronic failed to pay him adequate royalties for spinal-implant and screw-implant systems he invented more than a decade ago. Sasso, president of Carmel-based Indiana Spine Group, had been fighting the company more than five years.
Why did you wage this long, uphill battle?
It's not about the money. For me, it's always been about what's right and what's wrong. And what's right is having an agreement, working with people that you trust and admire, and progressing the field that you're in.
How did you develop this spine technology?
It started in one of my fellowships at Northwestern University. We were faced every single day with our inability to safely stabilize the cervical spine. We had crude ways of doing it: baling wire and hooks. And because it wasn't very stable, we had to keep people in bed for long periods of time or put them in these big halos, with bolts into the head. I knew there was a better way of doing this.
I got through my training, came back to Indianapolis. I hired an engineer. Pretty quickly, we came up with some designs that I thought would work. Also what was nice is, I grew up in a little town—Warsaw—where we had a lot of machine shops that make these sorts of things, so I was able to have some of my friends make prototypes.
How did you protect your invention?
I didn't know anything about patents, but I learned pretty quickly it was an important thing to do. One of my best friends' dad was a principal in one of the largest patent law firms in the country, right here in Indianapolis. He helped me remarkably. He was my patent attorney for 20 years until he passed away a few years ago.
How did you commercialize the technology?
I originally had an agreement with a company called Sofamor Danek; it became acquired by Medtronic in 1999. Our agreement was pretty simple. We would work together. Because they're going to help with the technology, if they are able to make money from this project, I'm going to get a small part, 2 percent. They're going to be able to keep 98 percent. And that's for the life of the patents. It was the most successful initial launch that Medtronic had at that time.
So what went wrong?
Things went great at first. This one device was making, early on, $100 million a year for the company and close to $200 million a year for the last 15 years. I trusted them. I was getting my 2 percent. I was training surgeons, teaching people these techniques.
But what I think happens in a lot of companies, a lot of industries—they get really big. They lose the corporate memory of who the guys were who got them to where they are. The original engineers and executives I worked with are gone. They stopped paying what they owed me.
What do you plan to do with the money?
My wife has a fund that we are very active in. The vast majority of that will go into that. Her passions are education and women's health.•
—John Russell
Please enable JavaScript to view this content.