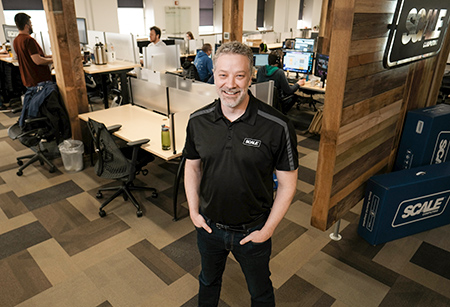 A global partnership with Chinese personal-computer maker Lenovo—to be rolled out Feb. 25—and $34.8 million in funding secured in October has Scale Computing poised for explosive growth.
The Indianapolis-based software developer founded by four Rose-Hulman graduates and an Indiana State University alum in late 2007 has added 40 employees since October and plans to double, to about 280, within 18 months.
Scale CEO Jeff Ready said the growing company could be ready for an initial public offering by mid-2020—though he said the founders and board members haven't decided if that's the best path.
Scale Computing makes software that acts as an invisible IT systems administrator. It finds and fixes problems with computer hardware and systems, often before any human discovers a flaw.
In the simplest terms, Ready said, Scale's product is "a software wrapper over existing hardware to make it work better."
"The selling point is, it's a self-healing infrastructure," he said.

The company has 2,000 customers in 30 countries, and Ready said that's going to explode with the emergence of "edge computing," which means computer processing made faster by taking place near the data source.
Though Scale officials declined to disclose annual revenue, Ready said it's more than $10 million—and he projects it will at least double this year. Despite the growth, Ready said, Scale is not yet profitable. But that appears to be coming.
This month, Lenovo and Scale Computing are rolling out a joint product. Lenovo is wrapping its hardware in Scale's proprietary software, Ready said, specifically for edge-computing use.
"I know with 140 employees and a small office in Indianapolis, it's hard to believe, but this is a multibillion-dollar opportunity," he said.
Partnerships with bigger firms have been key to Scale's global expansion, Ready said. He outlined five other new partnerships that will introduce Scale products to markets across North America, Australia, South Africa and other places.
Don Aquilano, managing partner of Indianapolis-based Allos Ventures, has been a Scale investor since its early funding rounds and also invested in the most recent round. He called the Lenovo partnership "great validation" for Scale.
"You could argue that everything we built was intended for the edge-computing environment before it had a name," Ready said.
Edge computing is a reversal of sorts of the cloud-computing trend, though some systems combine the two.
Originally, "dumb" terminals accessed the computing power of big mainframes. Then, personal computers revolutionized the computing world by packaging the processing power and storage together for the end user. That system began to shift back as computing power and storage demands increased—the cloud was born, sending data storage and processing back to centralized locations.
But the need for extreme processing speed has also increased, so some computing is again shifting closer to the source. Such computers are said to exist on "the edge"—not in the cloud and not within a company's own data center.
For example, many smart-speaker makers are developing speakers with more computing power inside the device. Why? Because users don't want to wait for the speaker to access the cloud to retrieve information. The same idea could be applied to a retailer's cash register system.
Edge computing allows computation and content delivery in 10 milliseconds or less.
According to the Association for Computer Operations Management, 44 percent of data center operators have already deployed some form of edge computing. That number is expected to increase to 65 percent by 2022.
"Edge computing is making waves and serving to change the way data centers are built and where they are deployed," said Bill Kleyman, director of technology solutions at EPAM Systems, a global engineering and IT consultancy based in Pennsylvania.
Those trends and Scale's recent partnerships have Ready extra bullish on his company's future.
Wide demand
Lots of businesses—including retailers, health care providers and warehouse and logistics firms—want the speed and increased reliability of edge computing, Ready said.
And since Scale's software is easy to use and ideal for businesses with multiple operations or locations that have few or no IT workers on site, he said, a whole slew of global opportunities is opening up.
Scale is signing some huge deals as a result. It recently contracted with Ahold Delhaize, an Amsterdam-based company that operates a chain of 8,000 grocery stores worldwide, and Jerry's Enterprises Inc., a chain of dozens of grocery, hardware and liquor stores primarily in Minnesota.
"When I saw what Scale's system could do, I said, 'I want it immediately—tomorrow,'" said Jeff Miller, Jerry's IT director. "Our system goes down at one of our stores, we lose sales. Scale's platform is designed so it never shuts off. Lose power, any piece of the hardware goes down, it doesn't matter."
Several brick-and-mortar retailers told IBJ that upgrading computer infrastructure is increasingly important as retailers seek to create a customer experience that compares favorably to online shopping.
Scale has competitors—notably VMWare, owned by Austin, Texas-based Dell—but Miller said the Indianapolis company's platform is simpler to use, the platform is more flexible (designed to work on systems big and small), and its staff is more responsive. Scale has people in its downtown Indianapolis office 24/7 to deal with customers' concerns, Ready said.
"From the first person that answers the phone, Scale is paying attention," Miller said.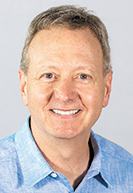 Aquilano
Allos Ventures officials knew pretty quickly they wanted to invest in Scale Computing, Aquilano said.
"We love supporting companies that are solving problems that are not just on customers' white board, but are at the top of their white board," Aquilano said.
He called Ready, 44, "a luminary of sorts in the hyper-converged infrastructure space." And he said Ready's team "stands out."
"This is a team with experience starting a half dozen companies and doing so quite successfully," Aquilano said. "For us, the strength and chemistry of the founding team is paramount. We look for founders who can see around corners and down blind alleys."
That sort of vision has helped Scale Computing change course when necessary.
Humble beginnings
Four of the five founders—Ready, Scott Loughmiller, Nate Hardt and Phil White—met at Rose-Hulman Institute of Technology. The fifth founder, Jason Collier, graduated from Indiana State.
Scale's first funding came from a $10,000 prize in Indiana's Venture Idol Competition sponsored by the state to showcase promising startups to potential investors. Ready was set to move the company to California, where he had success raising money for his previous ventures, when a group of angel investors led by Allos agreed to invest $3 million and the state's 21st Century Research and Technology Fund invested $2 million.
There was one caveat: Scale had to maintain its headquarters in Indiana.
Ready's experiences had convinced him the company needed to be in California where capital is plentiful. But as it has turned out, capital has been plentiful for Scale here, too. It's raised $96 million.
Ready has become one of the leading local mentors for entrepreneurs trying to raise capital and has even penned a book on the subject.
But he wasn't always so savvy. His first foray in business came when he started an internet service provider right out of college. At that point, Ready said, he thought that, "if you needed money, you went to a bank." He sold that company within a couple of years, but before he did, he began to learn about venture capital.
In 1997, Ready and his partners started Radiate—an online advertising network originally named Media Aureate—and sold it in 2001.
In 2002, Ready and his partners started Corvigo, a company that developed a system to filter junk email. That company was sold in 2004. Ready said both were profitable exits.
Ready said he had to locate those two companies in Silicon Valley to raise capital.
Back home again
He moved back to Indianapolis in 2005 to be near family, but he always thought when he started his next tech company, he would be forced to go west again.
So he was a bit hesitant to set Scale's roots in Indianapolis. Still, in early 2007, Scale rented a small, windowless office off of State Road 37 in Greenwood and held meetings at a nearby Burger King. When the company outgrew that space, it moved to Purdue Research Park near the airport, before locating in 2016 at its current 12,000-square-foot home at 525 Union downtown.
Ready jokes that he was named CEO because he was the worst engineer of the five founders. Aquilano said Ready is the perfect CEO because he can talk tech and business strategy with equal ease.
"The epiphany that led to Scale was … that hardware and software gets very complicated very quickly," Ready said. "Scale wanted to build something very different, something that was consolidated into a single system."
What Scale came up with is "everything my company needs and nothing it doesn't," said Miller, Jerry's IT chief.
Scale's original vision was to create something that worked on servers, storage and networking systems.
Initially, though, the primary demand was to have Scale's software applied to storage systems. So from 2009-2011, that's all the company worked on. But when tools like flash drives emerged two years later and a pricing war erupted among providers in the storage sector, Scale pivoted back to its original vision, Ready said.
In 2012, it launched a platform called HC3 that covered servers, storage and networking systems. An established client base plus a major shift in technology that had a lot of Scale's clients upgrading big pieces of their systems made selling the new product easier than it would have been just a few years before.
Many of Scale's clients were small and midsize companies. But in 2017, the developer began to see a shift, Ready said. Suddenly, its software was appealing to a slew of huge companies implementing edge computing in numerous smaller outposts.
"Our system does work great in a traditional data center and the cloud, but it works uniquely great in edge computing," Ready said. "That's where all the excitement is."•
Please enable JavaScript to view this content.