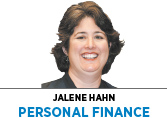 "Plans are of little importance, but planning is essential."
—Winston Churchill, former British prime minister
Everyone needs a financial plan, but not everyone needs a financial adviser. There are times when it is OK to go it alone and other times when you could benefit from sound advice from a fiduciary adviser. There is also a difference in financial planning and retirement planning.
Everyone needs a financial plan. It is a blueprint for your life. It also needs to be flexible because life happens. The benefit of creating a plan is examining your life and your goals and identifying the best approach to getting what you want.
The cornerstones are a net-worth statement and a budget or spending plan. Your net-worth statement is a tally of everything you own against everything you owe. As you age, your net worth should increase and your debt level should decrease.
One way to make sure to increase your net worth is to make use of a budget. Most people rebel when they hear the word budget. The important thing about a budget is, it gives you an awareness of how you spend money. Are you spending money on truly important purchases that move you closer to your goals, or are your purchases impulsive?
Life is a balancing act between enjoying the moment and having enough in reserve for the time when you no longer can, choose not to or no longer have the opportunity to work. We can plan to retire at 65 or 70, but life might have other things in store. I have seen too many people near retirement whose jobs vanished or they were needed to care for another or they physically could no longer work and found themselves living a reduced lifestyle.
The difference between general financial planning and retirement planning is the level of detail. Financial planning is a broad look at what you want in life and how you plan to get there. How much are you saving, and will that realistically support your long-term goals? It looks at insurance, taxes, investments, goals and what resources you have available to achieve your goals.
It is a broad overview that uses differing assumptions to indicate if you are on track. There are so many variables that can change over time that it has to be broad and general. It is more focused on actions you can take now to be in a position where your plan works out.
Retirement planning is much more detailed. It gets into the specifics of your income sources, what expenses you will have, how you will withdraw money from your investments, and how your insurance needs changed.
Beyond the financial changes you'll experience in retirement, lifestyle changes will occur as well. What will you do with your time? Do you plan to move? How do you plan to age gracefully? The ideal time to do a detailed plan is three to five years ahead of your retirement goal and then update annually. Most plans will need some tweaking in the early part of retirement.
The Certified Financial Planner Board of Standards' Let's Make a Plan website suggests you might want to seek help if you:
◗ Want to better manage your finances, but aren't sure where to start.
◗ Don't have time to do your own financial planning.
◗ Want a professional opinion about the plan you've developed.
◗ Don't have sufficient expertise in certain areas such as investments, insurance, taxes or retirement planning.
◗ Have an immediate need or unexpected life event.
It's often said that many people spend more time planning a two-week vacation than they do planning for their retirement. I don't know if that is accurate, but the retirement landscape has changed and that means we need to be more proactive in planning for the future.•
__________
Hahn is a certified financial planner with WWA Planning and Investments. She can be reached at 812-379-1120 or jalene@wwafp.com.
Please enable JavaScript to view this content.