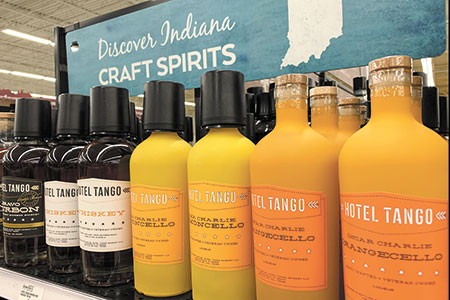 Hotel Tango Artisan Distillery, flush with a recent $2 million cash infusion provided by new investors, has launched a two-year effort to establish a retail presence on store shelves throughout Indiana.
"A lot of that money is going to be used for marketing and advertising to really get the name Hotel Tango out to the people," founder and CEO Travis Barnes said. "And the other part is going to be for bourbon-barrel production for future, long-term growth."
It's quite an agenda for a distillery that, if it were itself a barrel of bourbon, would barely be old enough to sell.
Barnes, 36, a former U.S. Marine, founded the company four years ago, taking advantage of a 2013 change in Indiana law that made craft distilling a viable business for the first time since Prohibition. Barnes and his partners built their distillery/tasting room in an early 20th-century carriage house in Fletcher Place, becoming the first craft distillery in Indianapolis.
The company has since expanded to about 15 salaried employees and 20 part-timers, and now sells retail spirits in Indiana, Ohio, Kentucky, Michigan and Texas. It also contracted with the U.S. Navy to supply commissaries around the country.
Hotel Tango's newest goal is to expand and consolidate its retail presence in Indiana. To this end, it recently signed on several new hires, including Alexandra Neff as chief marketing officer and Peter Ritz as vice president of finance. Neff previously was a public relations manager at Indiana University Health, and Ritz was a partner in a firm providing CFO services to emerging companies.
The timing couldn't be better. Nationally, distilled spirits are enjoying enormous growth. Last month, the Distilled Spirits Council reported its ninth consecutive year of record sales and market-share gains. Supplier sales climbed 5.1 percent, to $27.5 billion.
Craft distillers are participating in the spoils. The United States now has more than 2,800 craft distillers, a 107 percent increase since 2013, according to the Distilled Spirits Council.
Indiana has just shy of 30, according to Bourbon Entrepreneur, though most are mom-and-pop operations with far more modest aspirations than Hotel Tango is pursuing.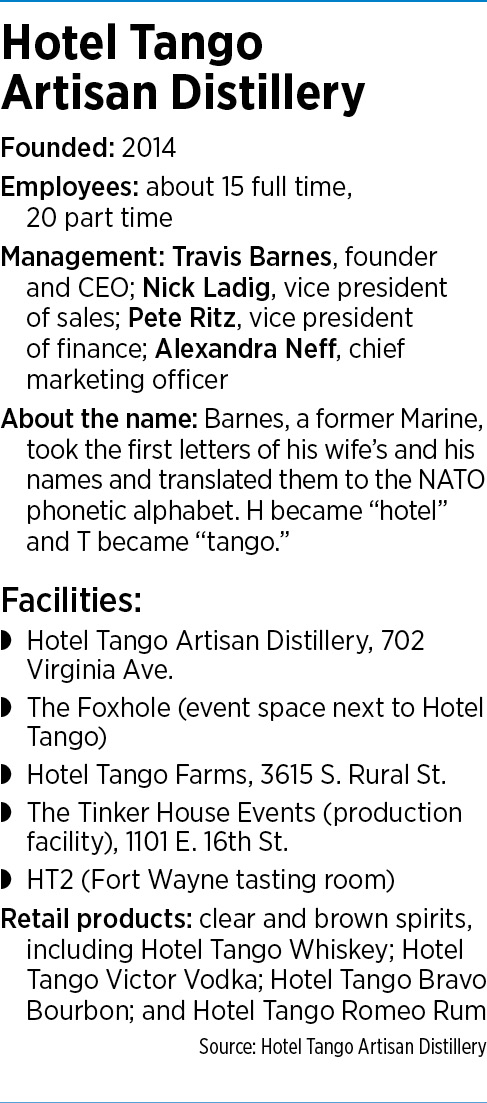 Giant competitors
But a mighty hurdle stands in the way of ambitious young craft distillers hoping to make a national, or even regional, splash. The industry is dominated by global operators such as Diageo, Beam Suntory and Brown-Forman. While those names might not be familiar, their myriad offerings, including Jack Daniels, Maker's Mark, and Johnny Walker, certainly are.
"They own the market," said Bill Owens, founder and president of the American Distilling Institute. "Walk into a liquor store and on the top shelf is all liquor from the big guys."
Indeed, for all the vibrancy of the craft-distilling niche, the Distilled Spirits Council says it makes up just 1 percent of the U.S. market. And Hotel Tango's $2 million expansion war chest—which it raised almost entirely from Indiana residents—barely amounts to a rounding error in the marketing budgets of the big boys.
"Small craft distillers are most successful at 'owning their back yard," said Margie A.S. Lehrman, CEO of the American Craft Spirits Association (of which Hotel Tango is a member). "So it might take a bit more time to move product throughout the state, let alone move into adjacent states."
But there's a way around all this. While Big Liquor enjoys gigantic advertising budgets, unsurpassed name recognition and massive distribution networks, the little guys can capitalize on the handcrafted, local mystique, as well as put new offerings on the shelf at lightning speed.
Rapid growth
This strategy seems to be working for Hotel Tango. The company's products already are available at about 700 of the state's 4,000 outlets licensed for retail alcohol sales. Chains carrying Hotel Tango liquor include Big Red Liquors, Kroger, Meijer and Costco.
And that's just the start. Hotel Tango would not reveal revenue but said its 2019 goal is to boost sales 120 percent, which means doubling or tripling the retail-outlet count.
Under state law, Hotel Tango can sell directly to consumers only in its tasting room and must use a distribution partner to reach other retail outlets.
In 2015, it hooked up with Republic National Distributing Co.—a relationship that has powered much of its growth. The company's sales through Republic increased about 60 percent over the last couple of years and are on track to climb another 150 percent this year.
Hotel Tango supplements Republic's distribution firepower with a team of three company employees who also cultivate retailer relationships.
"In the next five years, I would say our goal is to have Hotel Tango products available in every retail location and bar and restaurant in the state where you would find premium spirits," Neff said.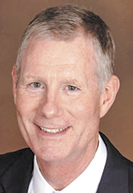 R. Matthew Neff
Neff's father, Hotel Tango board Chairman R. Matthew Neff, said the company recently scored a coup by securing shelf space in military commissaries across the United States.
Neff, an Indianapolis attorney who formerly ran IU Health's venture capital arm, said commissary sales get the company's name out nationally and, because armed-forces sales don't require a distributor, they're more profitable.
The next step in the company's growth, the elder Neff said, is to build the brand.
"It's our job to create brand identity and consumer demand," he said. "You're going to see a really stepped-up marketing effort later this year."
To hone its retail strategy, the distillery has brought in Young & Laramore Advertising to assist with paid media and branding strategies.
One of the biggest challenges is designing bottle labels to convey the key messages company officials want to convey to consumers—that the products are locally made by a veteran-owned small business. Which is a lot of information to jam on a label.
"We're trying to come up with a way to connect with the customer," Alexandra Neff said. "That's the challenge now—trying to figure out what messages matter most."
In its early days, Hotel Tango, like most craft distillers, relied on word-of-mouth and one-on-one contacts with customers at the Indianapolis tasting room. It's a great way to build a loyal following, but when you're talking about statewide expansion, it can take you only so far.
"The Hotel Tango tasting room has really become a fixture that people have identified with our brand," the younger Neff said. "But we want to make sure we transition the focus to what the mission of our company has been from the very beginning. And that is artisan spirits."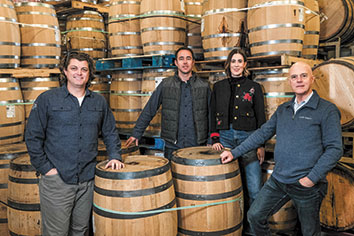 Hotel Tango principals, left to right: Travis Barnes, founder and CEO; Nick Ladig, vice president of sales; Alexandra Neff, chief marketing officer; and Pete Ritz, vice president of finance (IBJ photo/Eric Learned)
Booze varieties
In addition to the original Hotel Tango tasting room, the company maintains a Rural Street farming plot with a barrel storage barn, and a production facility at 1101 E. 16th St.
This year, Hotel Tango plans to produce at least 350 barrels of "brown" spirits (whiskeys and bourbons that need years of aging) and another 15,000 barrels of "clear" spirits—options like Victor Vodka, which is made from Indiana corn and can pretty much go straight out the door.
The spirits industry is in love with brown spirits right now, but their aging time makes creating a reliable supply chain tricky. Right now, Hotel Tango's barn is jammed with barrels—with about a hundred more, for lack of a better option, parked at the production facility. Management wants to alleviate the congestion by adding another barn with capacity for 5,000 to 10,000 barrels.
Though the company pretty much has to offer these brown spirits, it also sees plenty of room for growth for its clear offerings.
"I really see opportunities for small-batch vodkas and gins and rums," said Nick Ladig, vice president of sales. "I don't necessarily think that we need to be pigeonholed into one corner of the industry.
"We're just scratching the surface on the spirits world. I think there's a lot of opportunity across our portfolio."
If all goes according to plan, in two years Hotel Tango will be well on its way toward becoming for spirits what Sun King Brewing is to beer—a statewide juggernaut sold and served from the banks of the Ohio to the shores of Lake Michigan.
And after that, it might think even bigger.
"We could absolutely be coast to coast in 10 years," Ritz said. "I absolutely think we could be a major player in the industry."
Or it could sell to one of the majors. Ritz and Barnes say they'd consider that option at some point—though probably not now.
"We're having fun," Ritz said. "It would have to be a pretty high number to make me walk away."•
Please enable JavaScript to view this content.