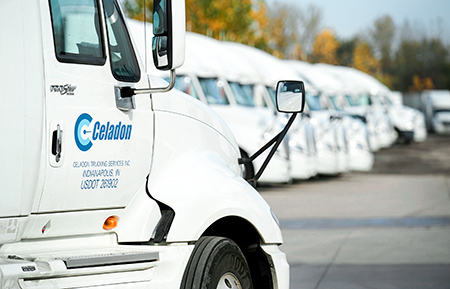 Celadon Group Inc. announced late Monday that it has sold subsidiaries A&S Kinard and Buckler Transport for $139.5 million as part of its ongoing effort to reduce debt and streamline operations,
The Indianapolis-based trucking company sold the Pennsylvania-based subsidiaries to New Brunswick, Canada-based Day & Ross Freight in a deal that closed Sunday. Day & Ross is a leading provider of logistics and transportation services in Canada.
A&S and Buckler generated about $160.4 million in revenue last year, Celadon said, excluding certain operations that were not included in the transaction. The companies provided transportation services in the Northeast and Mid-Atlantic regions.
About $67.5 million from the proceeds of the sale were used to pay down A&S's equipment debt and capital leases. After covering transaction expenses, Celadon said it used the remaining proceeds to reduce its debt and provide additional liquidity. 
Celadon acquired New Freedom, Pennsylvania-based A&S in 2014 for $55 million and Roulette, Pennsylvania-based Buckler in 2015 for $13.7 million.
"Over the past several quarters, we have been diligently focused on streamlining our business, improving the results of our core North American truckload operations, improving our capital structure, and resolving the accounting, litigation, and regulatory issues that had arisen under prior management," Celadon CEO Paul Svindland said in a written statement. "The sale of A&S/Buckler marks another material milestone toward executing our plan."
The company said it is working on another disposition that is expected to happen by April 15. The company also said it has reached a 15th amendment to its existing credit facility. 
Celadon is working to correct numerous financial, operational and accounting issues that first came to light in May 2017. In October 2017, the company revealed that it was under investigation by the U.S. Securities and Exchange Commission. And, in April 2018, Celadon said its problems were much older and deeper than expected, and that the company had likely overstated some of its earnings by as much as $250 million during a three-year period that ended in 2016. 
"We anticipate additional announcements in the near term as we focus on positioning the company to pay down additional debt, refresh our tractor fleet, complete our financial restatement and audits, and solidify our capital structure," Svindland said.
Please enable JavaScript to view this content.