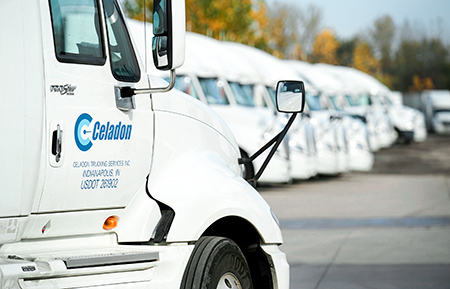 Indianapolis-based Celadon Group Inc., which launched an internal investigation into financial-reporting concerns nearly a year ago, now says those  problems are much older and deeper than expected.
The trucking company on Monday said the problems are so extensive that it won't be able to resolve them in time to avoid being delisted from the New York Stock Exchange. It also said it likely overstated some of its earnings by as much as $250 million during a three-year period that ended in 2016.
In May 2017, Celadon revealed that its auditor, BKD LLP, had raised questions about a complicated joint-venture arrangement that involved the sale of leased equipment. As a result, the company said at the time, its last 18 months of financial statements should not be relied upon. Celadon's board hired outside firms to review the statements.
In a statement issued late Monday, Celadon said the investigation has revealed "errors that will require adjustments to the previously issued 2014, 2015, 2016 and 2017 financial statements" and to statements potentially even older than that. 
Most of the adjustments relate to equipment sales that took place between former Celadon subsidiary Quality Cos. and 19th Capital, a joint venture between Celadon and the Pennsylvania-based private equity firm Larsen MacColl Partners. Also involved was another joint venture formed by Celadon and Canada-based Element Fleet Management.
Adjustments related to these transactions are expected to reduce Celadon's earnings before income taxes by a cumulative $200 million to $250 million over the three-year period ending June 30, 2016, the company said.
Celadon disposed of Quality Cos. in 2017. Most of Celadon's senior leadership team, including its CEO and CFO, have been replaced over the past year.
"The accounting adjustments will be significant to prior period earnings and to our total stockholders' equity. Nevertheless, we remain confident in our current management team and strategic plan," CEO Paul Svindland said in a written statement.
The company said the internal investigation is "nearing completion but remains ongoing."
In October, Celadon disclosed that it was under investigation by the U.S. Securities and Exchange Commission. Monday's statement did not mention the status of the investigation.
Because of the number of financial reports that must be restated, Celadon said it won't be able to reissue these reports by the May 2 deadline imposed by the New York Stock Exchange. The exchange warned the company in May of a potential delisting for financial-reporting failures. In October, it gave the company a six-month extension to resolve the problems.
Shares of Celadon closed at $3.45 each Monday. The NYSE halted trading of Celadon on Tuesday.
Celadon said it will remain subject to the SEC's public-reporting requirements, and that it expects that its stock will be quoted on the OTC Pink market operated by OTC Markets Group Inc. 
Also in Monday's statement, Celadon said it entered into the eighth amendment of its credit agreement with lenders while working toward a new $100 million asset-based revolving credit facility with Bank of America Business Credit and Wells Fargo Capital Finance. 
Please enable JavaScript to view this content.