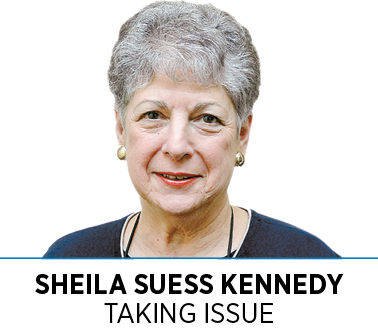 On March 28, the U.S. Supreme Court once again heard petitioners argue that partisan gerrymandering violates the First and Fourteenth amendments. The two cases at issue came from North Carolina, where Republicans had drawn district lines to benefit the GOP, and from Maryland, where the culprits were Democrats.
Politically aware Americans understand that gerrymandering is destructive to democracy. Theoretically, voters are supposed to choose officeholders, not the other way around.
Drawing "safe" districts isn't just unfair; it's a disincentive to voting and political participation.
Few of us who live in Indianapolis, however, recognize the connection between Indiana's gerrymandered legislative districts and the thousands of potholes we dodge every spring, or the fiscal shortchanging of urban schools, or the Legislature's refusal to pass comprehensive bias crimes legislation, or our lawmakers' seeming fixation on women's reproductive decisions.
Allow me to connect those dots.
A majority of Indiana's residents lives in the state's metropolitan areas—in cities that also generate the majority of state tax revenue. But our state's legislative districts have been carefully drawn to keep the GOP in control, and the majority of GOP voters live in rural areas of the state. So Indiana's cities have been "carved up" and the portions combined with rural areas in order to dilute the influence of urban Hoosiers.
The GOP's creative mapmaking means most policymakers at the Statehouse are Republicans representing largely rural districts.
The result is that Indiana's legislators are far more accountable to rural voters, and—surprise!—state distribution formulas significantly favor rural areas. Especially when it comes to money for streets, Indiana's distribution formulas are stacked against the metropolitan areas where the majority of Indiana residents live and drive.
With social issues, too, Indiana legislators reflect the beliefs of their rural Republican constituents, rather than the "live and let live" attitudes more common to city dwellers. And most of those rural constituents don't want to extend bias crimes protections to LGBTQ folks or let women and their doctors decide whether to carry a pregnancy to term.
This session, House Bill 1211 is a good example. The bill bans dilation and evacuation, which is generally considered the safest and most medically appropriate second-trimester termination procedure. (Why let doctors decide what is medically appropriate, anyway? Indiana's lawmakers are sure they know better!) The bill allows second-trimester abortions to be performed only using induction—a procedure that is far more painful and medically riskier, which is why few hospitals offer it.
Polls suggest most Hoosiers want to keep abortion safe and legal; that we overwhelmingly disapprove of bigoted attacks on anyone, including our LGBTQ neighbors; and that we want state tax dollars—which come disproportionately from city taxpayers—distributed fairly.
We need to reform gerrymandering in order to reclaim the ideal of "one person, one vote." But if beginning to repair American democracy seems too abstract—if the connection between our "gamed" and dishonest redistricting process and everyday life seems vague—you might think about how gerrymandering distorts distribution formulas the next time you bend a rim on one of Indy's ubiquitous potholes.•
__________
Kennedy is a professor of law and public policy at the Paul H. O'Neill School of Public and Environmental Affairs at IUPUI.
Please enable JavaScript to view this content.