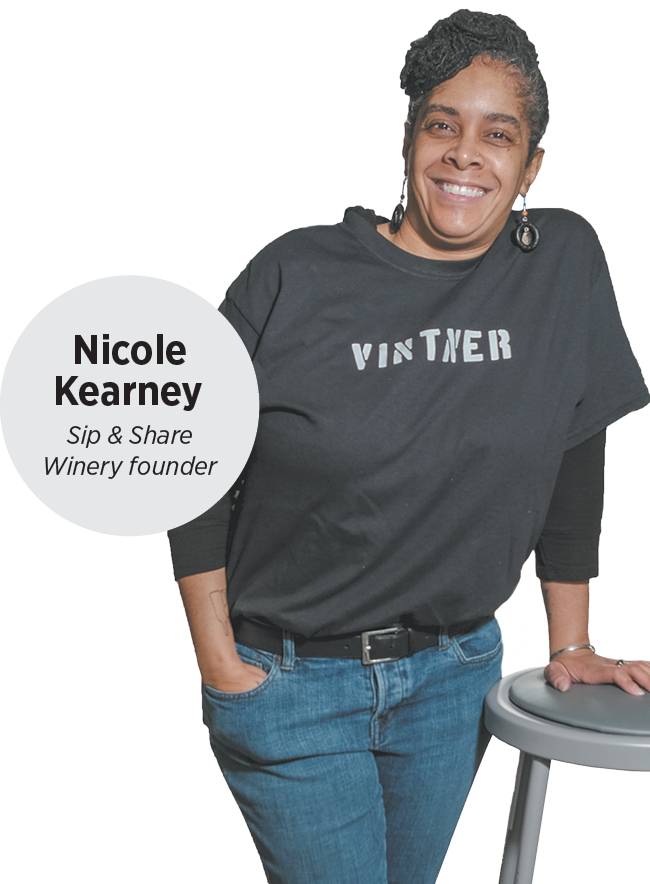 Nicole Kearney, 48, of Indianapolis developed a passion for wine in 2008, while she was studying for a master's in fine arts at Spalding University in Louisville.
Kearney went on to teach college theater, English and creative writing before switching gears in 2016 and starting her own company, Sip & Share Winery, which makes vegan wines.
Explain what your business does.
We are a micro-winery. We don't have a tasting room, so we actually take our wine to the consumer. We do farmers' markets; we do events; we do art galleries, theater. Our wines are available online, and we also do home wine-tastings.
What makes a business a winery?
You can be a winery or a vineyard. We're a winery because we actually contract with vineyards to get our grapes in. And those come from California, and we get them shipped in and they're frozen. We have to defrost them. That's what's called the must. And that's what we actually add the yeast to and ferment and go from there. That's the difference. A vineyard—they're actually growing the grapes, doing all the work from planting, tending the crops—something that I don't have an interest in, particularly, doing. But we will eventually do it. It just won't be me doing the physical work.
You make vegan wines—but isn't wine already vegan?
In theory, all wine should be vegan because we think: grapes, yeast, that's what makes wine. However, most wines—especially a lot of commercial wineries—to clear the wine and filter it, which is what gives it that real pristine, nice, pretty, clear look, can use things like egg whites, milk protein, crustaceans, fish bladder, a lot of animal byproducts. They do clear them and filter them out, but if you are a die-hard vegan, then you don't want any animal product in anything you're consuming. So we use clay, which has the same effect, which is able to pull out all the impurities.
You have a special interest in African-American wineries and winemakers. What percentage of U.S. winemakers are African-American?
Less than 1 percent. There are roughly 100 African-American winemakers around the country. They vary in what they do. Some have vineyards, some are just winemakers or have just wineries, and some actually just contract with wineries or vineyards and have the wine made, so more of a wine brand.
Why do you think that percentage is so low?
Access to land is one. When we look at post-Civil-War and we talk about the Industrial Revolution, everyone wanted to get away from sharecropping, farming, planting. Everyone moved north. Dealing with crops and land became just a sucky job and no one wanted to do it. So, therefore, a lot of people gave up their land, which is a key element to actually creating wine.
I think as people moved away from the farming industry, got more removed from that, that just kind of more removed us. If we look at historical stories, most of the wine was made by either people who were sharecropping or enslaved individuals. …. And I think we're just now coming back around to it.
I happen to be fortunate. I'm sixth-generation post-Civil-War. And my family's lived in the same place, so we have a lot of land. And so that's where we'll be growing some of our grapes, in [Harris] North Carolina.•
Please enable JavaScript to view this content.