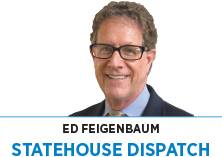 Hang around the Statehouse long enough (or at the right time) and you'll soon learn the two most overused phrases by lawmakers each consist of only six words: "This is a work in progress," and, "This is just a simple bill."
Exercise healthy skepticism when you hear these lines.
"This is a work in progress" is a line often meted out by the author or sponsor of a piece of legislation simply to keep the ball rolling as a bill passes through committee or even the floor of one of the legislative chambers.
Those new to the process quickly learn that amendments in committee—particularly those offered by the committee chair—are frequently adopted by a consent mechanism and attached to the underlying bill for purposes of debate. Consent is largely offered as a courtesy even by those who might oppose either the proposed amendment or the underlying bill (and often both).
Attaching the amendment might move the bill closer to final form, but it could still need to be shaped further. Because of time constraints, external events, the imperative for a key figure to weigh in, or the need to insert fiscal elements in a different committee, "final" language can't always be attached to complex or controversial legislation in committee deliberations.
That's when you hear the bill's author, committee's chair, another proponent, or even an opponent acknowledge, "This is a work in progress," and vote it through to the next stage.
Sometimes the motive for doing so is pure—wanting the bill to advance but knowing that it couldn't do so in a stripped-down current form. Less frequently, opponents will consent (and assent) just to force more members to record a vote, or to kill the bill at a more visible point in the process to signal its demise as definitive—and not just a failure to clear procedural hurdles.
But many bills truly are works in progress.
This year, Senate Bill 552, the omnibus gambling bill, is a collection of moving parts that requires considerable coalition-building, translation of concepts into legalese, and fine-tuning of new ideas added in a House committee after seeming to be fully vetted in the Senate.
SB 552 is not likely to be introduced on Third Reading in the House by the sponsor prefaced by, "This is just a simple bill."
When veteran lawmakers hear that phrase on the floor, antennae immediately rise.
First, virtually no bill is ever "simple." Second, the more an advocate protests about its being so, the more complicated or controversial it tends to be.
That's why some solons will stride to the podium and wryly announce the legislation they are carrying is "just a simple little bill" when it might be the sticking point of the session.
For example, the House version of the bias crimes bill is simple in terms of how the relevant provision is drafted, yet, like the Religious Freedom Restoration Act a few years ago, the brevity can belie the depth of contentiousness and questions.
Explanation of what a bill purports to do is also an art, with the author or sponsor seeking that delicate balance between an explanation sufficient to avoid accusations of failing to inform colleagues of important provisions; highlighting and knocking down concerns over the more nettlesome provisions; and not getting too deep into the weeds and raising the ire of colleagues who face a long day (week, month, or session) of listening and voting.
So when you hear a given bill is just "a work in progress" or merely "a simple bill," you can understand what's behind it. Now that you understand these hackneyed phrases (and others, like, "Don't let the perfect be the enemy of the good"), try not to roll your eyes when you hear them.•
__________
Feigenbaum publishes Indiana Legislative Insight for Hannah News Service. He can be reached at EDF@hannah-in.com.
Please enable JavaScript to view this content.