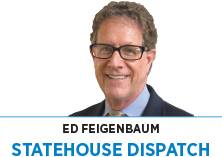 When you ask legislative leaders what they must accomplish this session, the singular response is the passage of a two-year budget.
That task might seem simple, given all the hearings on education, agency and program budget issues since late last year, but many assumptions drawn to date must be considerably pared if the April state revenue forecast falls below expectations.
On April 17, the State Budget Committee will learn just how the state's hired economic guns—consultants from a national economic forecasting team—expect assorted international and national financial variables to play out over the next biennium.
Those inputs will be used by a bipartisan state forecast team, comprised of legislative and State Budget Agency fiscal professionals and aided by state university economists, to plug into a series of assumptions about Indiana-specific items.
For example, if national housing starts are expected to stall, the Indiana construction industry and its hiring may be impacted, with a waterfall effect on the state lumber industry and manufacturers of hard goods.
If gas prices look likely to soar and discretionary income is projected to plunge, Indiana's recreational and gambling industries and the tax revenue they provide to the state and economic benefits to individuals and host communities can similarly see dips.
Indiana's bipartisan forecast process—which establishes agreed-upon budget parameters—has long been a model for the nation, serving to remove politics from the budget bottom line.
Until the financial crisis of 2008-09, the forecasts had largely been on target, but some serious misses in the years following the recession caused fiscal leaders to lose some confidence in the inputs themselves, if not the process.
Stung by revenue shortfalls, leaders began to discount the numbers by a percentage point or two, believing this would provide them a cushion. Like taxpayers who withhold a bit more simply to receive a bigger April 15 tax refund, they would prefer to be surprised with extra income than left to cut or find ways to pay for unfunded programs.
Some leaders reviewing general economic data in the last month or so have seen no definitive trends. They've tried to decipher often contradicting income and employment data, and uncertainty regarding the short- or long-term impact of the Tax Cut and Jobs Act on the economy. And they've heard different things from their constituents about how the economy is affecting them and their businesses and where they expect it to go. Based on all this input, there continues to be a sentiment among legislative fiscal leaders that the mid-month numbers could perhaps prove a shade too optimistic.
Much of the Statehouse scuttlebutt—some of it fostered by the leaders themselves—suggests anticipated revenue for the biennium will be lower than projected in December, off by perhaps a full percent. That may not sound like much, but December numbers suggested we would see $16.5 billion in the first year and $16.9 billion in the second year. One percent is about $165-$170 million annually, meaning about $340 million less for the biennium than expected.
Given that the governor's budget request—granted by the House—included another $286 million annually for the Department of Child Services, such a shortfall would put a big crimp in the ability of negotiators to fund significant education increases, much less find cash for other priorities.
Ratcheting down an already depressed forecast will make the final week of the session an exercise in cost-cutting and priority-shifting.
However, as budget-crafters are wont to say, it's typically easier to cut programs than to accommodate all the requests for increases when revenues are flush. Keep an eye on the forecast bottom line, how lawmakers choose to treat it and how they might bring the state surplus into play. Even the DCS ask isn't sacred in the Senate.•
__________
Feigenbaum publishes Indiana Legislative Insight for Hannah News Service. He can be reached at EDF@hannah-in.com.
Please enable JavaScript to view this content.