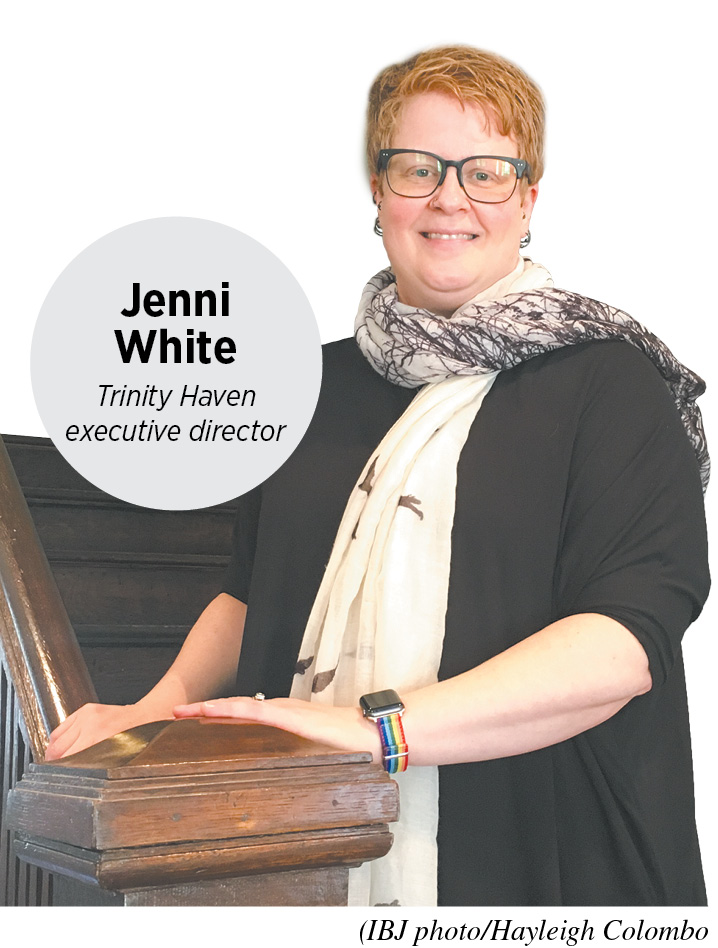 The large, bright arts and crafts home in Indianapolis' Mapleton-Fall Creek neighborhood still is undergoing renovation, but there is already a welcome sign on the fireplace mantle.
It's a symbol of Trinity Haven's mission as the state's first home for lesbian, gay, bisexual, transgender and queer or questioning youth and young adults who have nowhere else to live. According to Indiana Youth Group, a not-for-profit serving a similar population, between 40 and 65 young people come to the organization every month without a safe place to live.
Jenni White will serve as the founding executive director of the home, which at any given time will serve as many as 10 people between the ages of 16 and 21 years old when it opens this summer. She comes to the role after more than eight years at Coburn Place, a resource for survivors of domestic violence, where she most recently served as vice president of mission impact.
Trinity Haven was incubated by the Trinity Episcopal Church before receiving not-for-profit status last year. Participants can stay for up to two years at the home as they pursue education and develop independent living skills.
"It will be vibrant and safe and sometimes sad and sometimes glorious, just like any other home," White said.
How does Trinity Haven hope to support homeless youth?
Our hope is to avoid them falling into poverty or chronic homelessness, to break that before it turns into a cycle, so this first and only instance of homelessness can be short-lived.
The ages of 16 to 21 are still so formative, but my hope is that with the right support they can actually move forward in a way that, in the grand scheme of things, this is a blip on their radar.
How can transitional housing support this population?
In emergency shelters, the average length of stay is 30 to 45 days. But 30 to 45 days is not sufficient to do some of the deep work that's needed to unpack a lot of the trauma that the individuals have been through in order to get to this point. Experiencing homelessness in any way is traumatic, whatever brings you to that.
If you have been essentially disowned and kicked out of your own family and home, it adds different kinds of layers of trauma. It takes time to heal from that. Those emotional wounds are not often seen by others; they're easily hidden by those who have them and aren't easy to talk about. The coming out process can be just traumatic in-and-of itself, to shift identity and figure out what fits and what doesn't. Transitional housing offers that time.
What prompted you to take this job?
When I heard about Trinity Haven and what the plans were, it was this past October. I could not stop thinking about it. As a member of the LGBTQ community, I have heard and seen firsthand from my brothers and sisters what they have been through.
My coming-out process was nothing like this. But seeing and feeling that with my very close friends has opened my eyes to what is needed in the world.
Being a strong, successful lesbian women is an important part of my identity in every aspect of my life, and I hope that is an example or role model for not only the people who will end up living here, but for anyone I encounter.•
Please enable JavaScript to view this content.