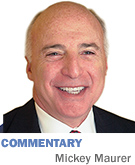 God hates fags. That's the declaration we heard Sept. 24 from the Westboro Baptist Church road show that appeared at North Central High School and other Indianapolis venues throughout the day. According to these folks, God also hates blacks, Jews, Catholics and the minority du jour. President Obama is a current favorite object of their hate. You can find those themes implicit in the rhetoric of the WBC. Their message is vile.

WBC, based in Topeka, Kan., regularly holds picketing and baiting sessions throughout the country. The majority of the church membership appears to be one extended family. Sadly, children are included. It brings to mind the social commentary in the song "You Have to be Carefully Taught," from the play "South Pacific."

The WBC agitators are pros. They understand the constitutional protection of free speech and they are careful to stay within the law. WBC's goals are to win followers and generate publicity. They garner an inkwell full when they "preach" at cemeteries during the funerals of our soldiers. It is beyond the pale and hardly imaginable for even a hate group to desecrate a soldier's funeral and exacerbate a family's grief, but that is exactly what this garbage is doing.

Why Indiana? According to the Anti-Defamation League, Indiana is designated as a problem state because of the serious hard-core hate groups that reside here. No doubt WBC felt Hoosier soil was fertile ground on which to spew their venom. North Central was chosen because the students are presenting a play, "The Laramie Project" by Moises Kaufman, about the reaction to the 1998 murder of University of Wyoming student Matthew Shepard. Shepard was gay, and the murder was characterized as a hate crime.

What is a hate group? Most observers define hate groups as organizations with practices that attack or malign an entire class of people using activities that can range from provocative rallies and Internet traffic to vandalism or violent criminal acts. According to the Indianapolis Recorder, there are, as of 2008, 926 active "hate groups" operating throughout the country.

There are five kinds of hate groups that have set up shop in Indiana. There is, of course, the Ku Klux Klan and dozens of groups affiliated with the Klan. We even have a few neo-Nazis. There are the skinheads, an extremely hard-core group that promotes violence. Then there are racist prison gangs, which intimidate and recruit. Finally, there is a racist sect called the Christian Identity Movement that counts perhaps as many as 50,000 members. It includes people who believe white Europeans are God's chosen people and that blacks were created not by God but by Satan.

Indiana's claim to infamy is that we are home to probably the leading white supremacist, Thomas Metzger of Warsaw.

While individual members of these groups have free-speech rights, they should be prosecuted for illegal activities. It is important to expose their members when they seek to join the military, law enforcement or the fire department because it is a violation of many of those organizations' regulations.

Let's look at this as a teaching opportunity. It is important that our children learn about the devastating effects of prejudice, stereotyping and bigotry on our society. Parents should encourage their children to stand up for others who may be called derogatory names or targeted by bullies. Our schools should offer programs that encourage students to come in contact with those who are different from themselves and broaden their understanding of other ethnic groups and religions.

With proper exposure and education, our children will resist the rhetoric of hate groups like WBC and as adults respect the dignity of our fellow man.•

__________

Maurer is a shareholder in IBJ Corp., which owns Indianapolis Business Journal. His column appears every other week. To comment on this column, send e-mail to mmaurer@ibj.com.