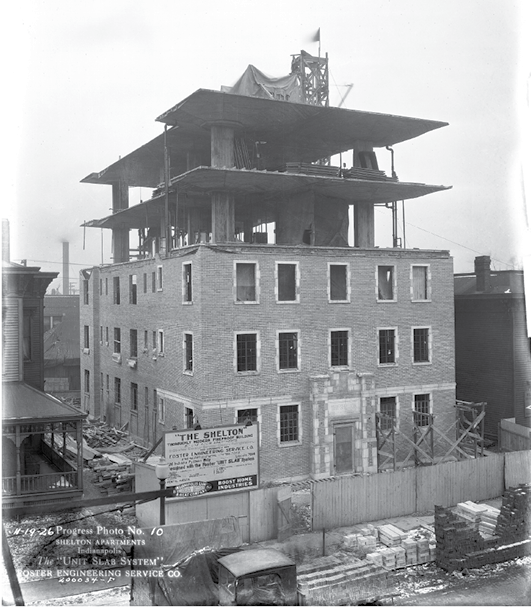 The Shelton apartment building went up at 825 N. Delaware St. in 1925 and 1926 and was developed by F. Rolland Buck and the Foster Engineering Co.—both of which had previously worked with famed architect Frank Lloyd Wright. (This photo was taken on Nov. 19, 1926.) Foster Engineering constructed the building (which it advertised as a "thoroughly modern fireproof building") using its patented system called "unit slab construction." The Shelton was the first of four Indianapolis apartment buildings Buck developed with Foster Engineering. The last one—the Wyndham—was finished just weeks before the stock market crash in 1929. Buck managed to hold onto the ownership of the four buildings through the Great Depression and then sold them in the 1960s when he retired. In 2010, developer Klaus Wittern completed a $3 million conversion of The Shelton into 16 condos.
Sources: Indiana Historical Society, National Park Service, SheltonCondos.com
Credit: The photo is courtesy of the Indiana Historical Society and is part of the W.H. Bass Photo Co. collection. More images are available at images.indianahistory.org.
Please enable JavaScript to view this content.