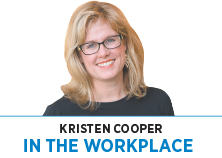 In March, 100% of my talented, creative, loving staff was stricken with a combination of illness, accidents, family issues, death and, on a happy note, a maternity leave.
Despite having read, watched and attended hundreds of events focused on #startuplife, no one had ever mentioned this phenomenon. After turning to a few of my friends running startups, I learned this happens more frequently than anticipated; yet, no one is talking about it.
A founder does everything for the company in the beginning. It's pure joy to generate enough revenue to hire contract workers, interns, full-time employees or a combination to distribute the workload. While it seems like a form of disaster recovery, founders need to prepare for the moment when their scrappy-yet-mighty startup team goes down unexpectedly.
Care for your staff first.
In most cases, this difficult time will pass and staff will eventually return to work happy and productive. In the midst of an employee crisis or personal problem, as the manager, you have to be there for your employee.
My team needed a broad range of support from me. Some needed time and space. Some needed help with research and contacts. Some just need to know that everything would be OK. And one person needed a very serious pep talk. My ultimate goal was to make sure they knew they could take the time necessary to take care of themselves. Most of the team returned within a few weeks raring to go.
Ruthlessly prioritize.
Once you have ensured that your staff members have what they need, it's time to face a whole new set of challenges. First, think about your customers. Identify the most time-sensitive issues likely to impact them. Then, figure out which tasks you might not be trained to do. If you are already using a project-management tool like Asana, you can review and rearrange the tasks and due dates assigned to everyone. You'll decide what needs your immediate attention, where you need training, what will be outsourced, and what can be backlogged.
For example, in March, The Startup Ladies had a big pitch competition and we wanted to feature the three finalists on our blog so media outlets could find them. Our amazing digital admin was temporarily down.
Fortunately, I had created or assisted in the creation of every other aspect of our website. I took a quick tutorial and started loading content and got the blog up in 15 minutes. I chose to take on this new task because I had experience in designing websites and felt comfortable.
However, I moved the video editing (needed for our online learning platform) to the back burner. I had less experience in this area, and it was not as time-sensitive.
Develop a contingency plan for a staff outage.
Backup comes in many forms—whether it's another contractor, volunteer or board member who can help fill the gaps in the short term.
In your next team meeting, ask team members what the best solution is for covering their responsibilities in their absence. There could be an opportunity to train someone else on the team to fill in on their behalf. Staff members might know a person or company that could fill in on demand.
If you've prepared and trained your board members, they will genuinely want to see you succeed and be willing to help out in a pinch.
Document all standard operating procedures.
Founders have to remind themselves that, even though they know procedures like the back of their hand, no else does. Those procedures need to be written down so others can access the information.
Likewise, teammates responsible for tasks outside the founder's wheelhouse need to document their processes so others can run them in a crunch. Documenting routine operations helps with efficiency, ensures safety, reduces miscommunication, explains standards and/or regulatory requirements, and serves as a training document for new employees.
Writing SOPs might feel tedious and low-priority until the business comes to a halt without them. It's important to build time into your calendar to create them before there is a crisis.
Here are a few things you need to include in every SOP: a list of related documents with links to them; statements of purpose, definitions, equipment and supplies used; and complete step-by-step instructions with time frames, due dates and role responsibilities. Include the author and the date the document was written to serve as a reference point for future changes. Once written, test the procedure to make sure it makes sense to the resident expert as well as to someone who might need to fill in.
Startups move fast and run lean. Founders don't have the luxury of time and money on their side. They often have to take on the responsibility of covering tasks when staff members are sick or on vacation.
Having a backup plan in place along with documented procedures will make difficult transitions less stressful and more productive for everybody on the team.•
__________
Cooper is the founder and CEO of The Startup Ladies.
Please enable JavaScript to view this content.