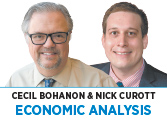 This is the time of year for spring celebrations: graduations, bridal showers and weddings. At a recent party for a Ball State graduate, one of the youngest guests, the 5-year-old son of a fellow faculty member, fixated on a strawberry on the buffet table. And rightfully so—the strawberry in question was bigger than his fist. We all enjoyed young Dash's delight in consuming the giant strawberry.
Of course, we all know commercial strawberries don't have the flavor of the homegrown, backyard variety, yet these mega-berries were pretty good. And their story reveals some interesting economics.
The work of harvesting crops has always been thankless, grueling and low-paying. Increases in agricultural wages have historically led to workers being replaced by machinery. When the availability of Mexican labor was dramatically reduced in the 1960s, the percentage of the California tomato crop harvested by machine rose from 1% in 1963 to 95% in 1968. However, no one has been able to develop machinery that picks soft fruits, such as raspberries, blackberries and strawberries, in a way that is acceptable to consumers.
Because of this, and despite the rhetoric of "protecting domestic farm workers from foreign competition," richer nations, such as the United States, the United Kingdom, Germany, New Zealand and South Korea, have quietly expanded visa access for seasonal agricultural workers. In the U.S. in 2013, 99,000 foreign (mostly Mexican) workers were allowed in as seasonal agricultural workers. By 2018, that number more than doubled, to 240,000, and it is slated to increase to 450,000.
If the richer nations were to rely exclusively on domestic labor to harvest soft fruit, the wage bill would make most domestic production of soft fruit untenable. So there is no option but to let foreign workers in the market.
Even so, the agricultural sectors of wealthy countries continue to experience worker shortages. The U.S. Department of Agriculture reports that wages in the farm sector have risen in inflation-adjusted terms from $10 an hour in 1997 to $12.50 an hour in 2017.
Enter the giant Amesti strawberry developed by California fruit titan Driscoll. Machines don't pick them, but humans can pick more strawberries by weight in less time. In the words of the Economist magazine, "A migrant worker can pick a greater mass of strawberry with each muscle movement." A bigger berry, like machinery, substitutes for more expensive labor.
So young Dash's delight is a byproduct of economic substitution—an unappreciated but incredibly powerful aspect of a market economy.•
__________
Bohanon and Curott are professors of economics at Ball State University. Send comments to [email protected]
Please enable JavaScript to view this content.