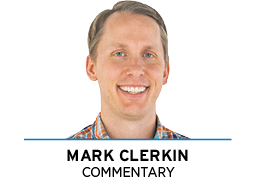 Technology has been the driving force behind almost every product and process transformation of our lifetimes. These innovations have changed the way we live, work and experience the world around us. It is difficult to imagine life without constant connectivity and all the efficiencies offered by modern software. Reflecting on how far we have come raises the question, where are we headed next? Some of the most interesting possible answers to that question lie at the intersection of humans and machines.
Today, it is common to read about big data, machine learning and AI. Anecdotes such as "90% of the world's data was generated in just the last two years" abound. All this commentary is pointing to two major themes that are driving innovation: the amount of data captured and transferred and our ability to process it.
If we look deeper, we see the opportunities data and computational power provide are extremely challenging to unlock. From a dearth of tech talent, to poorly stored and managed data, to a lack of expertise, to outright charlatanism, it is easy to get lost in the hype. Everyone has data, processing power continues to get cheaper and new tools are released every day, but customers are still frustrated. The reason for this frustration is that more records, techniques or platforms aren't what people need. Finding actionable insights within the data is what truly matters and therefore is key to success. As Clayton Christensen, author of "The Innovator's Dilemma," said, "People don't want to buy a quarter-inch drill. They want a quarter-inch hole."  
The coaching network
Without a scalable framework for how you extract insights from data, the process can be slow and laborious. Mining, cleaning, transforming and modeling require effort from engineering, product and data science teams. Heavy resource allocation coupled with the notoriously high failure rate associated with machine-learning projects create an environment in which it can be difficult to innovate.
One paradigm we use at High Alpha to address this bottleneck is what we call a "coaching network." The concept, originally coined by Gordan Ritter of Emergence Capital, is simple, yet powerful. We surface meaningful, action-oriented insights for our customers. Those recommendations are generated via data mining, statistics, machine learning or AI, although the actual techniques used under the hood are generally irrelevant to the end user.
As customers act on those recommendations or choose to take their own unique approach, the system is constantly learning. This allows us to successfully augment the work our customers are doing in order to improve their performance.
Turning the flywheel
The most powerful aspect of the coaching network is the humans, not the machine. As humans act on the system's recommendations we learn what, when and how to surface relevant information. We also learn when users ignore our recommendations, take unique actions of their own and introduce innovation to the ecosystem. These successful permutations start to proliferate through the data. Customers then start to act on the new recommendations, and the insights are reinforced. As these innovations spread, the flywheel starts to spin.
To give an example, let's imagine a platform that is designed to optimize employee productivity. The goal is to increase output while maintaining a high level of employee satisfaction. Instead of trying to estimate all the possible paths to a successful outcome, we analyze historical data in order to make recommendations. As we make recommendations, people either act on the recommendation, ignore it or do something completely new that is yet to be observed. As we track our suggestions and their outcomes, we start to get a feel for what works and what's relevant to the users. The most important thing to note is that the random permutations from users are organically introducing new—possibly superior—recommendations into the framework. This is the power of a coaching network.
Innovation
By having a framework that encourages humans to introduce creativity, domain knowledge and randomness into an ecosystem, we can learn quickly and shorten our time to value for customers. Systems like these that focus on augmenting, instead of automating, human-centric workflows are what we at High Alpha consider to be the most interesting innovation paradigms.•
Clerkin is vice president of data science at High Alpha.
Please enable JavaScript to view this content.