It's no secret artificial intelligence is changing the way people work—but for some, AI is their work.
Throughout central Indiana, data scientists are putting their programming and problem-solving skills to good use, helping to implement AI to improve products and better serve customers.
Three data science experts spoke with IBJ about the benefits—and difficulties—associated with the practical use of artificial intelligence, including how they simplify AI for end users and how machine learning affects their workflow.
They discussed the need to eliminate biases from datasets as AI seeps into more fields, including sports, pharmaceuticals and small business.
High Alpha's Mark Clerkin summed up the role:
"My focus is on helping people who want to use data to solve their problems, but they don't know how to do it. [I] take that off their plate, solve it, and then give it back to them. That's what we do—what I do—every day."
---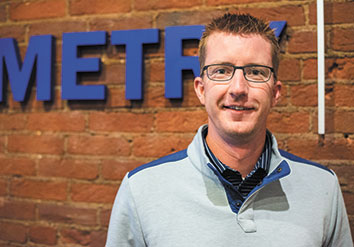 (IBJ photo/Mickey Shuey)
Learning the game
Jeremy Hochstedler, Telemetry Sports
Jeremy Hochstedler was spending too much of his time as a college baseball coach watching game film—so he developed a program that could help.
Hochstedler, 35, founded Telemetry Sports in 2013 along with Kellen Hurst and Paul Gagnon, using artificial intelligence to supplement coaches' analysis of game film for multiple sports, including baseball, football, hockey and soccer.
The Noblesville company counts several professional football and baseball teams among its clients, along with college baseball and softball programs, Hochstedler said. "We're really just scratching the surface in what we can do."
The software is trained to understand route types, coverage combinations and play calls in football, specifically for NFL teams.
Hochstedler, formerly a rocket engineer with Raytheon and an assistant coach at Manchester University, said the company is working to further develop the platform to provide play-call suggestions to coaches and other scouting tool enhancements.
"I don't think you'll ever be able to fully replace a coach or a scout, but this certainly helps," he said. "There's a lot of nuance to sports and film that is far greater than what a machine could ever match."
While Telemetry isn't the only artificial-intelligence-based company focused on improving scouting and film analysis, it's perhaps the most advanced.
Hochstedler said the software has allowed coaches to spend less time watching film, so they can spend more time working with players. Coaches still must interpret the data gleaned from the program, but Telemetry helps them "do that job a little bit easier."
"One can think of this AI as being another part of the staff, but it's still a tool," he said. "At the end of the day, humans still have to make the call."
Hochstedler said he "loves the impact" machine learning could have on sports—even beyond game-film analysis.
He hinted that the company's next endeavor could be capitalizing on opportunities in broadcasting or the gambling industry, particularly as more states legalize sports betting.
"I really think [artificial intelligence] can really go a long way in changing the games we love to watch," he said.
---
No shortcuts
Mark Clerkin, High Alpha
In his line of work, Mark Clerkin can't afford to take shortcuts—though he does help build them.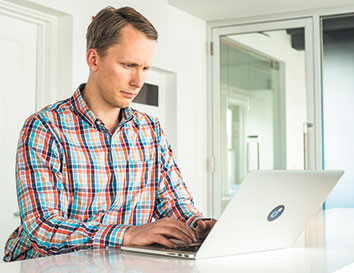 (IBJ photo/Mickey Shuey)
Clerkin, 36, is vice president of data science for High Alpha. He is responsible for the company's machine-learning and data-related projects, as well as building information-centric tools for startups that work with the Indianapolis-based venture studio.
He carries a dual mandate—focusing on educating clients about technology and maintaining quality in High Alpha's data science division.
He joined the company in 2017 after several years as an internet-based trader with a company that used machine learning.
"There's an art" to data, Clerkin said. "There's a science and a process to it, too. What we're trying to do is implement that science while also trying to lower its complexity on the client side to make it easier to understand."
In other words, the behind-the-scenes work is incredibly technical and complicated, but the software user can't see that.
High Alpha is considered one of the state's leaders in developing tools that use data science and artificial intelligence. Still, Clerkin said building new techniques and tools can take a lot of trial and error.
"You can't just use any algorithm for any problem and think it's going to work," he said. "There's not a one-stop shop or a silver bullet" to get things right every time.
Educating clients about data science includes demystifying the world of artificial intelligence and offering a deeper understanding of how to use it most effectively.
"It's [High Alpha's] responsibility to understand all the techniques in technical terms, but for clients, the focus is on helping them figure out how to use these tools to build their companies."
That includes techniques like embedding—capturing related words in cyberspace and connecting them so software can contextualize the information—and the development of intelligent databases that can understand customer churn and build engagement. Each is meant to help companies solve problems more quickly.
"My focus is on helping people who want to use data to solve their problems, but they don't know how to do it," he said. "[I] take that off their plate, solve it, and then give it back to them. That's what we do—what I do—every day."
---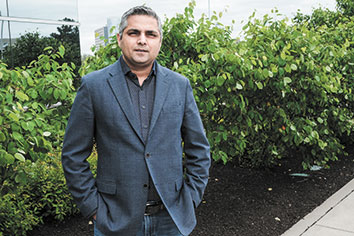 (IBJ photo/Eric Learned)
Medical-data mining
Rajiv Phougat, Eli Lilly and Co.
As Eli Lilly and Co.'s adviser for global information services, Rajiv Phougat has a lot on his plate.
The 42-year-old provides guidance on the company's information infrastructure and strategy and helps it adopt new technologies.
Phougat said he's been involved in implementing artificial intelligence processes and programs throughout Lilly (he's not authorized to speak about those projects publicly) to help better position Lilly in the medical industry.
"You need to understand why [these technologies] are important, and how they will be right for the company," he said. "When you make strategic choices based on what's right for the organization, you can deliver more value."
The computer scientist spent nearly 13 years at IBM as its chief technology adviser for the automotive industry.
Phougat said the role allowed him to provide "strategic thinking and advising" to company executives, particularly in areas of potential technological growth. He was previously involved in the company's Watson project, helping IBM blend artificial intelligence into business environments.
That work has translated well to Lilly, where he's helping to educate employees and executives about how data science can be best used, as well as how it works.
Phougat also helps train machines to learn Lilly's internal language and terminology, allowing the software to work more effectively with employees.
He said the impression that "some kind of AI technology … is magically going to answer any question" is off base, and he wants to help people understand the processes that go into effective artificial intelligence and how to overcome biases.
"You need to train the machine to understand all these things, and you need to do that well," he said. "If you train it wrong, or are biased … it may not provide accurate outcomes."
He expects artificial intelligence's use in the medical and pharmaceutical fields, and most others, to continue to grow.
"In every single profession, and at every single corporation, AI is going to change the way we work," Phougat said.•
Please enable JavaScript to view this content.