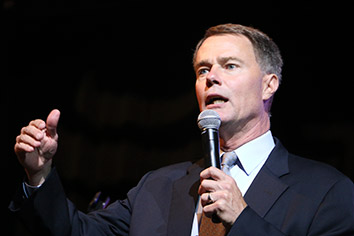 Indianapolis Mayor Joe Hogsett on Wednesday released an ambitious plan to fund the growing infrastructure needs across Marion County and central Indiana—but it will require state and regional buy in, even from places such as Hamilton County that would not directly benefit.
The plan calls for central Indiana's nine county region—which includes Marion, Hamilton, Madison, Boone, Hendricks, Hancock, Morgan, Johnson and Shelby counties—to create a regional infrastructure fund to pay for improvements across the entire area, funded by income tax revenue. 
The fund would capture a portion of income tax growth that each county generates and put it into a regional fund. The total revenue generated would allow the regional fund to make payments on bonds, the proceeds of which would be redistributed back to the counties based on road usage. Because the fund would only capture a portion of income tax growth, each county's current income tax revenue stream wouldn't be touched. 
Also, the fund would only capture growth on the first 1% of a county's income tax, meaning growth in counties' special taxes—such as Marion County's public safety and infrastructure taxes—would not be impacted.
The plan could help the city "start to reverse the deterioration in our road quality," said Kathy Davis, an adviser to Hogsett and former Indiana lieutenant governor.
The mayor's office says the strategy is a way to meet the city's growing infrastructure needs—which amount to $160 million per year—without raising taxes. Officials in Marion County have long bemoaned that it is at a disadvantage because its 161,500 daily commuters do not help pay for roads they're using. Rather, their tax dollars go to the county they live in.
Hogsett, in his state of the city address Wednesday evening, also planned to call for the start of public meetings in the region to discuss the idea. His staff said Hogsett has already discussed it with Fishers Mayor Scott Fadness, who recently called on his Hamilton County city to take the lead on regionalism.
Hogsett's chief of staff, Thomas Cook, told reporters Wednesday that Hogsett is openminded about a possible way forward on regional infrastructure funding—and this is just one of several options the region could use.
"This is a concept," Cook said. "He's not stating this is the only way forward. Hopefully we'll see 10 concepts. … We think there's growing consensus that infrastructure [needs] don't stop at the county line."
Hogsett's goal is to have an idea with regional buy-in ready to present to the state Legislature by the start of the 2021 session of the Indiana General Assembly, during which state lawmakers will next draft a two-year state budget. Hogsett's administration said it would be eager to see action even earlier but acknowledged the Legislature doesn't typically address big structural changes until its longer, budget-writing sessions. Lawmakers just adjourned one of those sessions last month.
The fund's creation—and governance—would require state approval and could be a tough ask of state lawmakers, who have previously been wary of regional concepts like a commuter tax to give Marion County a greater share of income tax dollars. However, Cook said Hogsett's plan is a way to "reset that conversation" and create a system that several counties would benefit from.
The proposal wouldn't solely benefit Marion County, which would contribute 32% of the money to the regional fund but realize 46% of the bond proceeds because of its heavy road usage.
Under Hogsett's plan, five of the nine central Indiana counties would come out ahead financially: Hancock, Madison, Marion, Morgan and Shelby, all of which would receive a higher proportion from bond proceeds than they would contribute in income taxes.
But the plan might not be as palatable to Hamilton County, which would fund 33% of the regional fund but receive just 18% of the proceeds.
Cook acknowledged it could be tricky to get everyone in the region on board.
But he said he believes lawmakers understand that "the growth of the region is all connected" and that there is "more consensus something needs to be done" to shore up the region's infrastructure.
"This is on the lips and minds of members of the General Assembly," Cook said.
Please enable JavaScript to view this content.