The Indianapolis Public Library system is on a physical growth spurt, even in an increasingly digital age where a growing portion of its collection exists only online.
The library this month opened its $7.4 million Eagle branch in the International Marketplace neighborhood near West 38th Street and Moller Road, replacing a smaller nearby library in the Eagledale neighborhood.

And in December, the library opened a $7.4 million Michigan Road branch, filling a previous gap in services on the northwest side.
Meanwhile, construction workers have erected steel beams for a $6 million branch in the Martindale-Brightwood neighborhood, at East 25th Street and Sherman Drive. When it opens next year, the branch will replace a nearby small leased space.
In the next three years, new branches will follow in Perry Township, at Fort Benjamin Harrison and in Glendale.
"Anytime a new library opens, it's a good thing," Deandrea Beaven said as she left the Eagle branch's crowded grand opening celebration with her children. Beaven said her family was happy to have a brand-new branch around the corner from their home.
Library statistics suggest demand is still strong for physical branches. Walk-in visits grew 1% across the Indianapolis Public Library system in 2018, even as electronic circulation rose 4% and print circulation dropped 5%.
Take the new Michigan Road branch: Library officials wondered whether walk-in visits at the nearby Pike or Nora branches might drop as a result of the new location. Instead, visits have held steady. Better yet, Michigan Road branch employees issued 500 new library cards the first month it was open.
"We talk about food deserts; it was a little bit of a library desert," said Jackie Nytes, CEO of the Indianapolis Public Library.
"We plunked a library down and found 10,000 to 11,000 people a month who are coming. That, to me, is a very strong answer to any question you might ask about, why buildings in this electronic age? Michigan Road is the testament to why."
Eagle Branch Manager Mary Agnes Hylton said her branch expects to attract new patrons by being in a more commercial area, around the corner from a Meijer, rather than a residential area.
The branch is "much more accessible than we were before," Hylton said. "We were invisible to many people. It's a good challenge to draw some new faces."
The new branches are a response to demand for library services—new, bigger facilities allow more opportunities for children's programming, space for study rooms, and workshops.
"We have home and we have work and we're all looking for a third place," Nytes said. "It's remnants of 'Cheers.' People are looking for places to go that don't cost admission, places to spend time that are inspiring and safe and inclusive."
But investing in new publicly owned buildings is also part of a broader effort to redesign the library system and improve its efficiency in an era when property tax caps are straining finances.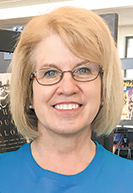 Hylton
"We knew from a budget standpoint we couldn't just add branches," Nytes said. "We had to rearrange the pieces."
Property tax pinch
The library's reorganization follows a downward shift in property tax revenue, its largest revenue source.
In 2007, the library received $31 million from property taxes. From there, property tax receipts dropped annually, reaching a low of $28 million in 2011 before rising again to $31 million in 2016.
In 2019, the system will receive about $34 million from property taxes. Its operating budget is $46 million.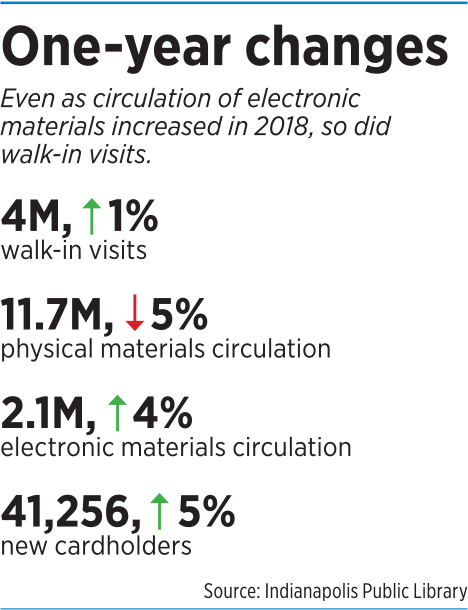 To save money during the low points, the system pared back branch hours 26%, leading to a 15% decline in patron visits.
Nytes, a former Indianapolis city-county councilor and former chief financial officer of the library, returned in 2011 as CEO.
She embarked on a strategy of shifting from rented to owned facilities—which allowed the system to save money and reinvest in itself.
"The library had gone through a scary time," Nytes said. "Like so many communities, our library system was taking a really hard look at what our future was going to look like. We knew we had to take a deeper look at how we were serving Marion County."
While the library had to pay rent out of its pinched operating budget, it's able to make debt payments on bonds issued to fund new buildings out of a less restricted fund.
"We had to take the pressure out of the operating budget," Nytes said. "We crafted this plan in a way to build the new buildings out of bond issuances, which have a steady tax rate. We've been able to deliver on that."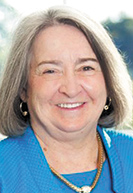 Nytes
In 2014, the City-County Council approved the library's plan to issue $59 million in debt through 2020 to renovate existing branches and build new ones without increasing property tax rates.
That plan, though widely supported by the council, was not without pain. The library announced at that time it would close the Fountain Square branch and the Flanner House branch, which Nytes acknowledged were "two extremely controversial decisions."
The library now has $71 million in outstanding bonds and is scheduled to pay $13.6 million on that debt this year. That annual debt service is expected to drop to $8 million per year by 2023 and fall under $2 million annually by 2032.
More to come
Meanwhile, as the library cuts back on leased locations, it is able to "free up little bits of money from the operating budget," Nytes said, which pays for day-to-day expenses and investments in new collections and materials.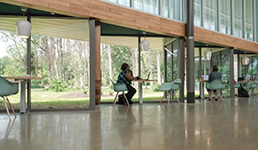 Employees at the Michigan Road branch, which opened in December, issued 500 new library cards in the first month. (IBJ photo/Eric Learned)
For example, the library pays $250,000 annually for rent at its Glendale branch that it will be able to deploy to other uses when the new branch opens.
Library officials have identified and secured sites for branches in Perry Township and Fort Benjamin Harrison. They are zeroing in on a yet-to-be-announced location in Washington Township for the new Glendale branch.
The new branches reflect the reality that outlying townships have gained population while Center Township has lost ground since most of the original branches opened.
"We had to acknowledge the tough reality that we were pretty concentrated in the old city, and that we had more limited access to libraries out in the townships," Nytes said. "Our service points hadn't been adjusted to follow that pattern."
Though some patrons say they appreciate the updated branches, residents who live near shuttered locations are disappointed.
Anita Carter, a board member for the Eagledale Neighborhood Association, said the closure of the old Eagle branch means "we have another empty building" in the neighborhood. She said neighborhood kids used to be able to walk to it.
However, Carter acknowledged that the new Eagle branch is "going to benefit the neighborhood on this side of 38th Street."
Evolving role
The library also is adapting to the new ways patrons use libraries in a digital age.
Simply put, it's not just about checking out books (though books still account for 61% of total circulation), but about providing services.
Nytes said the library's role in helping Indianapolis children become better readers is more important than ever as businesses seek a more educated workforce.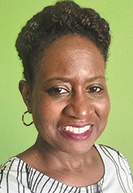 Malone
Toward that end, as the library constructs new branches, officials are partnering with schools to provide library cards to their students. They're also working with school districts to grant them access to the library's online collection.
"You want to have a good workforce for the next Amazon? We better make sure our kids can read. This is where it starts," Nytes said. "You only get to be a good reader by practicing."
Library officials also are embracing using their branches as locations for meetings and events.
"When you think of a library, you think of a meeting place," said Denyce Malone, branch manager at the Michigan Road library. "People love our study rooms. Our community room seats 80, and has been used a lot, from baby showers to graduation parties, workshops, everything."
Rhonda Oliver, branch manager at the Brightwood library, said the library is designing new branches with an abundance of electrical outlets and charging stations for laptops, phones and other devices.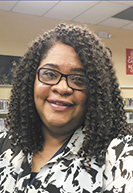 Oliver
Oliver said the overwhelming amount of information available online has created an important new role for library staff: helping those using the internet separate fact from fiction.
"We're trustworthy," she said. "We're good at vetting professional resources."
But the branches aren't just focused on the latest technologies. They also are equipped with fax machines—that are not sitting idle.
Library officials added them after a stream of requests. It turns out that, while most people have gotten rid of the relics at home, they still need them to send medical records and other important documents.
Nytes said the library system makes $70,000 a year from fax machine services. "They're paying for themselves."•
Please enable JavaScript to view this content.