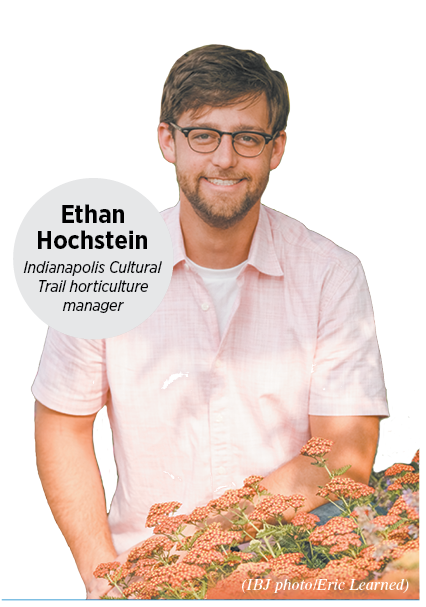 You probably think of the Indianapolis Cultural Trail as a place for walking and bicycling.
But the 8-mile downtown trail also features five acres of plantings and 25,000 square feet of bioswales, which are meant to filter pollution from water.
As the Cultural Trail's horticulture manager—a new position for the organization—it's Ethan Hochstein's job to care for all this greenery. He's been working here since March.
Hochstein, who turns 26 on June 15, lived near Omaha, Nebraska, until age 15, when he and his family moved to Springfield, Illinois. He earned a bachelor's degree in agricultural business from Southeast Missouri State University, then held a variety of jobs in Omaha and Oregon before moving here.
How did you become interested in horticulture?
Kind of by accident. I had a natural interest, as a little kid, playing outside and being in nature. Then, I started a vegetable garden when I was in high school and a company who was doing my family's landscaping had seen it and asked who'd done it and offered me a job. I worked there throughout high school, figured out I could major in it, and then went to school.
Why are there so many plantings and trees along the Cultural Trail? For aesthetic reasons, or do they serve other purposes, too?
It's both. The aesthetics are to make it stand out and make it a very enjoyable place to be in downtown Indianapolis. The plants also serve as a traffic calming and safety barrier, so it's easier for cars and pedestrians to feel safe being on the trail because of the plantings. But then the plants themselves—which is relevant to all plants and trees—do provide habitat, carbon sequester, shade.
What is a bioswale?
Bioswales are the beds below grade that are next to the roads. They're kind of sunk down at the intersections. When it rains, instead of the water going to the storm drains, which then gets funneled to the river, [the water] will sit there temporarily—only a couple of hours—and will soak through to the ground. It's diverting some of the stormwater, and then those plants will actually clean the water of silt, gasoline and things like that, actually clean it …
What is the biggest challenge of being a horticulturalist in an urban setting?
The urban environment's very harsh for plants. You don't have a lot of soil, sometimes the buildings will shade plants out for most of the day. It's very hot. People trample everything. There's lots of dogs. It's just a very high-traffic area, and that's hard on plants. My job becomes difficult. … The size is one thing, but it's the linear aspect of having to tend trees down in Fountain Square and then be up to IUPUI to weed, then go over to College Avenue.
If people want to see the best plantings along the trail, where should they go?
So far, from what I can tell, it appears it will be very different seasonally. The Glick Peace Walk is very dramatic at certain times of year because the whole block will bloom at the same time with certain plants. And the section with the Prairie Modules [art installations on East North Street], right across from Old National Centre … that whole block I think is really densely planted. That has a lot of different colors, and it's sunny.•
Please enable JavaScript to view this content.