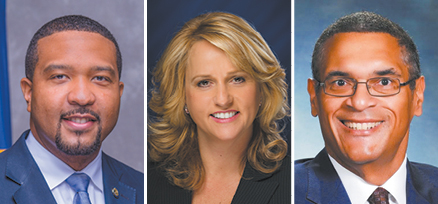 The 2020 gubernatorial election is still 17 months away, but Indiana Democrats already are trying to find a candidate who has the potential to unseat Republican Gov. Eric Holcomb, who is expected to seek re-election.
So far, three Democrats have publicly talked about the possibility of running for governor—state Rep. Karlee Macer, state Sen. Eddie Melton and former Anthem Inc. Chief Medical Officer Woody Myers—but none has officially announced a candidacy.
All three would have the potential to bring diversity to the state's highest elected office—Indiana has never had a female or black governor.
"I think it's great that we have such diversity in people interested in running" for governor, said Democratic state Rep. Robin Shackleford, who chairs the Indiana Black Legislative Caucus. "I think the Democratic Party has an obligation. We should be saying, 'OK, we are the party that's going to bring that diversity to the forefront of the state.'"
Other possibilities are John Gregg, a former Indiana House speaker and the party's gubernatorial candidate in 2012 and 2016; Christina Hale, a former state lawmaker and Gregg's running mate in 2016; Baron Hill, former congressman from southern Indiana who dropped a bid for U.S. Senate in 2016; and John Weinzapfel, a former mayor of Evansville and former member of the Indiana House. But party leaders say those individuals are less likely to run.
"Until they say they are not, they have to be discussed as potentials," said Andy Downs, director of the Mike Downs Center for Indiana Politics at Purdue University Fort Wayne. "Doesn't mean they're good potentials."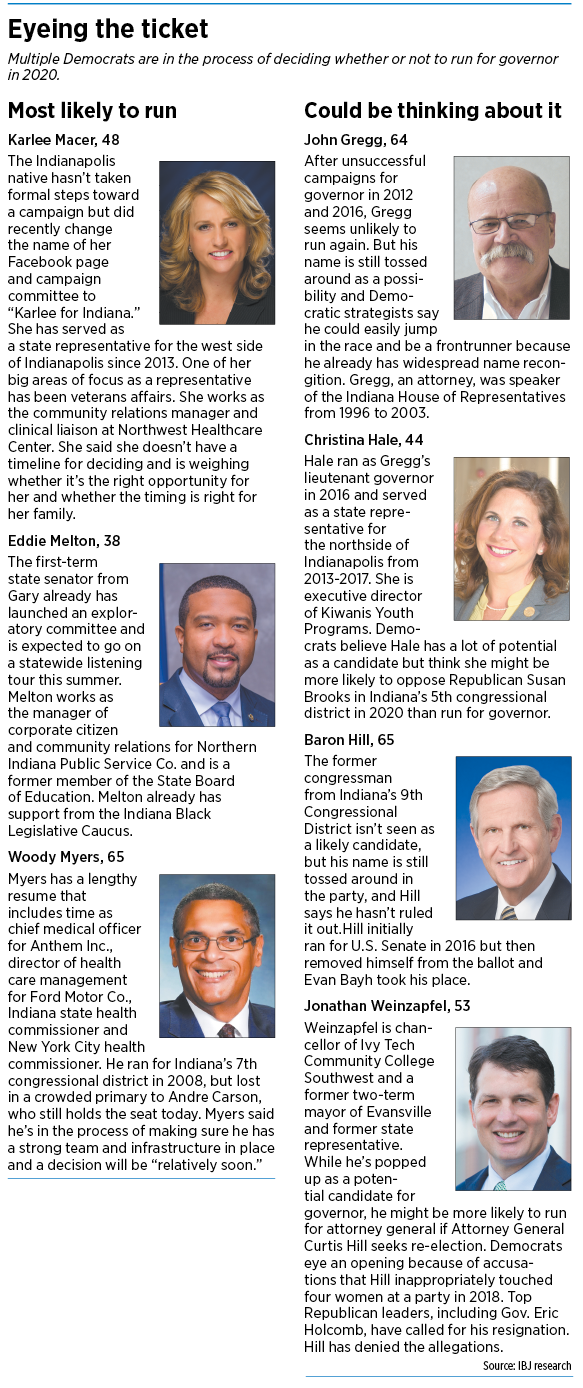 Another name that's often mentioned, but quickly dismissed, is South Bend Mayor Pete Buttigieg, who currently is seeking the Democratic nomination for president. Buttigieg has quickly moved from being a longshot to competing in the top tier of presidential hopefuls. The latest poll from Iowa put Buttigieg statistically tied for third place, with 14%.
The 2020 election schedule would make it tough for Buttigieg to switch gears—the deadline to file as a gubernatorial candidate in Indiana is Feb. 7—only four days after the first Democratic caucus in Iowa. That means Buttigieg would have to drop out of the presidential contest either before Iowa or immediately after to make a run for governor.
Democrats say there is no clear frontrunner.
"It's wide open. It's going to be an interesting governor's primary," said Kip Tew, a former Indiana Democratic Party chairman who ran President Barack Obama's 2008 state campaign. "We've got some exciting candidates. I'm looking forward to see who comes out of it."
But even with the handful of names circulating and no real frontrunner, Democratic strategists aren't convinced the party will have a contested primary in May 2020. That's because the last Democratic contested gubernatorial primary in 2008 between Jim Schellinger and Jill Long Thompson left the party wounded.
Thompson won the primary but lost in the general election to Republican incumbent Mitch Daniels, who won 58% of the vote. Several sources told IBJ the primary that year caused unnecessary damage to the party and may have contributed to Democrats' losing the governor's race even as Obama won the state, the first Democratic presidential candidate to do so since Lyndon Johnson in 1964.
But regardless of whether the Democrats have a primary in 2020, the general election campaign is expected to be an uphill battle for the nominee. Holcomb maintains high approval ratings, even among some Democrats, and has mostly avoided controversy during his first term.
"I think Eric Holcomb is going to be incredibly difficult to beat," former Democratic strategist Jennifer Wagner said.
Holcomb has not announced whether he will run again, but he is widely expected to do so.
"Gov. Holcomb is in a historic position to run for re-election with record fundraising, a strong statewide grassroots network, an undeniable record of achievement and one of the nation's highest approval ratings," Indiana Republican Party spokesman Pete Seat said in a statement. "Beyond that, all we can say is stay tuned."
Money matters
One attribute Democrats know they need in a candidate is someone who has the ability to raise money—and quickly. Holcomb had $4 million in the bank at the end of 2018, giving Republicans a significant head start on funding a campaign.
To be competitive, a Democrat "will have to raise millions and millions of dollars," Downs said.
That could be difficult, especially on a national scale where big-time donors will put their resources into the 2020 presidential race or into other states where the governor's race is seen as more competitive, Downs said.
Myers may be the best option so far when it comes to fundraising, according to political experts, given his relationships with corporate leaders. Myers' lengthy resume includes time as chief medical officer for Anthem, director of health care management for Ford Motor Co., New York City health commissioner and Indiana state health commissioner.
He could also provide some self-financing, if necessary. When he unsuccessfully ran for Indiana's 7th congressional district seat in 2008, Myers loaned his campaign nearly $1.8 million.
Myers told IBJ he won't enter the race if he doesn't think he can raise enough money to have a well-run campaign.
"That's a daunting challenge," Myers said. "It's going to be an expensive race. I have no doubt about it."
Macer and Melton have had to raise money and run campaigns before, but on a much smaller scale, so experts say their fundraising experience isn't as polished.
That doesn't mean they wouldn't be able to do it, however. "There's no one whose name is being thrown around right now who isn't qualified to run for or occupy that office," Wagner said.
Other factors
Another hurdle for the potential candidates is the ability to build strong name recognition across the state.
Melton is serving his first term as a state senator after his election in 2016 and represents part of Lake County, which has never had a politician become governor.
"I don't see why being from Lake County would be a barrier," Melton said. "I think my experience, my background allows me to look at things from a very diverse perspective."
Macer has a little more political experience—having served as a state representative since 2013—but isn't well known outside of Indianapolis, where her district is located.
Macer doesn't seem put off by that challenge. She said she enjoys learning about other communities and building coalitions.
"I am prepared to be uncomfortable and do the work," Macer said.
Myers is the only potential candidate without at least some natural geographic constituency to build from.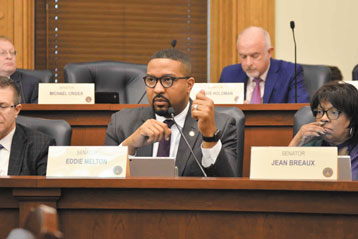 Sen. Eddie Melton of Gary launched an exploratory committee to run for governor. (Photo courtesy of Indiana Senate Democratic Caucus)
Myers said he is in the process of planning trips across the state the next few months so that he can get to know more Hoosiers and hear their concerns.
Building a strong base quickly isn't unheard of in either party—President Donald Trump entered the race in 2016 without ever having run for office, and Buttigieg started his campaign with only a small network of out-of-state support.
And some Democrats point to Holcomb's low name recognition to suggest that he's not starting from a strong position, either. According to data from Morning Consult, 49% of voters approve of Holcomb, but 29% say they have never heard of him.
"He is still a blank slate and has not done anything to stand out or anything substantial that a regular voter could even point to," Tew said. "His 'Next Level' brand is bland."
Political strategists say Macer's gender would likely be a positive trait, along with her affability and age. Macer is 48.
"I definitely am taking this seriously," Macer said. "It's very humbling for people to reach out and suggest that it's something to think about."
Melton is also young, at 38, which could help attract millennial voters, and he is viewed as a good public speaker.
And both Melton and Macer have experience at the Statehouse, which could be useful. "They've both been inside the walls," Wagner said. "They both know how negotiations happen."
As for Myers, strategists say his background in business and knowledge about health care could be a way for him to differentiate himself.
"He's an extremely intelligent individual," Indiana Legislative Insight Publisher Ed Feigenbaum said.
If Myers or Melton received the Democratic nomination for governor, they would be the first person of color from a major party to run for governor in Indiana.
Shackleford said their candidacies could help engage more black voters, but minority voters cannot be taken for granted. "It's good to see them there, but I think their actions are going to have to match their presence," she said.
Dana Black, deputy chairwoman for engagement for the Indiana Democratic Party, said it's "past time" for diversity at the top of the ticket.
"For too long, women and minorities have been left out of the room, let alone having a seat at the table," Black said. "But if we really want to see the future growth of our state—economically, environmentally and educationally—we must include the voices of everyone."
Another run?
Several former elected officials are also being talked about in Democratic circles as potential candidates.
Gregg, who has unsuccessfully run for governor twice, has not confirmed whether he's considering a third attempt and was unavailable for comment.
In 2012, when he ran against Republican Mike Pence, he lost 49% to 46%. That same election, Indiana was one of two states that Obama had won in 2008 and then lost when he ran for re-election in 2012.
In 2016, Democrats believed Pence was vulnerable after the Religious Freedom Restoration Act controversy generated a deluge of negative publicity, and Gregg decided to try again. But after Trump named Pence as his running mate, and Holcomb became the Republican candidate for governor, the race dynamics changed. As Trump won the state by 20 points, Holcomb topped Gregg 51% to 45%.
Democratic strategists say Gregg hasn't closed the door yet on another campaign and knows how to fundraise and already has name recognition statewide.
Gregg's former running mate, Hale, is also considered a candidate, but many suspect she will challenge Republican Susan Brooks in the 5th Congressional District. The Democratic Congressional Campaign Committee is already targeting the seat. Hale declined to comment for this story.•
Please enable JavaScript to view this content.