The cash-strapped Indianapolis Airport Authority suddenly can't look soon enough at developing some of its vast real estate holdings, including the city's former passenger terminal.
This month, it plans to conduct final contract negotiations with a firm that would study reuse of the old terminal and the potential for development of land adjacent to the terminal and at the authority's four reliever airports and downtown heliport.
The authority has received 14 responses to a national search started in August for a firm to evaluate airport property and recommend what to do with it.
Some of the firms responding were from out of state, but most all involve a level of local firm participation, said Marsha Stone, finance director of the Indianapolis Airport Authority.
"It's quite a stack … I think it's a good level of interest," said Stone, who said she could not yet identify the firms. Nor is there any indication how much the contract will be worth.
Authority staff planned to recommend a firm to CEO John Clark Oct. 9, and ink a contract should be inked by Nov. 20.
The authority earlier this year projected a $15 million budget shortfall, blaming the recession. With fewer passenger and cargo flights, the authority now collects millions of dollars less in landing fees, parking revenue and concession income.
Moreover, the authority this year began paying on the $40 million in annual debt service on the new terminal. The timing stinks: Passenger boardings are down 11 percent year-to-date over the same time last year.
Generating revenue is clearly on the airport authority's radar as it considers its real estate options. The contract's scope will be to prepare a land use strategy for "development and uses that create an acceptable rate of return and net positive cash flow for the authority," according to an airport document.
"Development and uses that will, to the extent possible, support economic development and job creation."
Airport leaders want the contractor to help sort through issues such as which pieces of land are most promising for reuse, what industries are most suitable, the cost of redevelopment, and how the authority should position or market its land holdings.
Airport officials also want a clearer picture of what holdings are best suited for aeronautical uses and which might have other uses.
At this point, "we don't have a specific number of acres. That's what we will accomplish through this" analysis, Stone said.
Plum property
But by far the most prominent and certain area for reuse is the former airport terminal at Indianapolis International, abandoned last fall when the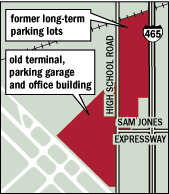 airport opened the $1 billion midfield terminal.
The old facility sits on 200 acres, including 120 acres of surface parking lots that can hold nearly 10,000 cars but now sprout only weeds. The terminal, with an attached six-story office building, has been stripped of its furnishings—right down to its toilets and seating—all of which were auctioned off by the authority earlier this year.
Fronting busy Interstate 465, the old terminal is a popular subject of speculation.
"I get calls from the public with ideas ranging from water parks to casinos to a shopping mall," said authority spokeswoman Susan Sullivan.
But veteran real estate executives aren't so bullish on the old terminal site, at least not given the current state of the economy and real estate market.
"It's just a perfectly awful time to take anything like that to the market," said Ross Reller, a senior adviser at Indianapolis-based Resource Commercial Real Estate. "We are still seeing the capital markets shut down for commercial real estate finance."
In fact, Bill Flanary, a senior vice president of Colliers Turley Martin Tucker, said he was surprised the airport got as much interest as it did from firms wanting to study reuse of the old terminal and other holdings.
Flanary started down an informal checklist of potential uses of the old terminal. Restaurants? No. Retail? No. Office space? No—at least nothing lucrative, he figures, given the noise from planes flying low overhead. Institutional uses? Maybe a school, he said.
More likely, the old terminal site could find industrial takers, Flanary figures, noting that the site intersects with nearby air, rail and interstate connections that could be conducive to an intermodal operation such as a freight hub.
The site would have potential for a military air facility, Flanary suggested, noting a conspicuous lack of military operations at Indianapolis International compared with other large airports. A military operation wouldn't generate tax revenue, "but it would create jobs," he added.
General aviation?
Nobody in the local real estate business knows the airport as well as Michael Wells, president of REI Real Estate Services and former president of the Indianapolis Airport Authority board.
Wells still thinks the old terminal site has a lot going for it, including its quick access to the interstate and uncommon structures, such as an 1,800-space parking garage.
Some have speculated that the site could be a logical expansion space for FedEx, which operates its second-largest domestic air hub here. Wells said that's probably not realistic, at least not now, with FedEx seeing a slump in cargo traffic and having already recently expanded its giant local hub.
Rather, Wells sees general aviation as a more likely use.
That was the case in Pittsburgh. It opened a new terminal in 1992, demolishing its old terminal seven years later. In 1999, Texas-based Atlantic Aviation put a general aviation park on the site, known as Airside Business Park. A Pittsburgh-area developer enhanced the site, adding commercial office buildings.
Wells said there's no reason for the authority to rush to redevelop the old Indianapolis terminal.
"New development is basically non-existent and probably will be that way for the next 18 months," Wells added.
Reller also suggested the authority should be patient in this environment.
"I realize the airport authority has a need to raise capital," Reller said, but "I don't think in the near term that they're doing themselves any favors to take this property to market."
Stone said the authority's land use and development strategy isn't focused just on near-term opportunities but will also take a long-term outlook.
"Who knows what will come out of this?" she said. "There are a lot of really creative people out there that do this [analysis]."
The authority has been under pressure to cast off some of its holdings.
For example, Fishers leaders, who've been trying to grow the town's taxable land base and have had visions of Carmel-like grandeur for upscale development, in recent years have grown more covetous of the authority's Metropolitan Airport, at Allisonville Road and East 96th Street.
One issue the authority will face is what portion of its properties were acquired or improved with federal funds, which complicates its ability to sell land versus leasing it to tenants.
But it can be done. The authority has agreed to sell the former ATA Airlines headquarters campus at Washington Street and Girls School Road to developer Paul Kite Cos., for $5.6 million.
Clearly, the slumping economy has been particularly difficult on the aviation sector, Wells noted. Indeed, drive down just a one-mile stretch of Pierson Drive, on the airport's northeast corner, and one is confronted with no less than four signs for available facilities to rent. They total 32,000 square feet, including hangar space.
Besides Indianapolis International, the authority also owns and manages Eagle Creek Airpark, Hendricks County-Gordon Graham Field, Metropolitan Airport, Mount Comfort Airport and a downtown heliport.•
Please enable JavaScript to view this content.