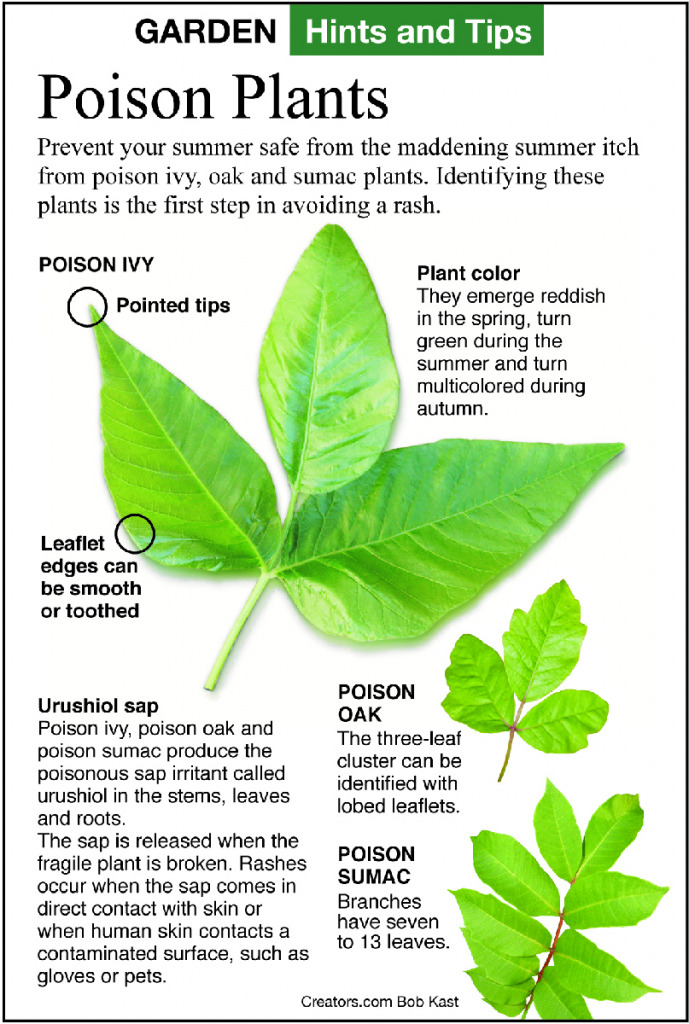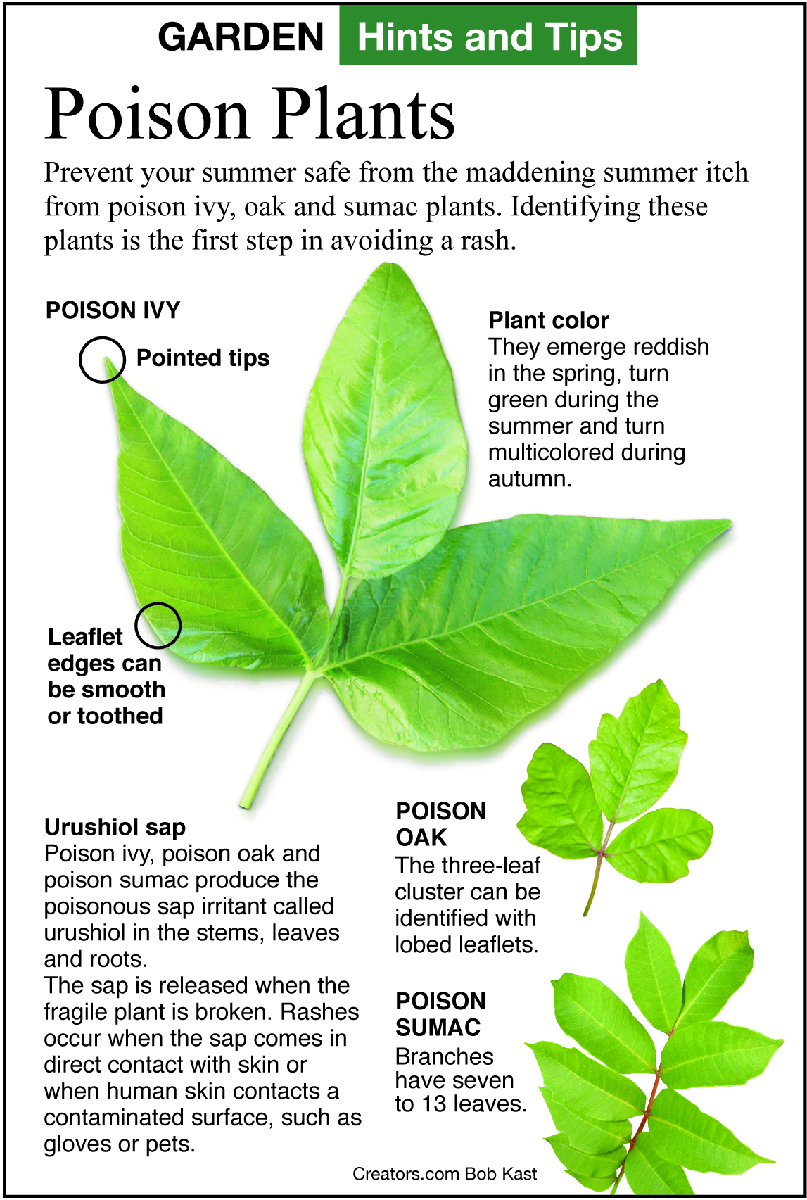 Q: I thought I got a poison oak rash when I went camping, but I looked it up, and it doesn't grow in the area we went camping. I think the real culprit is a poison sumac plant growing in my hedge that I trimmed before we left for the weekend. How do I get rid of it without damaging the hedge?
A: Poison ivy, poison oak and poison sumac are problem plants for many people who encounter them in the woods, but most people are surprised to find them in their own gardens. Birds often carry the seeds from these plants and deposit them in hedges, under trees and even in urban areas.
There are several species of poison ivy, and they occur in all states except Alaska, California and Hawaii. Poison oak occurs in the Pacific coastal states and southern and eastern states, while poison sumac occurs in the eastern half of the U.S.
Because poison ivy is the most common, kids are often taught the old saying, "Leaves of three, let it be." Unfortunately, a few poison ivy plants have five leaflets; poison oak can have three, five or seven leaflets; poison sumac always has between seven and 13 leaflets. All three species have greenish-white flowers and berries. Plus, a lot of other plant species have three leaflets.
It is the urushiol oil in these plants that causes skin irritation, and it is found in all parts of the plant. Anything the oil contacts, such as your shoes, pants, pets and garden tools, can transfer the oil to your skin. If your hedge trimmer touches one of these plants, it may still have urushiol oil on it.
If you try to wash it away in water, the oil might float around and not rinse away. You need to use soap and water to wash the oil away. Unlike other plant irritants that appear almost immediately after touching the plant, the rash from poison ivy may take a few hours to appear, making it hard to figure out where it came from. The rash may develop slower if there was not very much urushiol on the skin. Zanfel is an ointment that bonds to urushiol and removes it from the skin. A tube of Zanfel is much easier to carry in the woods than soap and water.
So, how do you get rid of these plants in your garden? The same way you do for any other weed. Early identification while the plant is small and not letting it go to seed are the first steps. If you are out in the garden a lot, you should find the plants when they are small. You can wear long gloves, and you can pull the small plants out of the ground, roots and all. Put them in a bag, and seal it up, and place it in the garbage.
Larger plants may break off from the roots, but pulling them out again and again will eventually work if you don't let the plants recover too long. Herbicides are the next step for larger plants. There aren't any herbicides that work on only poison ivy, poison oak or poison sumac, but there are plenty of weed killers that do work on these plants. Find one that says it works on killing the whole plant, including the roots. Read and follow the label of any herbicide you use.
How large is the plant in the hedge? If it is still small, then pull it out, and watch for any new sprouts from the roots. If it is large and intertwined into the hedge plant branches, you will have to carefully prune it out branch by branch. Place each piece in a plastic bag, and dispose of it. Again, watch for new sprouts coming up from the roots.
If the roots and stump send up new growth, it will be easy to spray. It is possible that an old, mature plant with a large root system won't just resprout in the original location; the roots can sprout new stems up wherever they are growing, which can be many feet away from the hedge, so look for new sprouts all over the area.
Never burn these plants or logs with the poison ivy vines wrapped on them. The sap can evaporate into the smoke and coat other things, such as lawn furniture. Even worse, you could get the oily smoke on your skin or even breathe it into your throat and lungs.
Email questions to Jeff Rugg at info@greenerview.com.
Please enable JavaScript to view this content.