At the pandemic's peak, many people took notice of the increasing number of people panhandling on Monument Circle and sleeping outside storefront windows across downtown.
As the economy began to reopen, retailers said homeless people and panhandlers were scaring away customers. Office managers complained they were harassing employees. People working at tourist destinations argued they were discouraging visitors from even coming downtown.
While the homeless population across the city has decreased from its pandemic high of nearly 2,000 people, it has yet to return to the lower levels recorded before the pandemic hit. Last year, the one-day count of homeless people dropped to 1,761, still above the 2019 number of 1,567.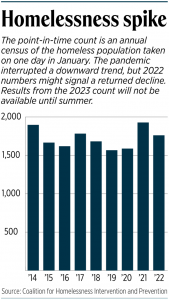 But business leaders and city officials have hopes that a state task force's recommendations to create a new shelter system and initiate other potential solutions will help ease concerns in Indianapolis and the state's other urban centers.
One of the primary aims is to create low-barrier shelters that remove as many conditions for entry as possible to get more homeless people off the streets and provide them with the services and treatment needed to help them build better lives.
Indianapolis plans to pilot a low-barrier shelter on city-owned property and create a master leasing program in which the city would lease units on behalf of property owners to low- or no-income individuals.
A budget request pending in the Indiana General Assembly would provide $51 million over the next two years to provide grants to cities across the state to establish such programs. The legislation, authored by Democratic Rep. Justin Moed of Indianapolis, asks for $20 million for a homeless shelter grant program, $16 million for tenant support and $15 million to establish a master leasing program.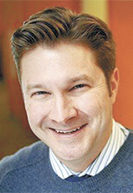 The bill is co-authored by Rep. Cindy Ledbetter, R-Evansville, and another Indianapolis Democrat, Rep. Carey Hamilton. It has been assigned to the House Ways and Means Committee but has not received a hearing.
Jeff Bennett, co-chair of the State Low Barrier Task Force and senior policy adviser to Indianapolis Mayor Joe Hogsett, said the hope is to have some of the city's new efforts in place soon.
Citywide, shelters have temporarily relaxed their admission criteria to get more people out of the cold—but that ends March 30.
"We would like to, not too long
after April 1, have some of these short-term recommendations kind of fleshed out and, if possible, underway," Bennett told IBJ.
He said discussions with developers regarding the master leasing program have gone well, and it's possible a strategy will be implemented in two to three months.
Lowering barriers
The low-barrier shelter, an approach used in many other states but new to Indianapolis, would have fewer restrictions for people wishing to enter the space.
Bennett said stakeholders are still deciding exactly what entry factors will be required in Indianapolis. But a November 2021 report from the Office of Public Health and Safety list as common deterrents shelter policies that turn away those with criminal histories, ban drug and alcohol use, require identification, enforce strict rules, and separate families, partners or pets.
Other barriers include lack of shelter safety, limited access for people with disabilities, narrow shelter hours and bad experiences with shelter staff.
The city has allocated $12 million in federal American Rescue Plan Act funding toward the shelter.
Most details about the shelter are fuzzy, but it will likely borrow key features from a Lafayette shelter called the LTHC, which formerly stood for Lafayette Transitional Housing Center.
The LTHC's facility, which opened in January 2020, cost $14 million to construct. That's more than Indianapolis currently has set aside, and the Lafayette space deals with far fewer people than Indy's future project would. In 2021, Tippecanoe County had a population of 187,000; Marion County had over 971,000 people.
The Marion County facility would likely copy the Tippecanoe County shelter's design approach. The facility isn't a warehouse-style building with hundreds of beds. Instead, it serves as a space where different organizations can meet and provide resources to homeless people, along with a few dozen beds and housing units.
Connections to housing coordinators and permanent supportive housing units are intended to shorten stays in the emergency shelter.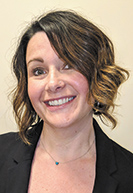 "There has to be that continued investment in having housing solutions at the end of it; otherwise, what you end up doing is just creating places people get stuck," said Chelsea-Haring Cozzi, executive director of the Coalition for Homelessness Intervention and Prevention, or CHIP.
For Indianapolis, this might mean the full implementation of local day-center Horizon House's master plan, including a housing navigation hub slated to be completed next year. Supporting the implementation of the not-for-profit's master plan is among the task force recommendations.
LTHC Executive Director Jennifer Layton spoke before the state task force and hosted a tour for some members.
At the Lafayette facility, a first-floor resource center open from 7 a.m. to 8:30 p.m. provides typical day-center offerings: three meals, showers, laundry, lockers and mailboxes. Also on site are health screenings, peer support specialists, a mental health center, an employment center and housing coordinators.
The facility also has 10 beds that serve as overflow for people who can't get into the city's main shelter, 17 interim-housing pods and four medical beds. These spaces are open even when the engagement center isn't, making the facility 24/7. The second and third floors of the 20,000-square-foot building have 40 units of permanent supportive housing.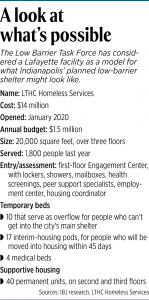 Last year, the LTHC served 1,800 people. Layton is hopeful the task force recommendations will lead to more funding for shelter spaces.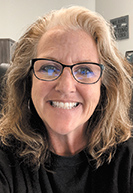 "Nobody wants to pay for shelters anymore, because that's really not so sexy," Layton told IBJ. "Like, housing is a solution, right? So a lot of people want to pay for housing, but nobody wants to pay for time between the street and the housing, which is a pretty substantial part of time. "
The city is seeking available land but would not disclose what parcels were of interest out of concern that it could cause a price jump. Bennett said it's likely the project will be spread over multiple facilities, with an emphasis on easy transportation and collaboration between locations.
In Lafayette, the LTHC hasn't been a cure-all. Layton said people still sleep on the sidewalks outside her facility.
"And I still, every day, have staff ask them to come inside, because every day is a new day. And, like, you never know when that day might come that someone will want to engage in services, because I've seen it happen," Layton said. "But I've also seen people that die on the sidewalks."
Reality of homelessness
In Indianapolis, homeless people often find a way to create their own living space. Two men living near the White River and behind a group of industrial buildings have set up several sheds for shelter.
Tony, real name Tuong, is a Korean immigrant. He's been living outdoors for 10 years. Because he's not a U.S. citizen, he said, he would never choose to go into a shelter and use U.S. resources.
He's created an extensive garden out of green buckets complete with an irrigation system, which he learned how to do at the Indianapolis Public Library's Central Branch. He told IBJ he encourages other people to go there and learn to do something.
He has built two small shedlike structures, which function as a bedroom and kitchen. Six cats roam the area.
Different street outreach teams visit the camp daily, on a set schedule. On this day, an Indianapolis Metropolitan Police Department Homeless Unit stops by.
The unit is about half a dozen officers in unmarked Ford Fusions and wearing relaxed versions of their typical uniforms, polos emblazoned with a badge.
Asked if the government could do more to combat homelessness, Tony joked, "Then what would the outreach workers do?"
Recently, Tony was transported to the hospital by an outreach group for swelling in his ankles. Ultimately, he underwent heart surgery, a procedure that kept him from the homeless camp for a month.
During that time, his neighbor Brian fed his cats and ensured no one entered his space. Brian said he grew up in Fountain Square and previously lived with his brother.
Brian said he is interested in housing but that he doesn't like the idea of any kind of congregate shelter because he would be required to be around people he might not agree with.
He said he was previously told by outreach workers that he would be getting an apartment. But the Indianapolis coordinated-entry system prioritizes those most in need of housing. Sometimes people are bumped down the list.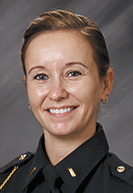 Sgt. Tabatha McLemore, who leads IMPD's Homeless Unit, said the system can be difficult to enter for individuals who are able-bodied and young.
"Say you've moved up to the middle, but then we come across other people that are elderly, and they've got real major health [problems]. Well, they need to get into housing sooner," McLemore said.
Due to mental health challenges, some individuals won't accept housing assistance. They tell outreach workers they don't need help, she said, or that they don't want to take a shelter bed or housing unit from someone who really needs it.
Hoping for change
Downtown workers and business owners told IBJ that high numbers of panhandlers and people living on the street keep office workers and visitors from spending much time in the area.
Mike Cento, owner of Cento Shoes on South Meridian Street, said customers sometimes come in complaining about panhandling.
"I do see a lot of people claiming that they're homeless. They really bug the people downtown," Cento said.
Charlotte Westerhaus-Renfrow, an IUPUI professor of business law, said panhandling has intensified.
"I don't have a negative stigma against those people who are desperate. But I think the panhandlers are getting more aggressive. … I just think that we probably do need a little bit more policing and making sure that, whether it's a panhandler or whoever, it doesn't get as aggressive," Westerhause-Renfrow said.
For IMPD's part, the Homeless Unit can do only so much. Being homeless downtown isn't a crime, McLemore said.
When the unit is called upon, an officer arrives at the scene and determines whether the individual is gravely disabled or will cause harm to themselves or others. If so, they can be put under immediate detention and taken to a hospital for a mental evaluation and treatment.
The Mobile Crisis Assistance Team—which has an officer and a clinician stationed at IMPD's Downtown District office—can provide deeper assistance by offering resources, checking medical records and contacting an individual's case manager, McLemore said.
"Unfortunately, just their aesthetics around them are just not very pretty, and people don't like that, and it makes them uncomfortable, which is very sad for everybody involved," she said.
Haring-Cozzi, of CHIP, said the safety of homeless people is just as important as the safety of other people.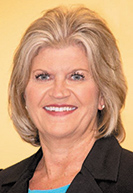 "What becomes really challenging and problematic is, it's not just public safety for people working downtown, or living downtown, or visiting downtown, but people living unhoused need to be protected as well."
Teresa Wessel, executive director of Horizon House, said the way workers and residents downtown ignore homeless people takes a toll.
"They often tell us that they feel invisible when they're on the streets because there are so many people who won't say hello to them, won't look them in the eye, will cross the street to avoid walking by them," Wessel said. "As a society, we're all human beings. And so we all need to be kind and say hello, say good afternoon."•
Please enable JavaScript to view this content.