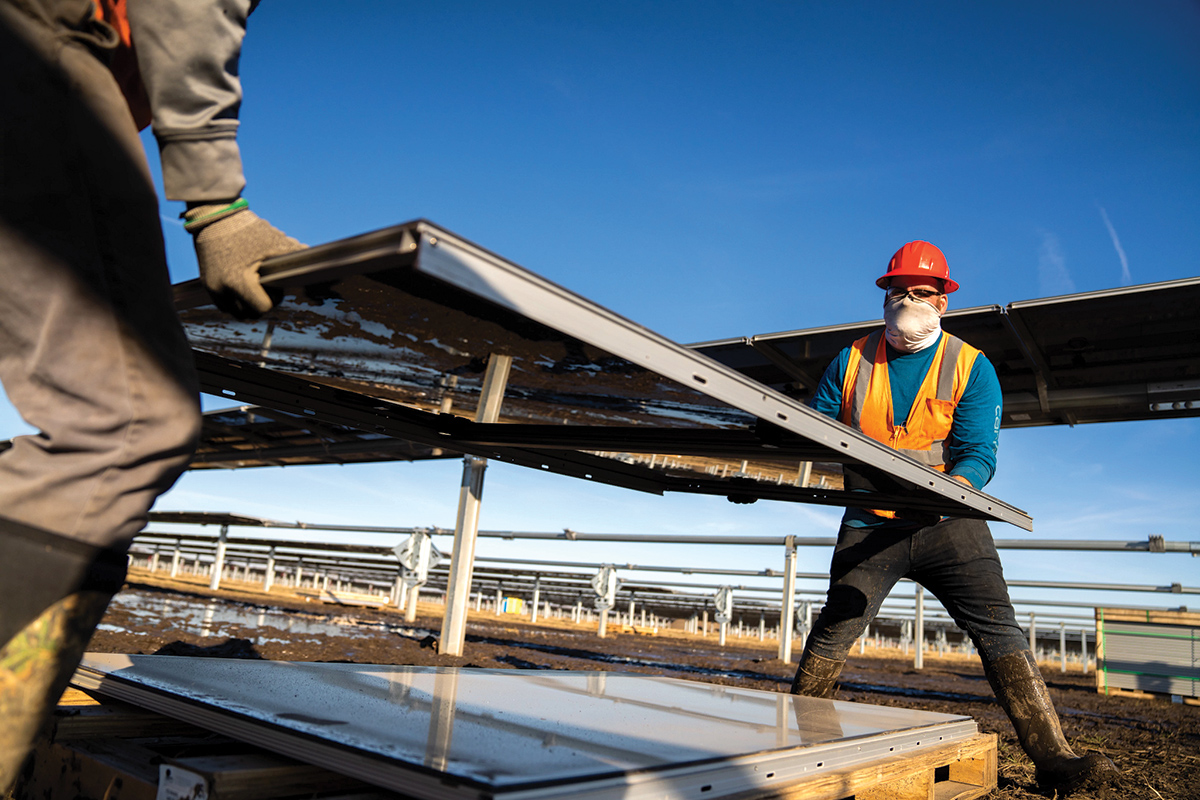 While businesses from restaurants to airlines were laying off employees last year by the boatload because of the pandemic, an Indianapolis company with a clunky name, Infrastructure and Energy Alternatives Inc., was scrambling high and low for more workers.
The construction company, which specializes in building large wind farms and solar farms, has hired scores of people to help tackle new projects from California to Georgia.
Even so, with a soaring demand for renewable energy and a shortage of skilled workers and managers, IEA had to pace itself and tell customers—some of the nation's largest renewable-energy developers—to get in line. The company ended last year with an order backlog worth $2.1 billion.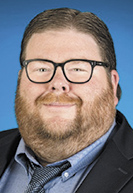 "We can't hire fast enough," said J.P. Roehm, president and CEO.
The company, which went public in 2018, is reaping the benefits of the nation's dramatic turn to solar, wind and other renewable sources of electricity. Last year, IEA rang up $1.75 billion in revenue, up 20% and a record amount.
The company has built more than 240 wind and solar projects in 36 states, including the 9,000-acre Benton County Wind Farm north of Lafayette, and a 200-acre solar farm near South Bend in St. Joseph County with more than 57,000 solar panels.
It has erected more than 11,000 wind turbines.
What's driving the wave of business is a nationwide push into solar and wind power by utilities, large companies and the general public. In the past few years, many utilities—including Northern Indiana Public Service Co. and AES Indiana—have announced plans to close carbon-based generating units and shift to renewable energy and natural gas.
Major corporations, including Indiana's Eli Lilly and Co. and Cummins Inc., have said they want to sharply cut their carbon footprint and are putting pressure on energy providers to ramp up capacity.
And now, the Biden administration is pushing the nation to move to zero carbon by 2035, a move that could triple the pace of the country's construction of wind and solar farms.
Many of those farms will be built by IEA, the nation's second-largest wind farm contractor and 12th-largest solar farm contractor, as ranked by Engineering News-Record, an industry publication.
The company is running hard to keep up with orders. But it is competing with a raft of other sectors for talent and raw material.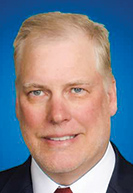 "It's not just the renewable sector," said Michael Stoecker, IEA's chief operating officer. "All of the construction sectors are going as hard as they can. … All of our fabricators and suppliers are experiencing the same thing. They can't find enough people, enough crafters, nor salaried people to keep up with the demand."
Strong tailwinds
And there's little sign of slowing down. Wind and solar are projected to make up 42% of the nation's electricity generation by 2050, up from 21% last year, according to forecasts by the U.S. Energy Information Administration.
By 2030, wind and solar will collectively surpass natural gas to be the nation's predominant source of power generation.
Just a decade ago, Indiana had almost no commercial wind power—just a few small windmills that pumped water on farms. Since then, the wind industry has boomed, driven largely by falling costs and rising demand by large customers and utilities for renewable energy. Today, wind power is cheaper than many other forms of electricity.
Since 2008, developers have installed more than 1,000 wind turbines across the state, chiefly on 16 large wind farms, that continually crank out 2,317 megawatts of electricity. That's enough to power more than 1 million homes.
Stifel Nicolaus analyst Noelle Dilts said the renewable-energy sector is sailing, with strong tailwinds from corporate clean-energy mandates, federal policies, renewable-energy standards, and the low cost of building wind and solar farms compared to that of traditional coal-fired generating plants.
"We believe IEA is well-positioned to benefit from accelerating investment in these markets over the next 5-10 years," she wrote to clients on May 10.
Yet Indiana seems to lag the nation in several ways in the growing sector. It has no renewable-energy standard—a requirement that a certain percentage of the electricity that utilities sell come from renewable resources. More than half of U.S. states have such a standard.
"Around 2007 and 2008, we advocated for a renewable portfolio standard here in Indiana, which 35-plus other states in the United States have today," Roehm said. "And quite frankly, back at that time, our utilities here in Indiana weren't favorable to that legislation, and I think they fought that immensely. Today, our utilities here in Indiana have certainly shifted. They are very much pro-renewable."

Push from utilities
Indeed, some of the biggest advocates of wind power today are electric utilities. In 2018, NIPSCO, based in Merrillville, said it would retire four of its five remaining coal-fired electric burning units within five years and the other within a decade. It plans to generate 65% of its power from wind, solar and other renewables by 2028.
To get the wind power, NIPSCO said this February that it had formed a partnership with three Indiana wind farms, which would add nearly 300 turbines and 800 megawatts of electricity-generating capacity.
Indiana Michigan Power said in February that it would count on wind for up to 30% of its energy by 2028, or nearly 2,000 megawatts. Duke Energy said it would install 700 megawatts of wind energy in coming years.
If the headlines are any indicator, IEA has been busy scooping up projects worth hundreds of millions of dollars. In January, it announced it won a $45 million contract to build a wind farm in Iowa. In March, it won a $70 million contract for a wind farm in Kansas. And in April, it won a $50 million contract for another wind farm in Iowa.
Despite the upward surge in business, IEA's stock has ridden a roller coaster in recent months. From late November to early January, the stock more than doubled, to $24.13 a share. Then it lost some steam, and has fallen back to the low teens.
Motley Fool analyst Evan Niu attributed the fall to a large shareholder, Oaktree Capital, which sold 8 million shares in February.
"IEA shares have gained over 400% over the past year, so it isn't too surprising that a major shareholder is looking to cash out some gains," Niu wrote.
At about the same time, IEA priced a secondary stock offering at $16.75 a share, a significant discount compared to the previous day's closing price of $21.86, he wrote.
'A lot of appetite'
Some observers say the sky's the limit for wind power in Indiana, which makes up just 5% of all the electricity generated, far behind coal, which still leads the pack at nearly 60%.
Large energy developers have zeroed in on the state, in part because its flat terrain, especially in northern Indiana, leads to higher wind speeds.
Douglas Gotham, director of the State Utility Forecasting Group based at Purdue University, said the number of wind and solar farms across the state is just a small fraction of its potential.
"There's a lot of appetite right now," he said. "For the most part, all of the utilities are looking at adding a significant amount of renewables to their portfolios in the next 20 years."
But one major hurdle to more development here is Indiana's lack of statewide standards for large wind and solar projects. Developers have been pushing lawmakers to pass a law setting universal standards on setbacks, heights and other facets of commercial projects across Indiana's 92 counties.
They say some counties have restricted wind farms, sometimes at the last minute, after a company has invested millions of dollars, saying the projects are too large and intrusive.
A bill that would have set those standards died in the Legislature this spring, after a coalition of local governments and grassroots groups lobbied hard to kill it, saying they did not want to give up local control of such huge projects.
Tony Samuel, an Indiana lobbyist for several large wind developers, including EDP Renewables, NextEra Energy and Apex Clean Energy, said the industry will continue to push for such standards in coming years.
"It's a natural step that Indiana needs to take," he said. "Utilities have been moving in the direction of renewables. Businesses and corporations want them for their sustainability efforts. And the general public is in favor of renewables, protecting the environment and creating jobs."
Backlash
Although much of Indiana's wind operations are in the northern part of the state, other corridors with good potential for wind power include central and eastern Indiana, which also are flat and have few obstructions.
And in some Indiana counties, a boom in solar farms is hitting a backlash, as thousands of acres of farmland are being developed for massive solar farms, some with tens of thousands of panels.
Last month, Indiana regulators approved a plan by AES Indiana (formerly Indianapolis Power & Light Co.) to build a sprawling solar farm in Clinton County that could generate enough electricity to power more than 30,000 homes.
The project, called Hardy Hills, will include 581,594 solar panels and generate 195 megawatts of electricity, making it one of Indiana's largest solar farms. It will span nearly 1,800 acres.
At least 15 Indiana solar farms of 1,000 acres or more are slated to go online by 2024, with several more encompassing hundreds of acres also in the works.
But some communities are asking if the solar farms would lower nearby home values, and whether it's a good use of prime farmland. Today, solar energy still represents less than 1% of the electricity generated in the state.
It's difficult to say how the tension among communities, builders, utilities and others will play out in Indiana. But it seems to be just a matter of degrees in terms of how much more business IEA will land and how fast it will continue to grow.
The company, founded in 1947 as White Trucking and Excavating, jumped into the renewables in the early 2000s, just as the sector was finding its footing and getting ready to grow dramatically.
"I like to tell people that, when we went public, over three years ago, there was a lot of skepticism about renewables, from investors and other stakeholders, banks, debt holders," Roehm said. " It's amazing how much change [there] has been in this short amount of time."•
Please enable JavaScript to view this content.