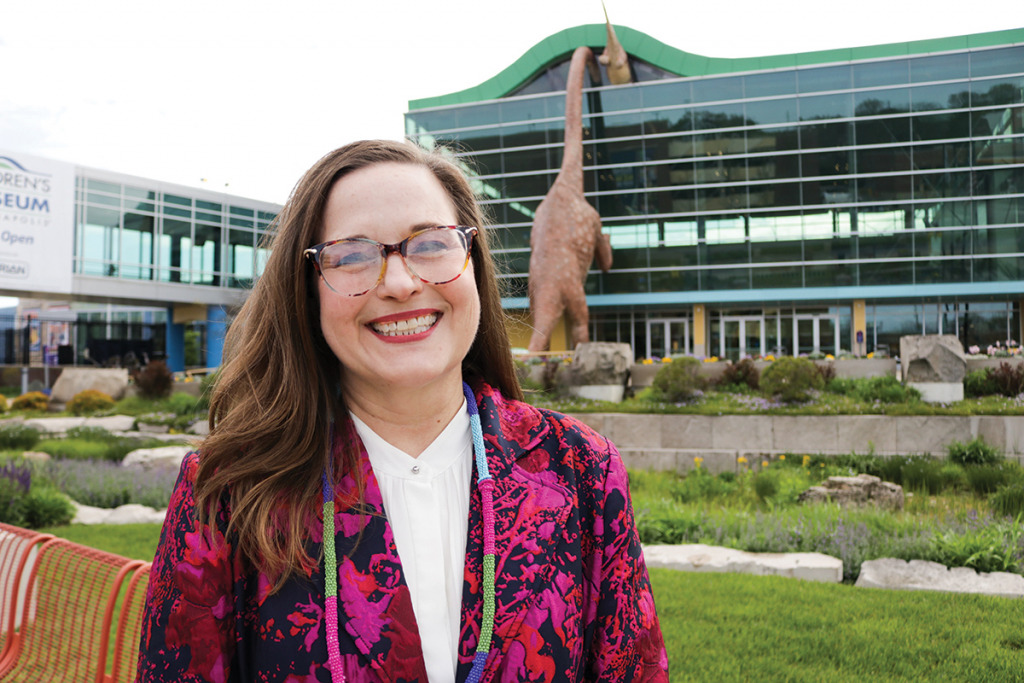 One of the city's most iconic cultural destinations—The Children's Museum of Indianapolis—announced last week that Jennifer Pace Robinson would be its next leader.
Robinson, 52, has worked her way up at the museum over three decades, filling a variety of roles dealing directly with museum visitors and with the behind-the-scenes work that makes the museum tick. She replaces Jeffrey Patchen, who headed the museum for 21 years.
Robinson spoke with IBJ about her new role and what she's most looking forward to in taking the helm of the nearly 100-year-old institution.
How does it feel to be named as head of the Children's Museum?
I am bubbling with excitement. I am so excited. I'm so grateful and so honored by everybody who's come before me and the board for letting me continue to do the work I love.
I am so honored to work with this incredibly diverse and talented team, and I can't wait to see where we can all go together.
How were you first approached about this opportunity? Was it an interview process or one you were asked to take on?
There was a call of interest to see if there were candidates internally who were interested. And then from there, working with the board, they made their selections. I've been working with [Jeffrey] Patchen and basically completing the curriculum and learning from him.
I've been here almost 30 years and I've done so many different jobs in a lot of different areas. But this year-and-a-half transition has allowed me to take on additional responsibilities in areas—including operations, technology and finance—while learning more about fundraising and marketing. It's been an awesome journey.
Tell me about your journey at the musem over these past few decades.
I started on the floor with visitors, before moving to developing programs and then into the exhibit space: managing exhibits, working with experts and volunteers and coordinating what they did in the exhibits. Then I moved to exhibit development and project management.
One of my first big construction projects was the transformation of our large-format theater into the Dinosphere that we have today. I've really enjoyed those very large-scale projects that have impacted all areas of the museum. It's not just creating a visit; it's creating an experience.
I also worked with Dr. Patchen in creating the strategy for experience development, where we bring in a group of advisers from outside of the museum. In the case of the Dinosphere, it was paleontology experts, but we've done that with civil rights activists, and communities from Greece, when we built our "Take Me There: Greece" exhibit. So, lots of external input.
It's like orchestrating a Broadway show, because you're working with so many different types of talents, from what the objects are going to be on display in the exhibit to how we're going to welcome our guests in the Welcome Center, and greet them in our box office, and what the costumes are going to be for the staff that work in the space.
How have you been involved in helping other countries create their own children's museum spaces.
That has definitely been one of the favorite parts of my jobs—those strategic relationships, particularly with other countries and the partnerships we've formed to borrow objects from the Ministry of Culture in Greece.
You get to understand how other people think and how they live. … It's been so great to be able to teach, but also to learn. I just finished a project creating a new children's museum in Korea, and I just loved how The Children's Museum of Indianapolis can help these emerging museums to understand what it's like to create these immersive experiences that really foster family learning.
We are really a conduit. We can bring the world to Indianapolis, to this region.
What do you see in the future for programming at the Children's Museum?
I have been working with the team that is doing the renovation and the extensions to Dinosphere. It's our new Mission Jurassic experience, where we have been digging out in Wyoming for the past several years, and we're actually digging out these giant 70-foot-long sauropods. We've taken the time to dig them out, to prepare them, and we're going to be displaying them in the entry area when you walk into Dinosphere. In addition to having the Cretaceous, you'll now walk into the Jurassic world.
Dinosaurs are kind of this evergreen property. And they are such a great way—a vehicle—to teach STEM topics and to get kids interested not only in science but also in investigation, and that thought process with problem-solving.
We're also going to be adding an ancient marine area from the Mesozoic area, where you'll see a giant sea monster. You'll see a giant Archelon.
Some of these ideas, we had them way back when we were building the original Dinosphere, but we kind of ran out of time and ran out of money. After Dinosphere was open for 10 years, we reassembled our paleontological experts from around the world, and we said, "What should we do now?" And the two top recommendations were bringing in the sauropods and the Jurassic and [creating] an underwater area.
Story continues below graphic.

How do you hope to capitalize on your experience with the museum and in the community for fundraising?
Fundraising is such an important thing that we do. And I've been involved as a principal investigator in a lot of different federal grants.
We've actually submitted several just in the last few months, and we have some in the pipeline. We count on those federal grant dollars, because, not only is it money that comes to the museum, but those projects typically push you to be very inclusive in your planning process. They require expert advisers from different fields, and you really have to have your pedagogy down in order to get those federal grants.
We also have wonderful corporate partners, and whenever we can, (we) work with a corporate entity who also has a researcher in that same field. You can see what we've done in our ScienceWorks. We've done this with our Sports Legends Experience, where (partners are) bringing money but they're also bringing expertise and passion to the experience. I'm really looking forward to seeing what else we can do to align corporate with the content areas in the new projects that we want to seek.
At the same time, we have wonderful individuals who have been so generous and have given of their time, talent and treasure to the museum. And so, really listening to these people and seeing what they're interested in, and again, having lots of conversations.
The third component is what's going to be appealing to visitors. I actually should say that comes first. So, understanding the market. Understanding what visitors are interested in with our surrounding neighborhood, what parents are worried about now, what kids are interested in, and really that alignment between all three, is what makes an experience that not only is extraordinary, but is also fundable in operations.
Will the campus grow?
The honest answer is, I don't know, at this point. This is my first day on the job. I do want to say that I have a tremendous amount of respect for our surrounding neighborhoods and how we can be partners and collaborators—with not only what we need but also what they need.
We've got a building that is [getting older]; we're an organization that's almost a hundred years old, so we have no shortage of infrastructure needs that we need to attend to with our physical plant. There's no shortage of things that we can do.
I think what's really important is to take it one step at a time and be very strategic about planning and bringing the right voices to the table, so that we can make a great plan together.
How does balancing your family and your professional life help you understand what kids want out of the museum experience?
I think it really helps me to relate with what visitors [need] as part of the experience we're providing—those amenities and how we care for our guests are equally as important to the experience. I spend part of my day in my museum professional mode, but … I've got the mom mode in the back of my mind here. My children are all teenagers now, but I know what it's like to try to wrestle a toddler and to be thinking about the mental milestones of an infant.
If we can help parents to feel good about what they're doing and their decisions, just getting out the door and bringing their child to the museum, that's great. From there, it's small steps, and [knowing how we] can be partners in a child's growth.
I'm a mom, who's got kids who have also really guided our interests. They love dinosaurs; they loved Bob the Builder. That's kept me kind of on the forefront of, what are the new toys that kids love? What are the TV shows that they're interested in? What new movies are coming out?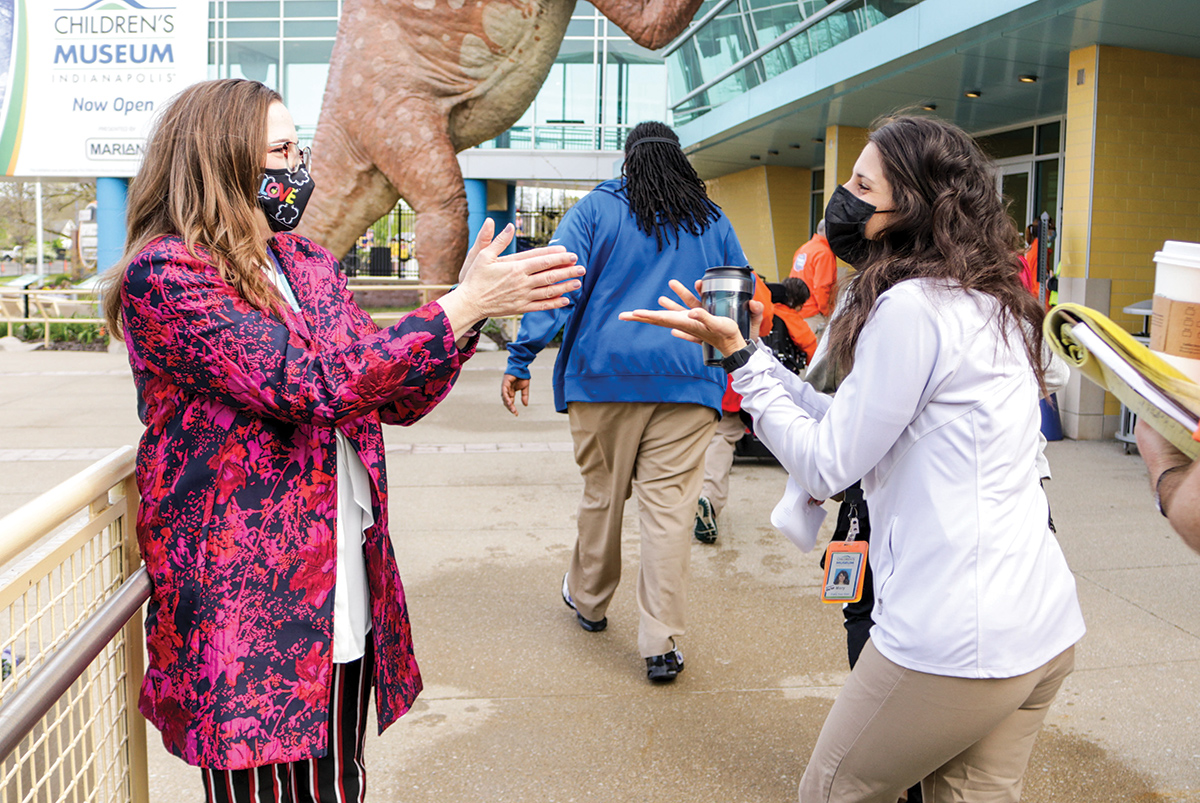 I understand you love the hands-on aspects of working with the museum. What can you tell our readers about that and some of your adventures?
I love Indiana Jones [movies], and I majored in communication, but I did take a year abroad to study archeology and spent time in Greece and lived and worked there. I really just have a love for discovering other civilizations and the past. A lot of what I've tried to do here in my role as director of exhibits or project manager, was, go out to these places and really record what they look like, so that we could make these realistic environments that are safe.
Probably my favorite was working in Egypt, when we created our "Treasures of the Earth" exhibit and our "Take Me There: Egypt" exhibit. A lot of that was about the excitement of being an archeologist, so, being able to go down on a rope, into a newly found tomb at the pyramids of Saqqara, outside of Cairo, working alongside the staff at Luxor, who were discovering new tombs, and who worked actually caring for King Tut's mummy.
We have a shipwreck that I've snorkeled on. I've been to China, in the pits of the terracotta warriors. So, my love for adventure really has kept me going in this job and [it] has been so exciting to translate that into an exhibit.
What I hope out of that is that kids walk through these experiences and have a little bit of that feeling, even without traveling or leaving Indiana.
Our dinosaur dig site is so much fun out in Wyoming. It's such an adventure. It's the biggest confluence of Jurassic fossils ever found, and it's not only terrestrial or land fossils but also marine specimens. … We're not doing this alone. We're working with universities, we're working with other museums and other governments around the world, to bring these experiences to Indiana.
Do you hope to continue going on those sorts of adventures in the future?
I want to be hands-on, but I also want to respect the expertise of this team and realize that there's a time for everything. And I'm excited to see who's going to be stepping into my role and how people will step up and do the things I used to be doing, so I can do this. But, yeah, you can't take the Indiana Jones out of me.•
Please enable JavaScript to view this content.