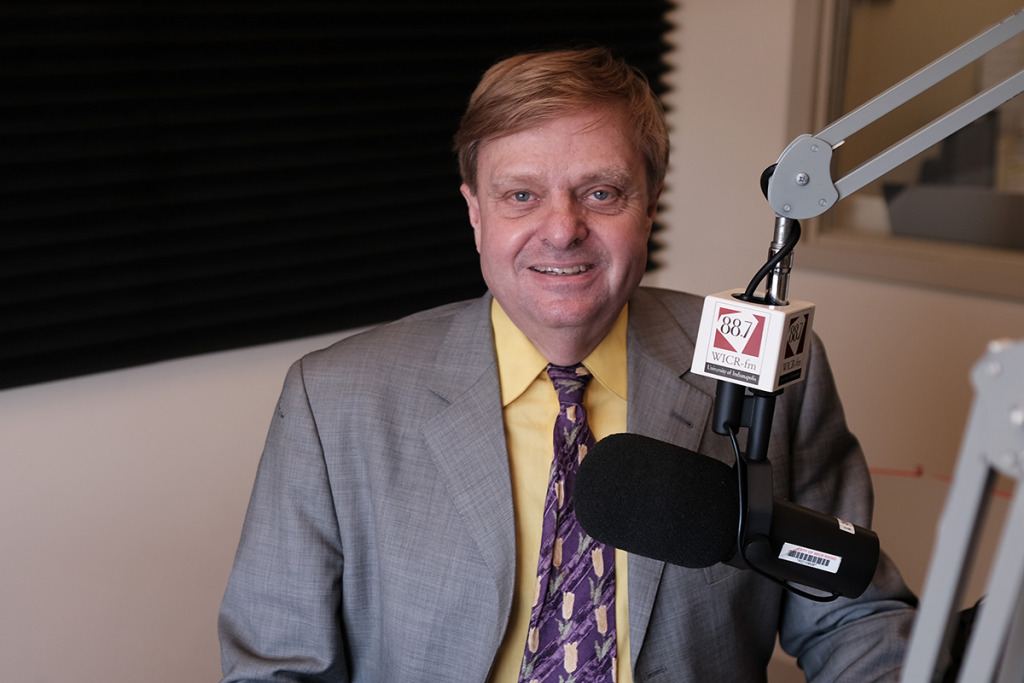 A former feature writer and columnist for The Indianapolis Star, Nelson Price now works as an author and historian specializing in Hoosier figures, events and culture. In addition to writing books and articles, delivering presentations and leading tours, Price hosts the weekly radio show "Hoosier History Live" on WICR-FM 88.7.
Created by producer Molly Head in 2008, the show presents live, deeply researched discussions on Indiana luminaries, events, places and trends. Over nearly 600 episodes, it has evolved to include a weekly e-newsletter and the option to listen to episodes as podcasts.
Nelson is a fifth-generation Hoosier and has never owned a cell phone—although he has embraced email.
How do current events affect the topics you choose?
Bouncing off the headlines is an excellent gateway to explore history. I'm not sure "popular" is the right word, but some of the shows with the most podcast hits recently have been about epidemics in Indiana. We've done a couple of shows on the influenza epidemic of 1918, the most recent one being about the second and third waves. All these shows had medical historians on them.
Our approach with Indiana history is not to sugarcoat it; otherwise, you don't have any credibility. So, we explore every aspect of our heritage. Another show high in podcast hits was one we did last year about the Ku Klux Klan in Indiana in the 1920s. People continue to be intrigued and rightfully appalled by it, with questions about why this happened.
Have there been episodes that listeners were very passionate about?
We've done innumerable shows about our basketball heritage, and one of them had to do with an ongoing controversy about where the first basketball game on Hoosier soil was played. … And we did a show last year about the Confederate memorial at Garfield Park when that was in the news. We had Civil War historians and an African American historian and a civic leader among my guests. Some callers clearly felt passionately about certain aspects of that monument, which was removed from Garfield Park and placed in storage. But we take pride in having civil discussions. I cannot recall a screaming match on the air.
Are there any topics you won't do?
If something is very overdone about Indiana, I will tend to avoid it. On a slightly similar note, I consider there to be three big myths about Indiana. The first is, "Dillinger robbed us." If you go anywhere in the state, there's a tavern or restaurant or bank that's certain John Dillinger robbed them. In truth, he was only on the loose for 14 months. Another big myth is that a house or church or tavern was on the underground railroad. We've done shows about the underground railroad, and our expert guests have said that, if every place in Indiana that claims to have been a part of it actually was, there wouldn't have been any slaves left in the South. The third is that we all live on farms, when in fact, since 1920, a far greater percentage of our population lives in cities.
Why don't you own a cell phone?
I certainly understand how helpful they can be. But I'm usually on waves of deadlines, so I'm always grateful for emails. A phone call's always an interruption by one party for the other. It's a distraction. It's so much better when we can set up a phone date, like we did with this Zoom call.•
Please enable JavaScript to view this content.