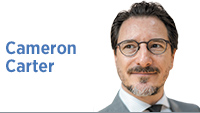 If you subordinate the foreign policy and national security of the United States to your own political or personal gain, then you have committed a high crime or misdemeanor within the meaning of the Constitution.
Simple enough, right? Au contraire. This statement—which I made in September when L'Affaire Ukraine set off the current impeachment process—is anything but simple. Aspects will be debated until the U.S. Senate renders a verdict in what is bound to be the Trial of Donald J. Trump.
As is their duty, the U.S. House of Representatives will vote and pass articles of impeachment, which was expected to happen before this column's publication. Fulfilling their duty, the U.S. Senate will sit in judgment of the president at the trial with the chief justice of the Supreme Court presiding.
Here we see a divergence in approach, and indeed sense of duty, between Indiana's two Republican U.S. senators, Todd Young and Mike Braun.
Young, our state's senior senator and his caucus' point person for the 2020 election, seems to understand his role as a juror, withholding judgment until weighing all arguments and evidence. Braun, elected little over a year ago, is enthusiastically embracing the role of defense counsel for the president.
Young is circumspect as he looks ahead to the Senate trial while chairing the National Republican Senatorial Committee, the GOP's Senate campaign arm.
"I will continue to read up on all the proceedings that are occurring, of course, study all the facts, and cast a vote of conscience for the good of the country," Young said. "I want to see a full presentation of the facts. It appears I'm likely to be akin to a juror at a trial. I don't want to make any final judgments about things."
Young has offered a muted opinion of the political atmosphere surrounding impeachment: "I think it's unfortunate that our country will be seeing a partisan impeachment exercise."
Braun, however, has clearly heard enough and fully embraced the partisan exercise his Hoosier colleague bemoans. When asked in October if he believes there is any case for impeachment, Braun opined flatly that there was nothing to investigate—this prior to any investigation, let alone House articles, having actually occurred.
"If you read the transcript closely there is no quid pro quo," Braun said. "I looked at it and I thought surely there had to be more in there to invest this much time and energy."
He's repeatedly asserted that Democrats have sought Trump's impeachment since his election, and the catalyst behind the Ukraine inquiry is the Mueller Report. Perhaps.
"There was a huge disappointment when the Mueller Report fell flat. With all the time and effort and all the government resources put into it … a lot of what people don't like about the president is probably his presentation and his style," said Braun.
"I think there's a political risk to pushing this. We need to hear the merits of the case. I don't think it's there and I think it's strictly going to be a partisan adventure," he explained. "I think that there may be liability because this has taken away from so many other things we need to get done."
Those who have received a jury duty summons and served know that jurors are admonished to neither read about, nor discuss with others, nor offer their opinions on the case before all parties have rested their arguments. In other words, they are told not to prejudge the case or be swayed by outside influences.
If only the junior senator from Indiana knew this and acted accordingly.•
__________
Carter is a lobbyist and CEO of Content by Carter as well as a former CEO of TechPoint. Send comments to ibjedit@ibj.com.
Please enable JavaScript to view this content.