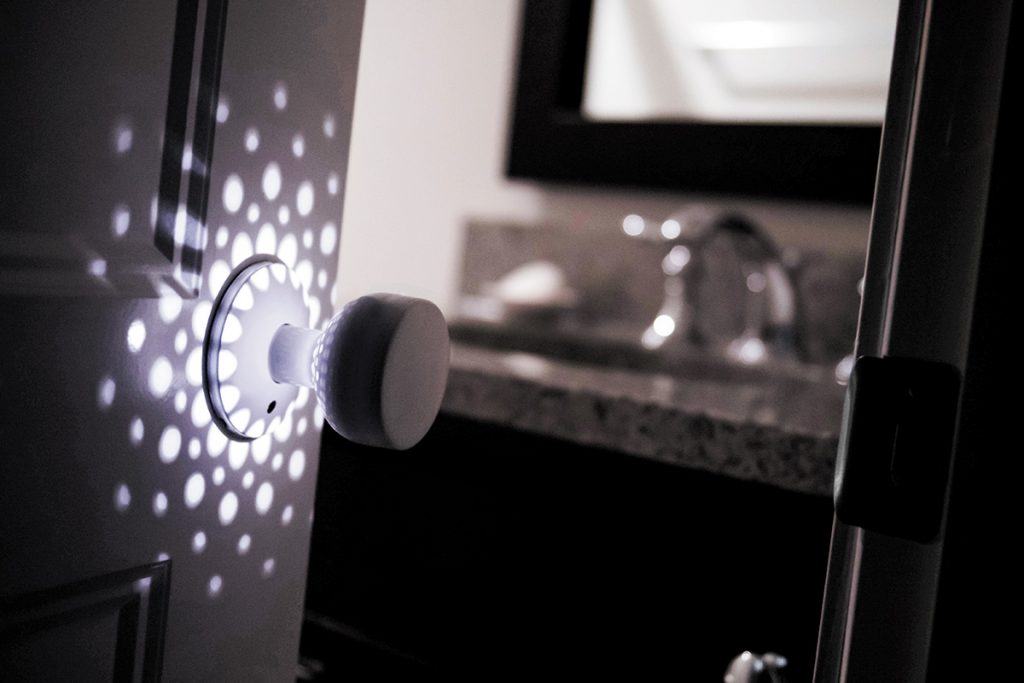 Allegion Plc wants to move more like a speed boat than a cruise ship.
To do that, the Dublin-based public manufacturer—which has its North American headquarters in Carmel—created an innovation studio bent on getting products from concept to market in 120 days or less.
Typically, the company—which sells security and door products under such brands as Von Duprin, Schlage and CISA—needs up to two years to get a new idea to market.
Pin & Tumbler Studio is meant to be different. It launched in September and by November unveiled its first product, a doorknob called Illumiknobi with infrared technology that illuminates with stylistic lighting when it senses movement.
Illumiknobi, which went from concept to sales in 75 days, shines white light in a dotted pattern. But Allegion officials say the product could quickly be altered to feature colored lights or even a Mickey Mouse lighting pattern.
As cool as that might be, local tech experts say the product isn't nearly as important as the process Allegion's innovation studio used to get it to market quickly.
"The innovation at Allegion is less about what they're making and more about how they're making it," said Kristian Andersen, partner with High Alpha, a local venture studio that has launched several tech and tech-enabled companies under its umbrella. "What Allegion is doing with Pin & Tumbler is essentially starting a new business within the current business.
"It's trying to disrupt itself by launching new products and starting new initiatives within the mothership. Very few companies operating at the scale of Allegion are making these kinds of bets on innovation."
Dave Petratis became chairman, president and CEO of Allegion in late 2013 when the company was spun off from Dublin-based Ingersoll Rand Inc. He immediately saw a need to innovate in the industry and was dismayed at the number of ideas and innovations that had languished within the company, which has 11,000 employees in myriad facilities worldwide.
"There are 40 billion door openings in the world. They've been driven mechanically for the last 100 years," Petratis said during a recent showing of the new Pin & Tumbler wares at Allegion's spacious Carmel office.
"Still today, fewer than 5% are electronically controlled," he said. "The expansion of digital technologies to be able to create seamless access is one of the great opportunities of our time. It was obvious to me it was time for us to change the way we look at things and operate."
With that in mind, Petratis hired Rob Martens in 2014 as the company's futurist.
He told Martens—who had worked as chief information officer for Ingersoll Rand for 15 years before departing to work on other tech projects—he wanted him to lead a yet-to-be launched venture capital fund and innovation studio.
Allegion Ventures was launched in March 2018, and 18 months later, Pin & Tumbler Studio quietly rolled out. Petratis declined to say how much Allegion—which is on track to exceed $2.8 billion in annual revenue this year—is investing in the innovation studio, but said it's significant.
"I came back specifically for this opportunity," said Martens as he stood in the Pin & Tumbler Studio flanked by Aida Watson and Josh Long, two of the studio's employees who were instrumental in creating Illumiknobi.
Speed matters
Pin & Tumbler refers to the inner mechanisms of a lock.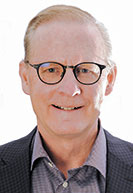 "Pins of varying length allow the lock to be opened with the correct key. Similarly, our people and their passion to innovate combine to open new possibilities," said Whitney Moorman, Allegion reputation management leader.
"Studio refers to the collaborative and inclusive environment in which we develop our innovative solutions to solve for customer needs," she said. "Studio also refers to art, craftsman-like design and the unique digital technologies that we apply in our products."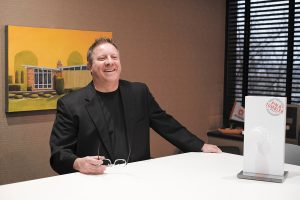 Pin & Tumbler aims to work side-by-side with area startups and entrepreneurs that have intriguing—if unproven—ideas. Some of those startups will come to Pin & Tumbler through Allegion Ventures, a $50 million fund that typically makes investments in increments of $250,000 to $5 million.
Pin & Tumbler is built to be much like the startups it works with.
"The key is, we can move as fast as any startup can," Martens said. "The difference between Allegion Ventures and other venture groups is speed. We do it differently. We want to do the exact same thing with our incubator."
Martens and Petratis said they've taken a cue from High Alpha, which periodically holds a Sprint Week during which the staff churns through ideas for new companies and speeds concepts—and companies—to market.
Building an innovation lab within a large corporation isn't a new concept. Companies like General Electric, AT&T, Comcast and Whirlpool have all tinkered with the idea. Locally, medical-device maker Roche Diagnostics, diesel-engine maker Cummins, Heritage Group and auto auction giant KAR Global have all recently employed sprint-type innovation events or created venture studios of sorts.
Some big companies have adopted what they call "SWAT teams" to vet new ideas in an urgent way.
But Martens contends Allegion's studio is fundamentally different in several key ways.
First, he said, Pin & Tumbler is set up to be a permanent fixture. "Many of the SWAT teams companies put together typically last about two years," he said.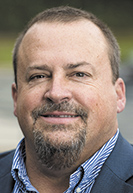 And, Allegion's innovation studio is integrated within the company as opposed to the stand-alone nature of many SWAT teams. Martens said Allegion's approach increases internal buy-in and accelerates the number of ideas coming in.
It's also set up to work with the firm's new venture fund.
"We think of Pin & Tumbler Studio more as a mechanism rather than an organization. We think of Allegion Ventures the same way," Martens said. "What we're doing is putting together a core team. … Their entire job is to be inclusive with the other 11,000 employees that we have.
"We're always asking, 'How can we engage?' Whether that's in ventures or Pin & Tumbler Studio. … We're trying to leverage things far more broadly."
To move as fast or faster than advancing technology, Pin & Tumbler's staff is designed to be small. It has 10 employees—five core team members and five industrial designers.
"But we have the ability to draft from 11,000 workers," Petratis said. "Whatever the studio is working on, we go get what we need."
Martens added: "We can draft the best and brightest from around the world to work on these projects for three weeks or three months, whatever it takes, to get the product out the door."
Plentiful pipeline
It's too early to tell how many products a year will come out of Pin & Tumbler. But one thing is certain: There's no shortage of ideas to pull from.
"We have closet upon closet of amazingly cool designs of things that have never seen the light of day," Martens said.
He estimated that more than 100 items are currently being considered in the Pin & Tumbler pipeline.
But, he added, "We don't believe in technology for technology's sake. It has to be something thoughtful and practical. We don't like to make gadgets. It needs to have something that's real. Of course, we do have some things that are beautiful to look at."
Items launched from the Pin & Tumbler Studio will be for sale. But marketing will be soft, Allegion officials said, with most items sold through the Pin & Tumbler website and often under the Pin & Tumbler brand.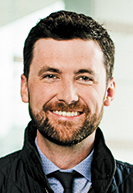 The idea is to make a limited number of these products, typically five to 1,000. Allegion doesn't want Pin & Tumbler to be constrained by the need to make thousands or millions of pieces as would be the case with its bigger brand names. And company officials don't want creativity to be stifled by the need to carve out space on the shelves of big-box retailers.
"We're going to get these things out of the Pin & Tumbler Studio quickly, and let the market speak to it and dictate our next step," Martens said.
If a Pin & Tumbler product takes off, it could lead to larger production runs or the technology could be integrated into another Allegion product. Pin & Tumbler-generated products won't get as much testing as other Allegion products, but Martens stressed "that they'll be quality products and fully supported by the company."
Blossoming tech
While the entry and lock business might not seem sexy, Allegion and its forerunner have long been innovation leaders in the sector. They entered the remote-controlled lock segment more than a decade ago. And for years before that, the Schlage, Ingersoll Rand and Von Duprin brands have been known for breaking new ground.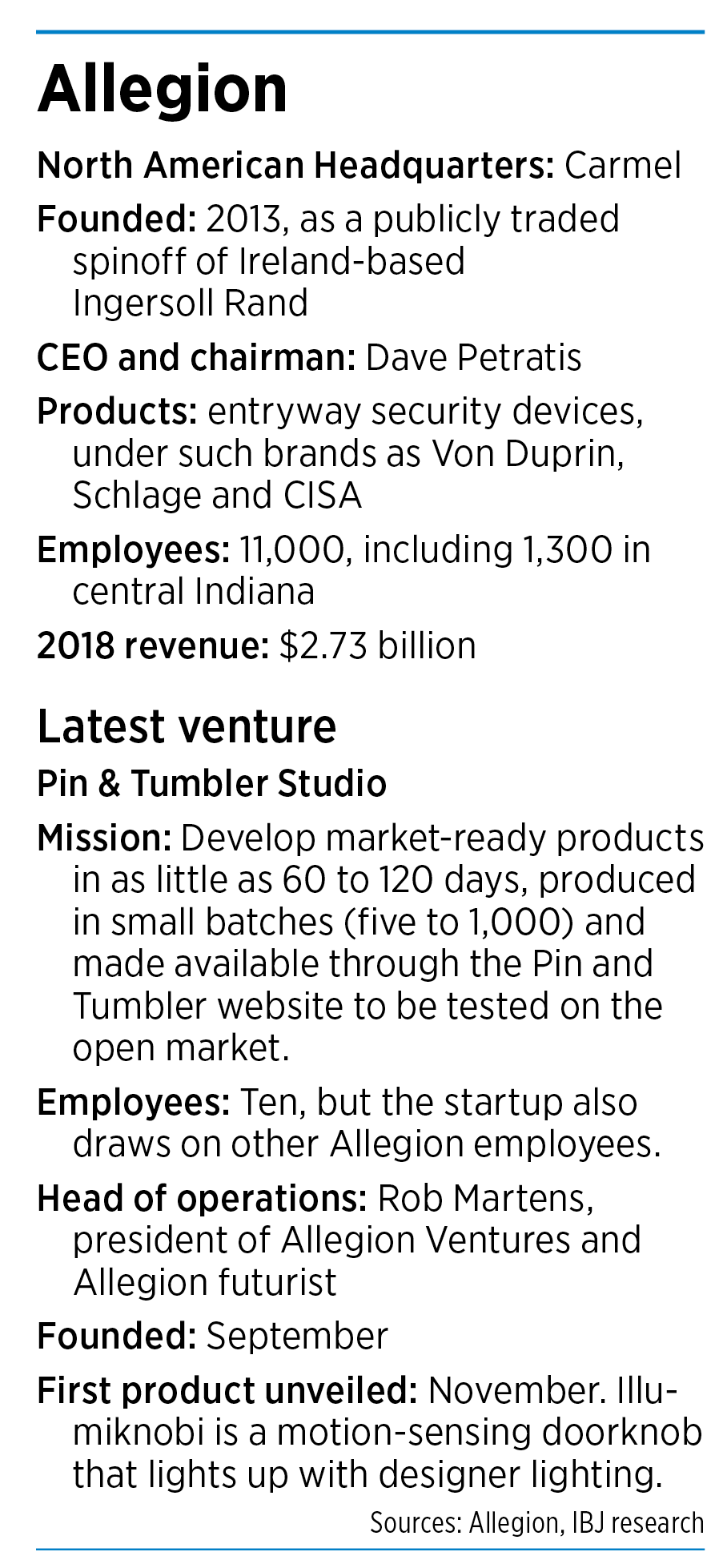 That commitment to innovation and technology has only increased since Allegion was spun off.
Petratis estimated that 10% of the company's global workforce is in traditional tech jobs, information technology and engineering. Many more, he added, touch technology in some way. Martens said many Allegion employees with specific, tech-oriented expertise are drafted to work on special projects.
The number of employees in traditional tech roles at Allegion has grown by the hundreds globally in its six years as a stand-alone company, company officials said, and by the dozens at Indiana facilities.
"There's more technology [in this company] in terms of computer degrees, electrical engineering, software engineers, digitization [experts] than we've ever had in the history of the company," Petratis said.
That is only going to increase, he said; more technology positions are set to be added in the next year.
Allegion continues to add experts in cybersecurity, software, emerging technologies, internet-of-things connectivity, data science and industrial design, Petratis said.
"Allegion has long been forward-thinking, but the thing that has made them different from a lot of large operations is that they've not been afraid to get out of their environment and talk with entrepreneurs and other people with new ideas," said John Wechsler, founder of the Indiana IoT Lab, a Fishers-based facility that helps people and companies work on devices and systems connected to and controlled through the internet.
"What they're doing is really beyond incremental innovation," he said. "Their [Pin & Tumbler] studio is going to really help them innovate without regard to sacred cows within the larger company. It's radical innovation."
And while the company has long invested in technology and stylistic elements, Martens said Pin & Tumbler will take that to a new level.
"One of the things we want to do with Pin & Tumbler is to really push it … in a lot of different ways," Martens said. "Pin & Tumbler definitely has an art element to it that some of our competitors may not. It's definitely going for a very different aesthetic. Honestly, it may not be for everyone."
Local technology and entrepreneurial leaders say the process, at least, will have wide acceptance.
"What entrepreneurs need and want most is access to manufacturing assets and distribution," said Mike Langellier, CEO of local tech advocacy group TechPoint. "And those are things Allegion has in spades.
"We think not only does this type of innovation have an opportunity to be good for Allegion, it's good for the region and state as well," Langellier added. "That can't be understated. The types of things they're doing and the partnerships they're making helps make Indy a place where companies want to be."•
Please enable JavaScript to view this content.