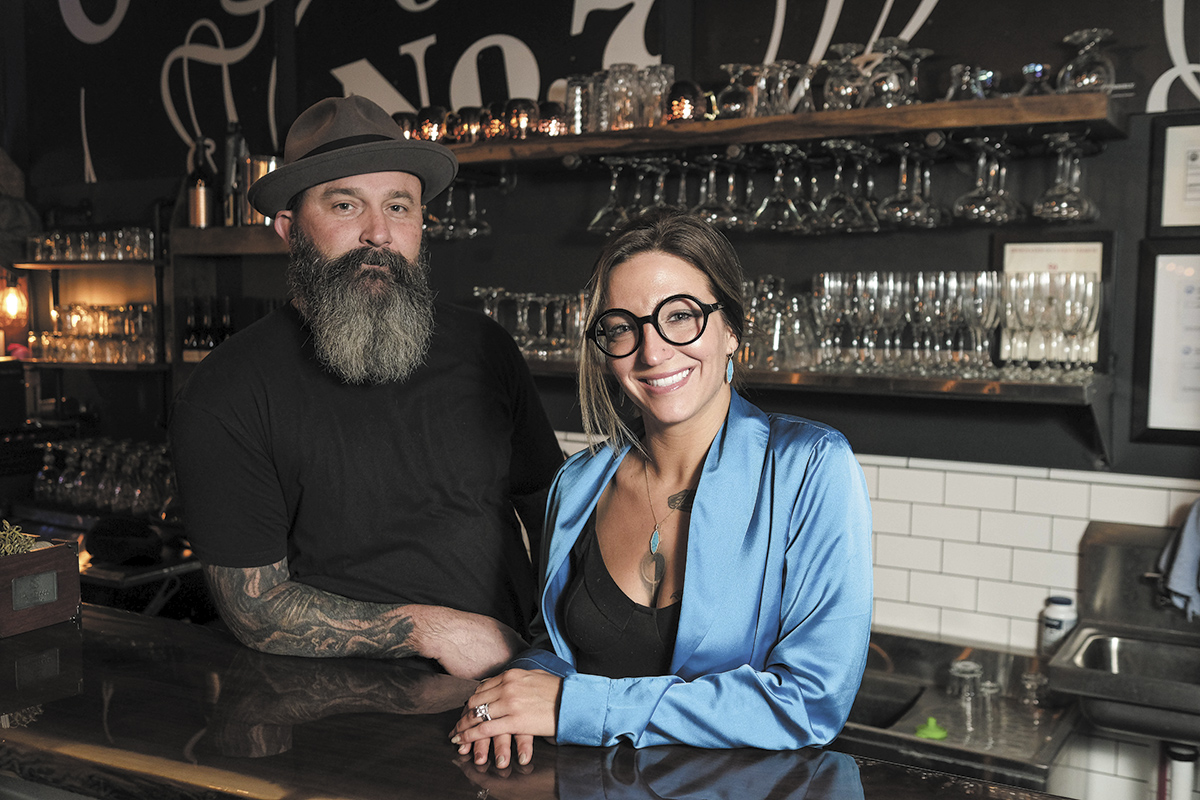 Gabby Sherfick chalks up the rise of the modern speakeasy to people seeking a departure from the nightlife norm.
Sherfick is co-owner of The Vault Indy, a Bates-Hendricks bar that requires a passcode for entry. The secretive touch is a nod to the original era of speakeasies, or illegal saloons, during Prohibition.
Visitors learn the code from clues provided on The Vault's Instagram profile and must enter the correct digits on a keypad attached to a bank vault door. Inside, craft cocktails are mixed and served in a room where photos on the wall depict John Dillinger, "Baby Face" Nelson and other gangsters who committed crimes in Indiana.
"It's the entertainment factor," Sherfick said. "Figuring it out, doing some legwork and having bartenders who make it entertaining when someone's in here. Bar life has changed."
Sherfick opened The Vault with her husband, Mike Sherfick, on Halloween weekend. The couple parked their 1930 Model A Ford outside the bar, 1542 S. East St., where a roster of 65 invited guests somehow grew to 300 people going through the thick novelty door on opening night.
"It's a performance," Mike Sherfick said of speakeasy bartending, where shaken and smoked drinks are improvised—perhaps not to be replicated on a return visit.
Despite The Vault Indy's early success, modern speakeasies aren't an overnight sensation in Indianapolis.
The Ball & Biscuit, 331 Massachusetts Ave., opened as a cocktail lounge in 2010. One year later, 1933 Lounge opened upstairs at St. Elmo Steak House, 127 S. Illinois St.
The trend of hidden-away spots accelerated with The Commodore, an unmarked bar inside the Fountain Square Theatre Building, 1105 Prospect St., that's often discovered by accident. One speakeasy within a stone's throw of American Legion Mall won't publicly disclose its address.
Unlike speakeasies of yesteryear, these bars are legitimate businesses licensed to sell alcohol. The attraction, Sherfick said, is linked to the feeling of being part of something not everyone else knows about.
It's a quality all speakeasies shared during Prohibition, which outlawed the manufacture, sale or transport of alcoholic liquors nationwide from 1920 to 1933. Indiana legislated its own head start by banning booze in 1918 (actually the state's second stab at prohibition, following an 1855-1858 dry spell).
The Vault Indy adds a layer of shoot-'em-up intrigue through its theme of gangsters and bank robbers from the Great Depression.
Dillinger, born in Indianapolis and buried at Crown Hill Cemetery, ranks as top dog. Before being gunned down by federal agents outside Chicago's Biograph Theater in 1934, Dillinger's crime spree included the robbery of nearly $25,000 from the bygone State Bank of Massachusetts Avenue, 815 Massachusetts Ave.
The Sherficks suggest, somewhat winkingly, that one Dillinger hideout might have been the building that's home to The Vault.
"They don't have to break the rules," Mike Sherfick said of Vault customers, "but they can come in here where somebody did."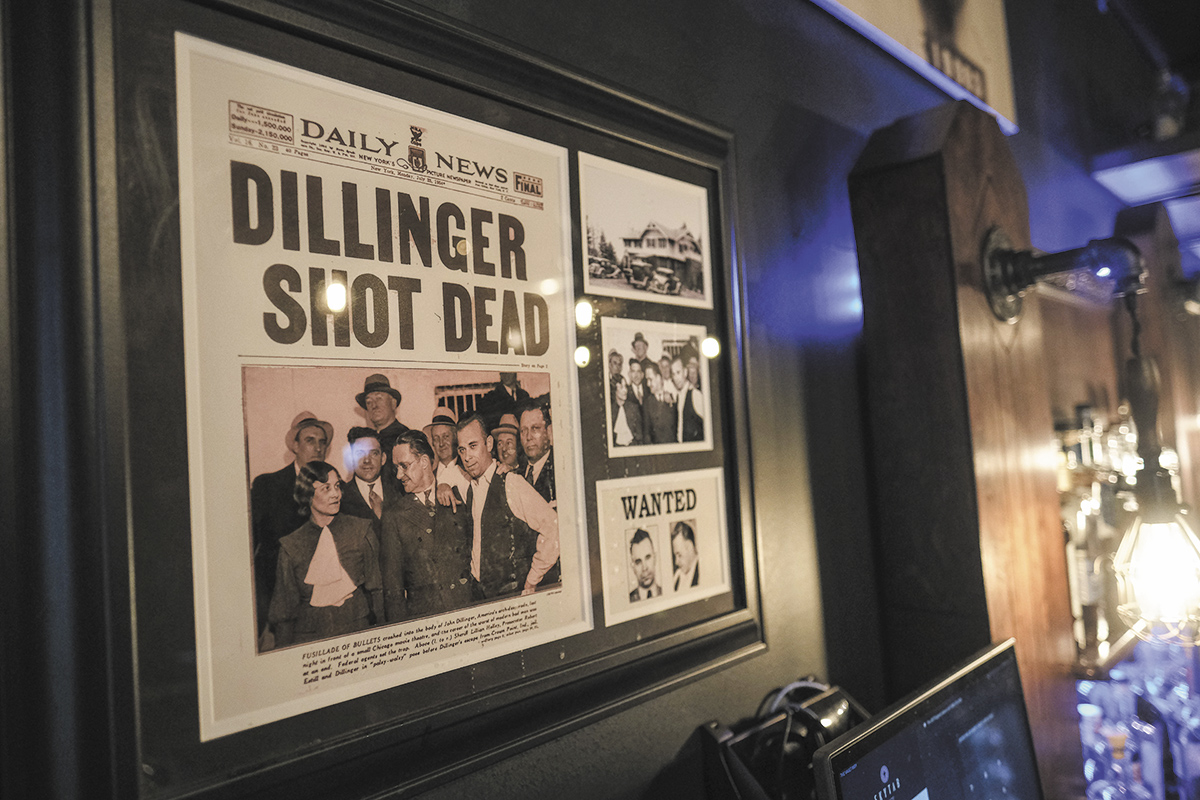 Crime stories
Sherfick concedes that he has no proof Dillinger spent time in the Bates-Hendricks neighborhood.
But The Vault and its building have their share of history.
The 1898 R. L. Polk Indianapolis Directory, for instance, listed Charles Czinczoll as a saloon operator in the building. In recent decades, AFC Wholesale Mattresses and Miller's Used Furniture and Auction occupied the space.
A member of The Vault's staff, Marcus Crouch, is the great-grandson of Hilton Crouch, getaway driver in Dillinger's gang after the Massachusetts Avenue robbery.
After being arrested in December 1933, Hilton Crouch told authorities that he took his share of the loot, $8,300, and purchased one-third of the ownership of a Chicago saloon. Sherfick said the wooden bar back at the Vault originated at Crouch's saloon a few blocks north of Wrigley Field.
For the record, Chicago shut down that establishment before 1934 arrived.
Crouch had brushes with the law before he met Dillinger. In 1926, Crouch was arrested for his participation in a $4,300 payroll robbery of the Duesenberg Motor Company. The Washington Street Bridge above the White River served as the site of the holdup.
A close associate of both Crouch and Dillinger was Harry "Pete" Pierpont, a Muncie native who lived on the south side of Indianapolis in the 1920s. Convicted of murder, Pierpont was executed by electrocution in Ohio.
Did Pierpont, Crouch or Dillinger ever use the trap door that's visible in the floor of the Vault's barroom? Sherfick said he doesn't know.
An unverified story is that when police entered the Czinczoll saloon, someone could slip out the trap door and emerge on the sidewalk along Lincoln Street.
"People say, 'Can I touch the handle on the hatch?'" Sherfick said. "The allure is to give people the opportunity to be in the same place where gangsters were."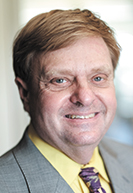 Author and historian Nelson Price is well aware of the enduring infatuation with Dillinger. The host of weekly radio show "Hoosier History Live" on WICR-FM 88.7 said restaurants, taverns and one-time banks throughout Indiana float the idea that "Dillinger hung out here" or "Dillinger robbed us."
"It seems to go beyond the public's fascination with true crime," Price said. "There seems to be something eternal about him. In his day, many people regarded him as a folk hero, and that persists with some people today."
The Vault's trap door is something Dillinger might appreciate. He escaped from jails in Ohio and Crown Point, Indiana.
"He was charismatic and elusive," Price said. "During the Great Depression, people hated banks. He was robbing banks."
In the big picture, it's worth noting that Dillinger died at age 31. He spent a few months in the U.S. Navy, and he spent nine years incarcerated at the Indiana Reformatory in Pendleton and Indiana State Prison in Michigan City.
Price said it's unlikely Dillinger made it to all of the places associated with his larger-than-life infamy.
"The thing to keep in mind with these claims is that he spent most of his adult life in prison," Price said.
Cozy setting
Indianapolis speakeasy Blind Tiger, 304 E. New York St., borrows its name from one of the nicknames for illegal saloons. "Blind pig" was another nickname before and during Prohibition.
To find the Blind Tiger, visitors should head for Commissary Barber & Barista, a combo business of haircuts and lattes that opened in 2018.
On Thursdays, Fridays and Saturdays, the coffee shop transforms into a speakeasy, said bar manager T.J. Dougherty.
"Our coffee shop has a big menu board behind the bar," Dougherty said. "Around 6:30 p.m. we take that down. Shelves with all of our liquor bottles are behind that, and we transition into the cocktail mode."
The Blind Tiger's signature cocktail is an espresso martini, fitting the Commissary's coffee business. The drink's official name is the Vienna, a tribute to the 1908 apartment building where Commissary and Blind Tiger occupy the subterranean level.
Dougherty, a self-taught mixologist, also makes a Scary Pickford, a purple-hued variation of the Mary Pickford rum cocktail named for the actress who was an A-list star during the silent movie era.
One element of the Blind Tiger that sidesteps nostalgia is the bar's experimental music series titled Subtle Notes. Recent live performers in the series include Rob Funkhouser and Jesse Lee.
Commissary owners Brandon Burdine and Ryan Sanchez opened the Blind Tiger in September 2021.
Dougherty said advertising the 40-capacity bar poses a challenge.
"We walk a fine line between being a place where 'if you know, you know' and trying to bring people in and let them know we're there," he said.
Either way, the cozy reputation of a speakeasy is upheld at the Blind Tiger.
"It's a good place for a couple on their first date," Dougherty said. "They can go somewhere intimate and get to know each other and not have to worry about big crowds and loud voices."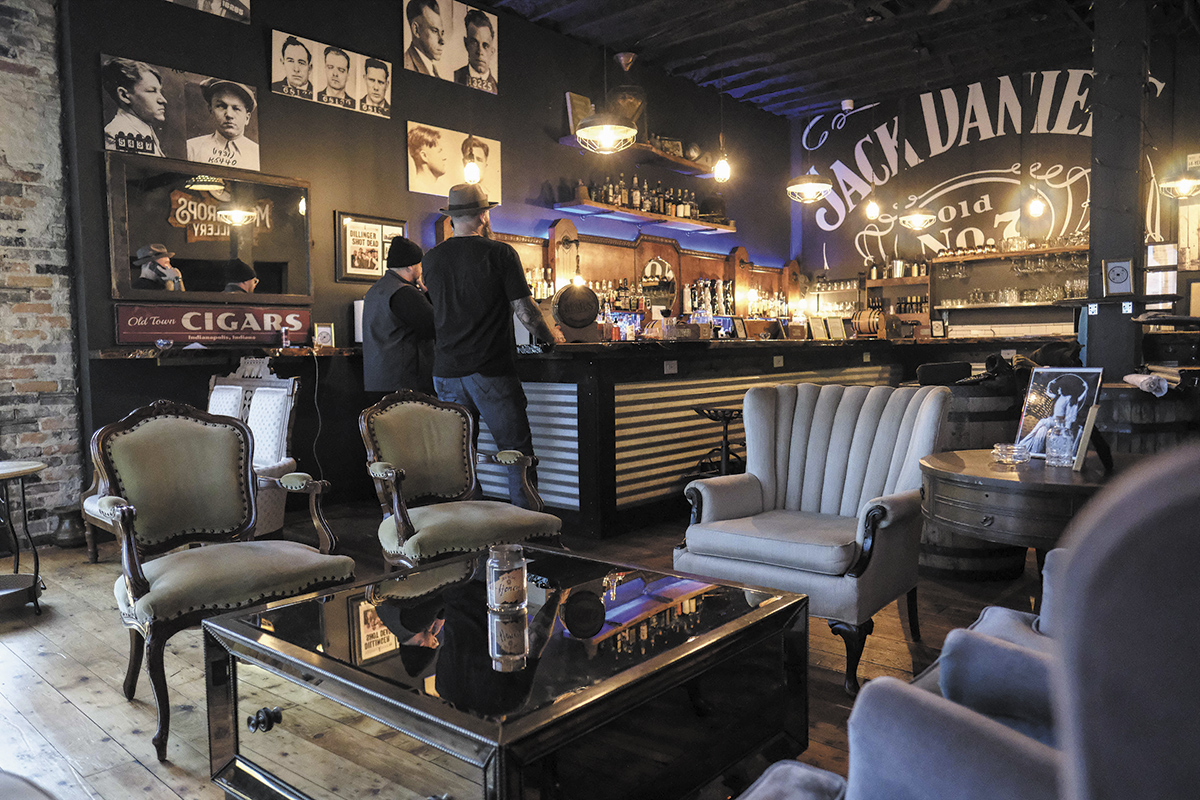 Enter here
Above the Shelby Street Saloon, 2849 Shelby St., people 21-and-older can reserve a party space known as Shelby Street Speakeasy.
While owner Dawn Etheridge doesn't charge for reservations, customers must spend $150 per hour on food and drinks.
"You can create your own party theme," Etheridge said. "People will do a murder mystery on their own or a Gatsby theme or just generally celebrate something."
On New Year's Eve, Shelby Street Speakeasy hosted a "Bridgerton"-themed party as its own event open to the public. Based on the Netflix show's approximation of high society 19th-century London, the party had a fitting backdrop thanks to the speakeasy's "library" and "red velvet" rooms.
Across the street from Dinner Bell grocery store in the Garfield Park neighborhood, Shelby Street Saloon has a long history as a bar, including stints as Weisenbach's Tavern in the 1960s and G&G Tavern in the 1980s.
But the upstairs was never utilized for customers, said Etheridge, who bought the bar in 2017. She opened the speakeasy last summer.
To get to the speakeasy, partygoers enter from inside Shelby Street Saloon and key in a passcode at a locked door.
"When you reserve the space, I'll email you, 'Tell your guests to come into the saloon, go behind the bowling machine and find the door. You need to enter this code to get upstairs,'" Etheridge said.
At Vault Indy, Mike Sherfick said it's up to customers to find their way in.
"Sometimes we'll go out and we'll help them find the clue," he said. "We never give them the code."
An exception could be made for older guests who don't know their way around Instagram.
"If you're young enough to have social media and you're not willing to do the work, you can't come in and have a drink," Sherfick said.
The Sherficks, who live in Noblesville, have purchased multiple buildings along East Street in Bates-Hendricks to transform into new businesses. Mike Sherfick said they invested more than $400,000 to renovate the interior of Vault Indy, the first business the couple operates in the neighborhood.
Sherfick said he appreciates it when customers look the part.
"That's what is really cool about people coming in," he said. "They'll dress the period. They'll come in wearing fedoras and Irish caps and vests. I think, 'OK, I'm glad you came in.'"•
Please enable JavaScript to view this content.