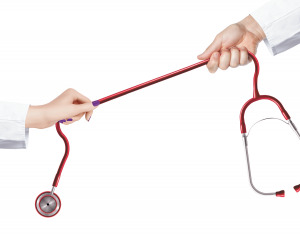 What's in a word?
To hear many doctors tell it, certain words matter a lot, including medical titles such as "physician" and "surgeon." People who haven't earned those titles shouldn't be throwing them around in advertising.
But to hear others, including nurses and therapists, tell it, it's rare that anyone in health care uses misleading or deceptive words in advertising. They say doctors are raising the issue just to protect their turf and status.
Either way, a law goes into effect in Indiana in January that sets out a raft of new rules about how health providers use words and titles in public.
The law, known as Senate Bill 239, bans medical providers from using deceptive or misleading information in their advertising and requires them to clearly state their profession or license. For example, an X-ray technician cannot call herself a radiologist, and a nurse anesthetist cannot call himself a nurse anesthesiologist.
The law contains a list of roughly 40 words and abbreviations that non-physicians are prohibited from using—except in a few, limited circumstances. The list includes "surgeon," "osteopath," "internist," "psychiatrist" and "doctor of medicine."
It also includes a long list of the so-called "ologist" terms, including "anesthesiologist," "cardiologist," "dermatologist," "oncologist," "pathologist," "urologist," "ophthalmologist," "gastroenterologist" and "gynecologist."
The law applies to all advertising and marketing materials, such as clinic or hospital websites, billboards and commercials.
Blurred lines
Doctors say the law is needed to help patients understand who is providing their care. They say some non-physicians are blurring the lines, using titles such as dermatologist and cardiologist, when they are in fact nurses with advanced degrees who practice in a certain specialty.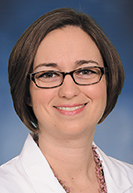 "Some practitioners will cross the line," said Dr. Elizabeth Struble, a family practice physician from North Manchester and past president of the Indiana State Medical Association, which represents more than 9,000 physicians and medical students across the state. "It's not by any means the vast majority, but it is happening."
The move comes as the American Medical Association is pushing aggressively for more truth-in-advertising laws across the nation that require health care providers to clearly and honestly state their level of training, education and licensing.
The Chicago-based association, which represents about 278,000 physicians, said patients deserve to have this information when they read providers' advertising, marketing and other communications materials.
"Patients are confused about the qualifications of different health care professionals," reads a recent AMA white paper. "Many non-physicians earn advanced degrees, and many of those degree programs now confer the title of 'doctor.' As a result, patients often mistakenly believe they are meeting with physicians (medical doctors or doctors of osteopathy) when they are not."
The association listed the Indiana law under a long list of recently passed laws around the nation that address what it calls "scope creep," or the gradual broadening of the practice boundaries by other medical providers, such as nurses and physician assistants.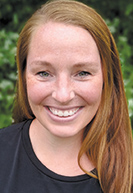 But other providers say it's extremely rare for health care providers to misrepresent themselves in advertising. They say other Indiana laws already on the books prohibit misrepresentation in health care, so the new law is unnecessary.
Caitlin Krouse, a family nurse practitioner in Fort Wayne, said when the bill was introduced earlier this year, she and others reached out to colleagues in pharmacy, optometry, physical therapy and other health care professions to understand the need.
"We were unaware of a single problem in which health care professionals are misrepresenting themselves," said Krouse, who is also co-director of health policy for the Coalition of Advanced Practice Registered Nurses of Indiana. "This is a solution in search of a problem."
Changing one word
The debate underscores that the world of health care is not a monolith; instead, it's a huge assortment of professionals with various roles, degrees, training and levels of clinical experience. And sometimes those roles bump and overlap, with pushback by one group or another.
At various times, groups have tried to increase their scope of practice or limit the scope of practice of another group. But in this case, it seems to come down to who in the health care world can use which words to describe themselves.
In recent months, the issue over wording has flared up nationally. Last year, the national group representing physician assistants formally changed its name from American Academy of Physician Assistants to American Academy of Physician Associates.
The group said it hoped state legislators and professional licensing associations around the country would approve the name change for the job title as well in laws and rules.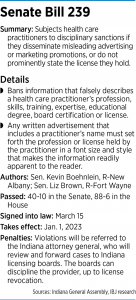 But the name—a change of a single word—immediately raised a huge protest from the AMA, which said the moniker could confuse patients who might think PAs were actually physicians.
Also last year, the professional group representing nurse anesthetists announced it was changing its name from the American Association of Nurse Anesthetists to American Association of Nurse Anesthesiology as part of a rebranding effort.
The group, which represents nearly 60,000 nurse anesthetists, said the change was meant to reflect advances in the science of nurse anesthesiology.
Again, the AMA protested the new wording, saying the term "anesthesiologist" is commonly understood to describe a licensed physician who has specialty training in anesthesiology and that nurses should not attempt to blur the lines.
But the Indiana Association of Nurse Anesthetists pointed out that nurses have been administering anesthesia to patients for about 150 years.
"When anesthesia is administered by a nurse, it is recognized as the practice of nursing," Mary Nguyen Reynolds, the group's president, told IBJ.
"Transparency and accountability in health care should help inform patients and the public, and promote patient safety and choice," she added. "It should not target some health care professionals for scrutiny, and exempt others from that same scrutiny, in order to provide certain providers with a competitive advantage in the market."
'Turf war'
Now, the issue is blazing anew, with the upcoming Indiana law aimed at misleading or deceptive advertising about to take effect.
"This does appear to be part of the turf war, principally between doctors and advance practice nurses," said Nicolas Terry, executive director of the Hall Center for Law and Health at Indiana University McKinney School of Law.
He said the stakes are high and that similar issues have gone all the way to state supreme courts.
In New Hampshire, for example, the Board of Nursing had allowed the use of the terms "nurse anesthesiologist" and "certified registered nurse anesthesiologist." The New Hampshire Board of Medicine, however, declared the term "anesthesiologist" could not be used by non-physicians.
The nurses took the case to court, and last year the New Hampshire Supreme Court ruled that persons using the term "anesthesiologist" without a license to practice medicine was unlawful.
The issue shows little sign of abating, as cases are winding their way through other state courts.

In Indiana, the war over words in health care advertising has had a long road of twists and turns through the Legislature.
The issue got its footing early this year when Sen. Kevin Boehnlein, R-Greenville, introduced SB 239. He said that—when he took office last November, succeeding another lawmaker who resigned before the end of his term—he received an email from a doctor in New Albany asking him to address what he saw as a growing problem.
"He said, 'Look, we're starting to see some practice creep from different medical practitioners, and it's something we should be looking into,'" Boehnlein told IBJ. He said he checked with numerous physicians, including his own doctor, who confirmed that some providers were "starting to use terminology that seems to be synonymous with being a doctor."
As an example, he said some medical websites were set up with an "Ask the Doctor" button—but instead of being directed to a physician, the website visitors were directed to "maybe a nurse practitioner who is skilled and incredible at what they do, or they might have a physician assistant who's answering questions," Boehnlein said.
Asked for a specific example, he mentioned some national TV commercials for the controversial supplement Relief Factor, endorsed by "Dr. Sebastian Gorka," who is not a physician but holds a doctorate in political science. "And so it creates a little bit of confusion," Boehnlein said.
He drafted a bill that called for truth in advertising for medical providers.
In addition, the bill called for transparency in medical badges worn by doctors, nurses and other providers, including the license type in large type, designed to help patients and families know which people wearing scrubs or white coats were doctors, nurses, technicians, pharmacists or other types of providers.
The badge requirement section of the bill was dropped after heavy lobbying by nursing groups and the Indiana Hospital Association, which said the badges would only cause more confusion, because the new requirement would not allow them to state their full credentials and specialties, only their titles and license types.
"It's going to be confusing to patients if they see me wearing a registered nurse badge, and yet I'm trying to prescribe them medication for their hypertension," said Krouse, the Fort Wayne family nurse practitioner, who is allowed by virtue of her advanced practice status to prescribe medicine.
'Unique roles'
More than a dozen doctors, nurses, physician assistants and others testified in House and Senate hearings for and against the bill.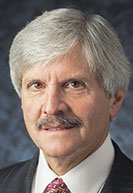 "I'm proud to be a doctor. I'm even prouder to be a family doctor," Dr. Richard Feldman of Indianapolis told the House Public Health Committee, citing his disappointment after the badge section of the bill was dropped. "And every professional in health care, they earned a degree. I am sure they are proud of who they are. And they should be eager to identify themselves clearly."
Dr. Carrie Davis, a dermatologist from Bloomington, said she supported the legislation. She said 18 states have similar badge requirements, and 15 states require license types to be stated in advertising. She stressed that she didn't want to demean other health care professionals.
"I'm married to a dentist," she testified. "My sister-in-law is a chiropractor. My two closest friends are nurse practitioners. And I work with a handful of amazing nurses and medical assistants. But you can no longer presume that someone wearing a white coat or using the prefix doctor in a clinical setting or in a hospital setting is a physician."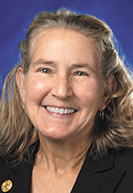 Rep. Rita Fleming, D-Jeffersonville, who is also an obstetrician-gynecologist, said she understands both sides of the debate. Before becoming a doctor, she was a pediatric nurse practitioner and spent countless hours a week screening babies and toddlers for diseases and doing education about breastfeeding and immunizations.
"I was very proud of being a nurse practitioner," she told IBJ. "But I wanted to deliver babies, so I decided to become an obstetrician. … I think we all have our unique roles and should be proud of them."
The bill passed both houses of the Legislature by wide margins, but not without sections being dropped and sometimes readded. For example, the section on "ologist" terms that are prohibited in advertising by non-physicians was stripped in the House but reinserted in conference committee.
The final version passed the House 88-6 and the Senate 40-10. Gov. Eric Holcomb signed it into law a week later.
Boehnlein, the bill's sponsor, who spent dozens of hours negotiating the issue with various health care groups, lost his GOP primary re-election bid this year after his Senate district was redrawn.
This month, the physicians' lobby, the Indiana State Medical Association, named him Legislator of the Year.•
Please enable JavaScript to view this content.