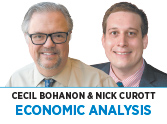 Government regulation of the prices and terms of service of a private firm are usually anathema to a free market. However, even the most classically liberal economist admits an exception when there is only one provider of a service for which there are no viable substitutes.
The single rail line that connected the 19th century Midwestern grain farmer to the national market is a textbook example. Regulation of railroad freight rates was a logical consequence. Rail lines were deemed to be common carriers subject to rate and service regulations and an obligation to serve all customers.
Economists on the progressive side of the profession usually embrace such designations, while those in the classical liberal vein argue against them. Much of the debate turns on whether a "viable substitute" to the monopoly provider exists or is likely to emerge. Classical liberals argue that allowing a monopoly to reap economic profits is usually self-correcting. The profits themselves attract innovative new entrants that ultimately undermine the monopoly. Progressives are suspicious of this claim. Both sides recognize the other is right in certain cases.
A major issue of the last decade is whether internet service providers like Comcast or AT&T should be considered common carriers. True to form, most progressives say yes, and most classical liberals say no. Part of the progressives' argument was that failure to designate ISPs as common carriers would "stifle free expression." If ISPs are not required to serve all customers, they might exclude certain customers for making controversial political points.
In the last year, however, the issue has taken an interesting twist. Social network platforms, notably Twitter and Facebook, have routinely taken down communications they deem untoward. They have suspended or expelled certain users, notably former President Donald Trump, for violating their rules.
Yet both Twitter and Facebook are unique service platforms for which there are arguably few viable substitutes. From the progressive perspective, shouldn't they be declared common carriers and be prohibited from refusing a customer service for espousing controversial political views?
As economists more in line with classical liberalism, we don't think Twitter or Facebook should be regulated as common carriers. Given that the former president has 89 million followers, we suspect a "viable substitute" to Twitter is likely to emerge.
But isn't it interesting how many on the right have suddenly found affinity with the common-carrier doctrine, while those on the left have abruptly discovered a commitment to unfettered free markets?
__________
Bohanon and Curott are professors of economics at Ball State University. Send comments to ibjedit@ibj.com.
Please enable JavaScript to view this content.